Many have heard a lot about picturesque beaches on the south of Portugal. Looking on a map, one might start wondering: is lying on sand and seeing rocks worth taking such a long way to get there? This post will get you down to the last detail to make your decision: to go or not to go.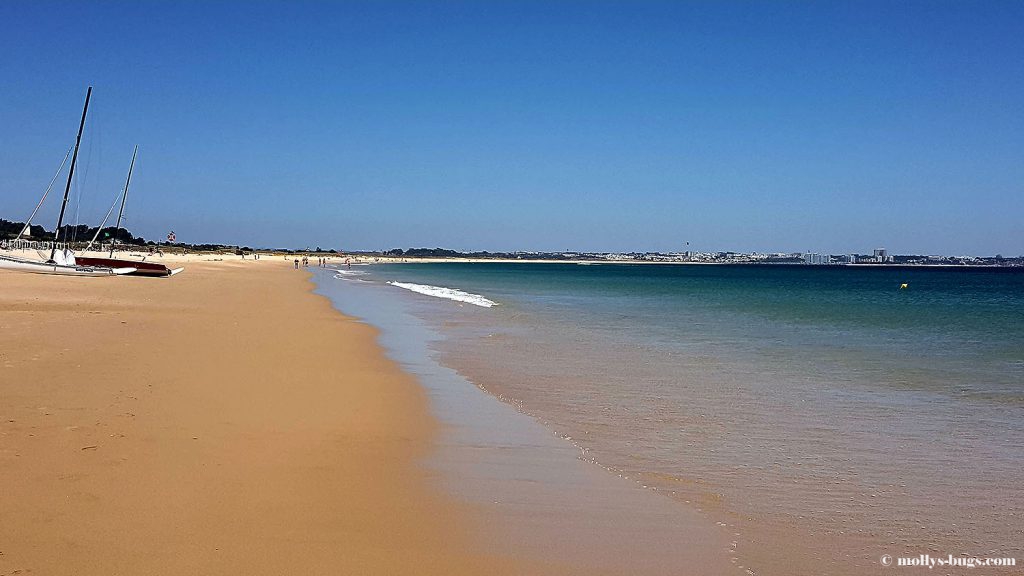 To get the famous Algarve beaches, take A2 toll highway from Lisbon (300 km). The coastal line consists of numerous beaches 250 km long divided by rocks and cliffs. Some of them are bays accessible only from water.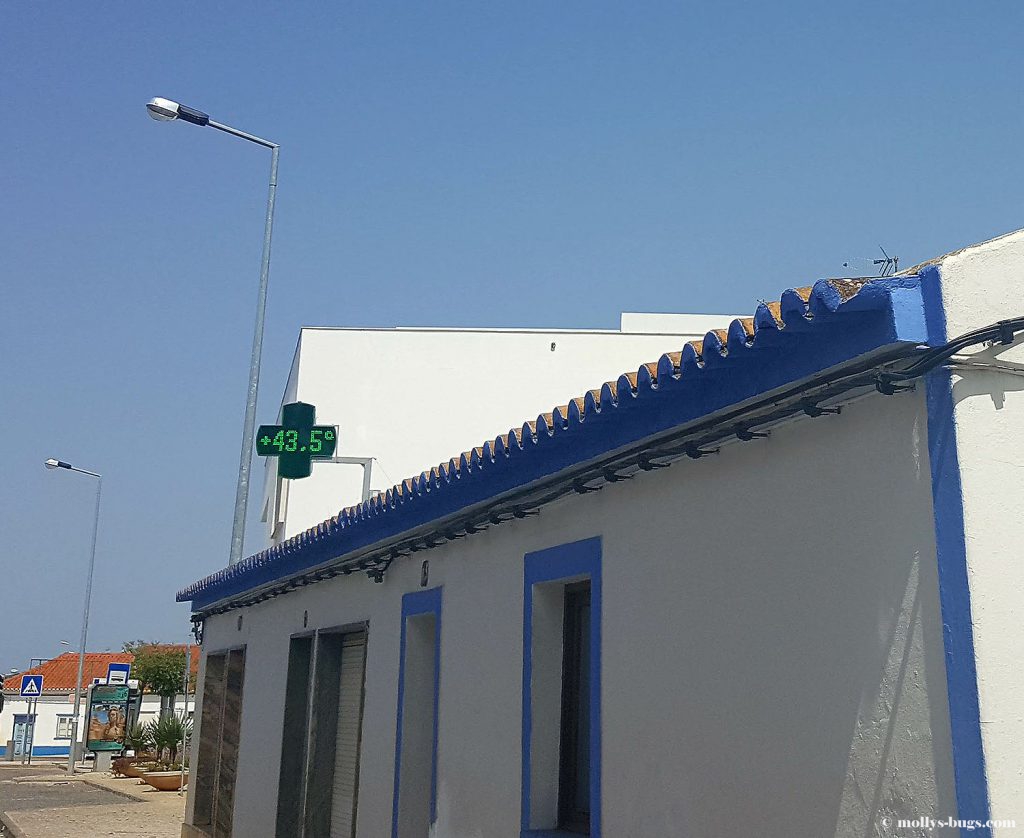 The Algarve coast is famous for its primary nature with astonishing beaches. The bright sun shines here 300 days a year. More than 74 Algarve beaches have been awarded the EU Blue Flag for their clean territory and water, rescue services and many amenities including shower rooms and WCs.  Portuguese beaches usually lead Europe's Top 25 Beaches. Algarve beaches are mostly sandy or, sometimes, with fine pebble. Some are full of shells unlike the others. We spent 10 full days on Algarve beaches to discover a new place every day. This helped us to make our own Top Ten. Let's see them all in a more detail.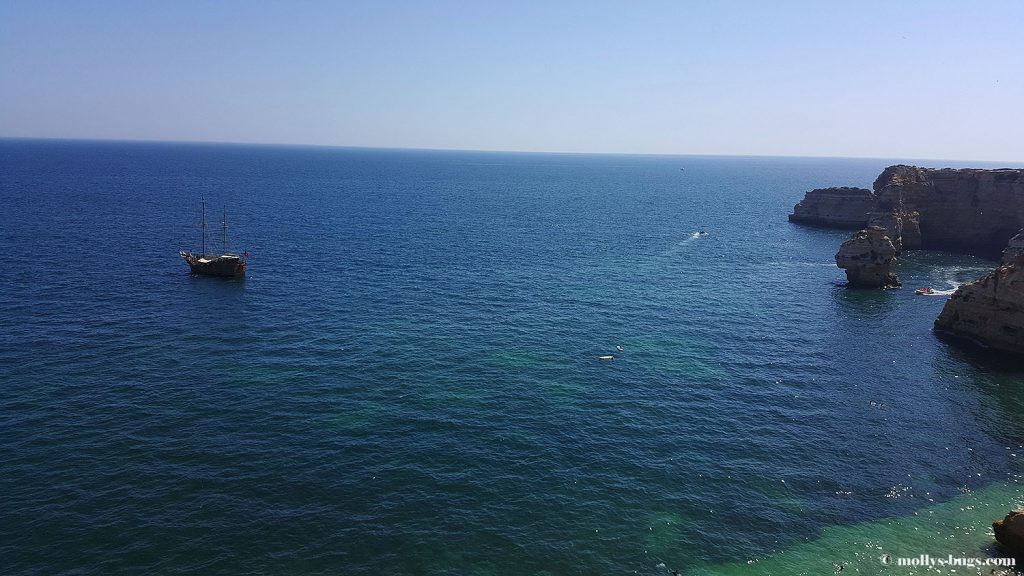 Lagos:We stayed in Lagos, an ancient town, to visit a new beach every day. Some beaches are within the city boundaries, including Meia Praia which was 300 m from our apartment. Lagos is known for its picturesque castle and old town which shows its best at night when the heat goes down and fresh breeze comes from the ocean.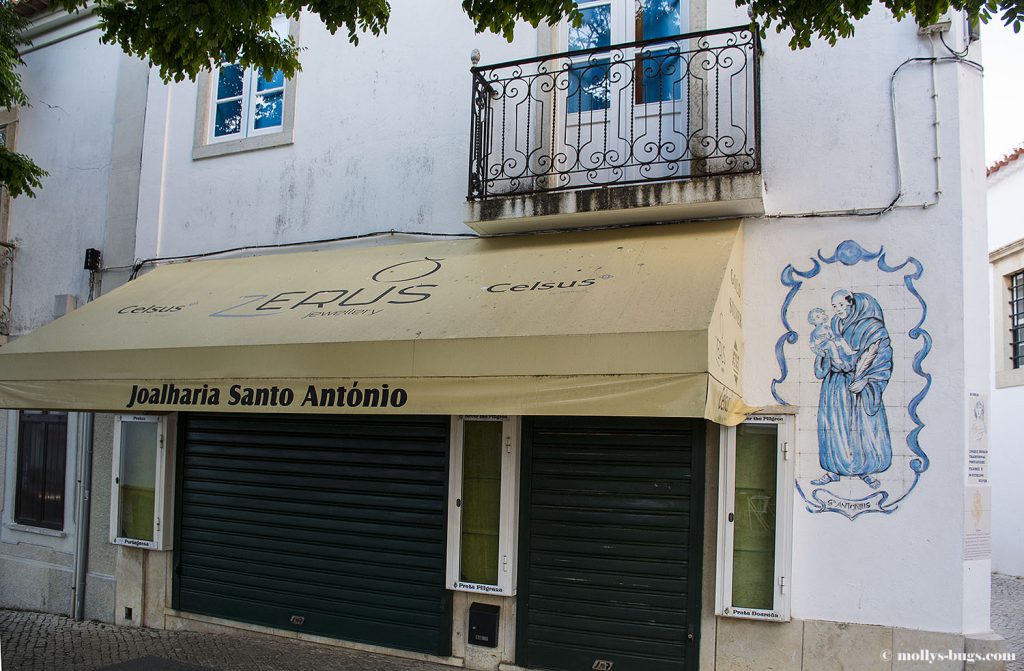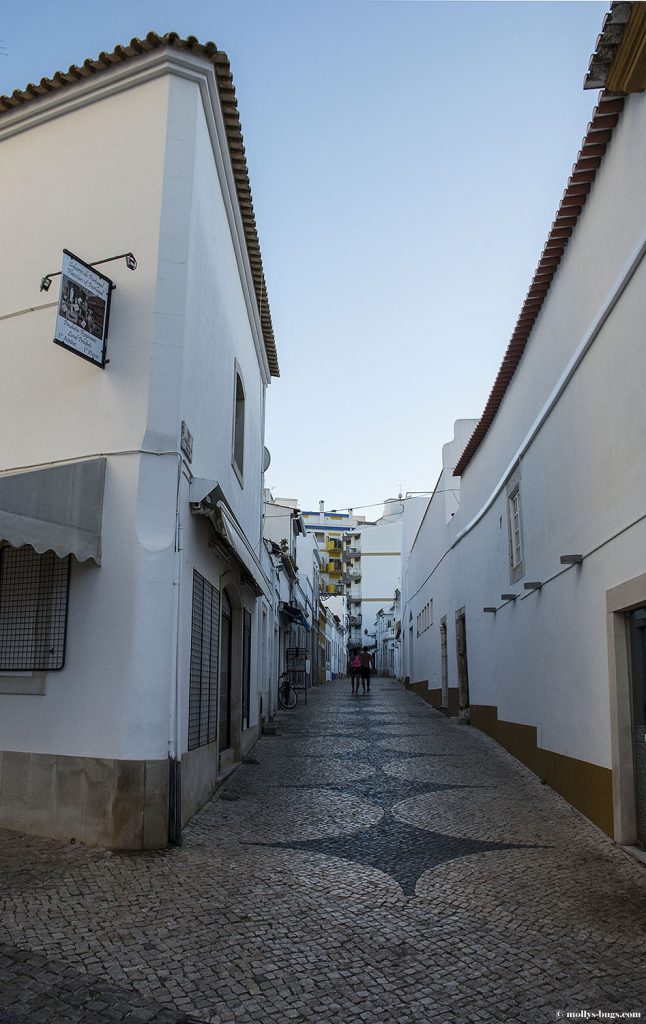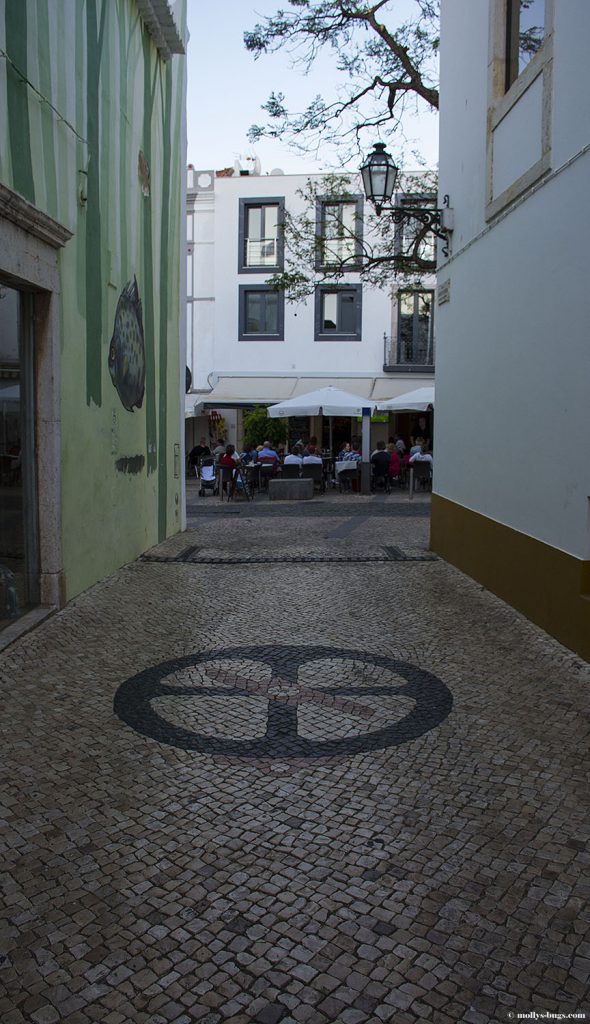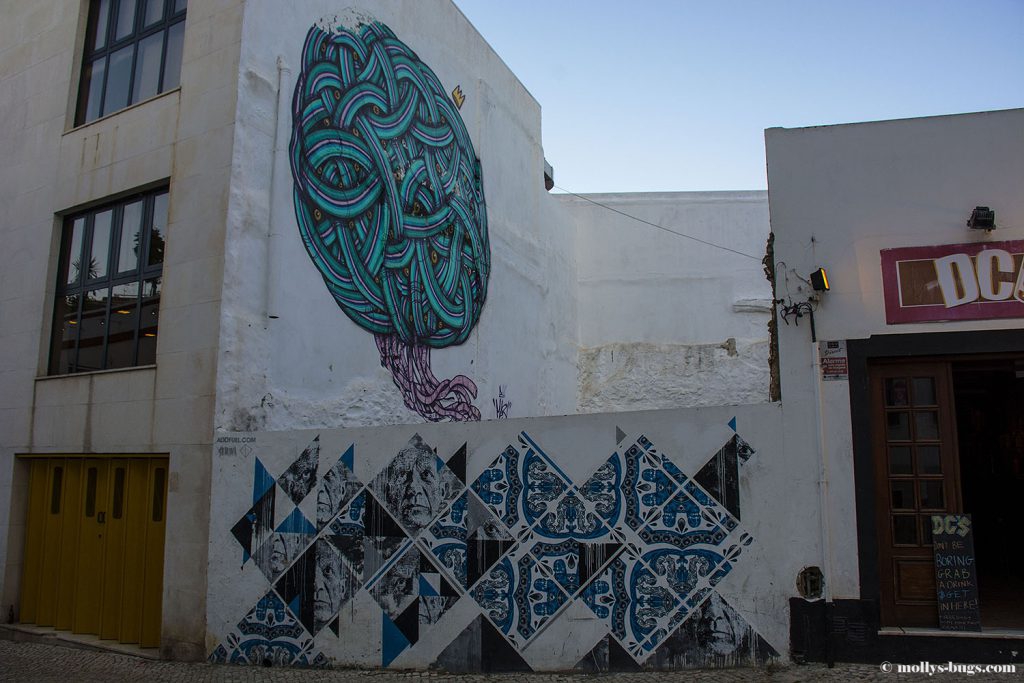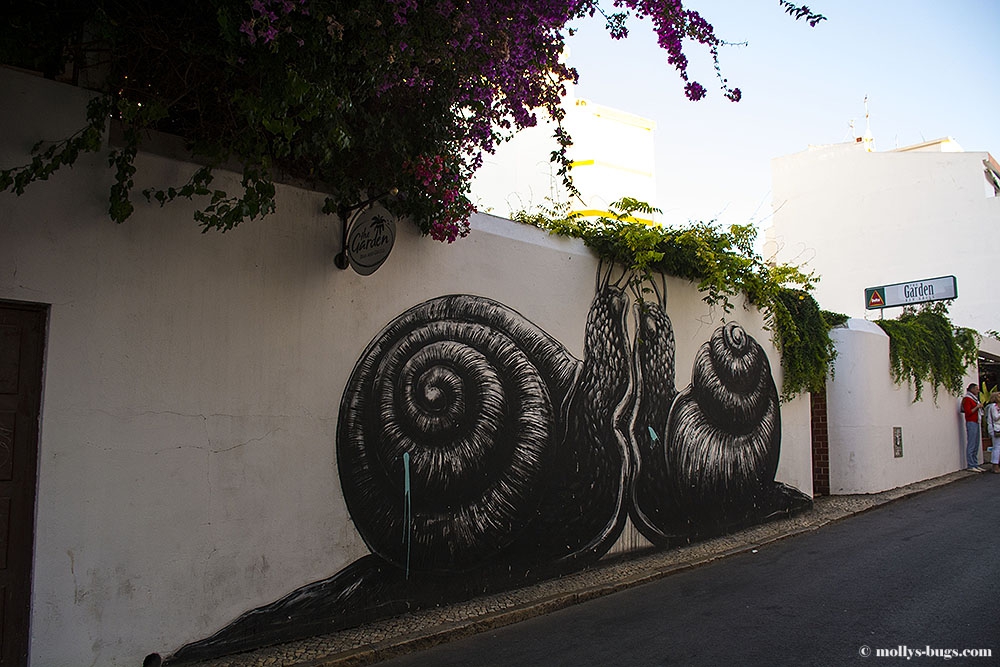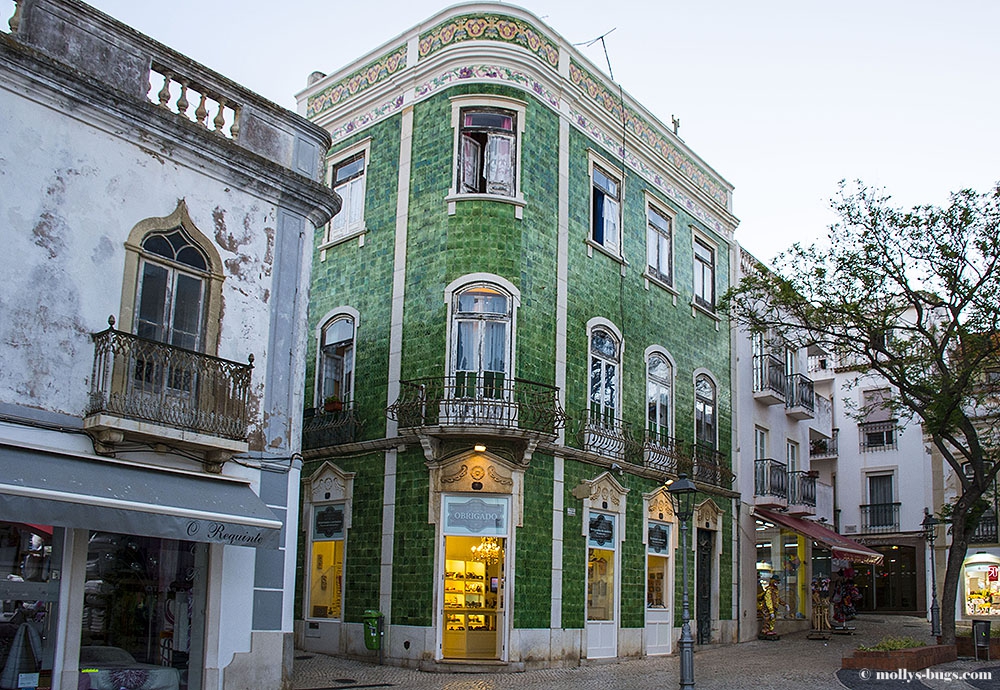 A small zoo, a wonderful place for both kids and their parents, is within an easy reach from Lagos. The zoo has many exotic birds, a kangaroo, a funny suricate family, a lynx and many other animals, and you can even see how they are fed. We were lucky to see giant pelicans eating fish. Visit an area with foxes flying over your head and theMonkey Island, a zoo's special attraction with monkeys of various breeds.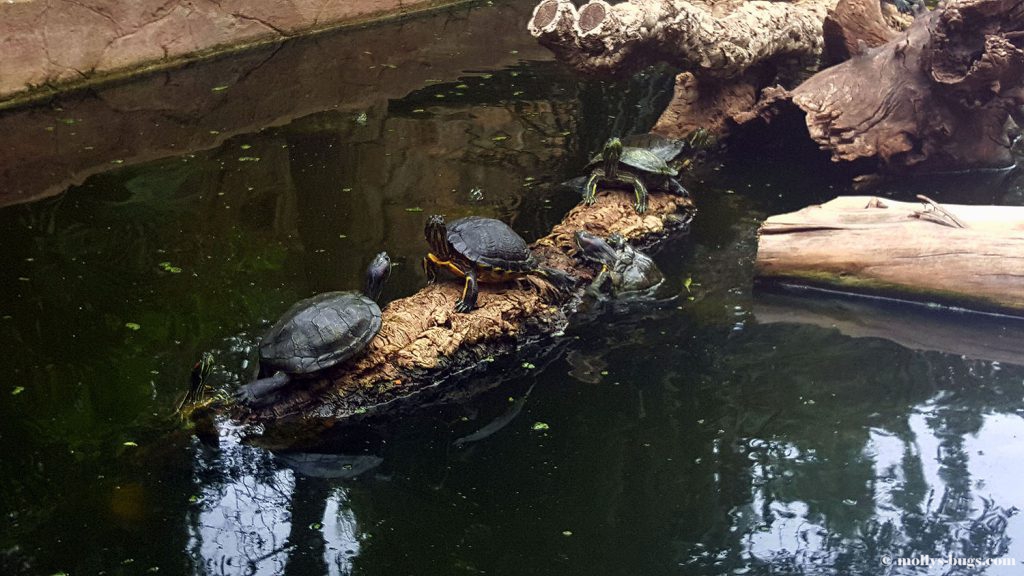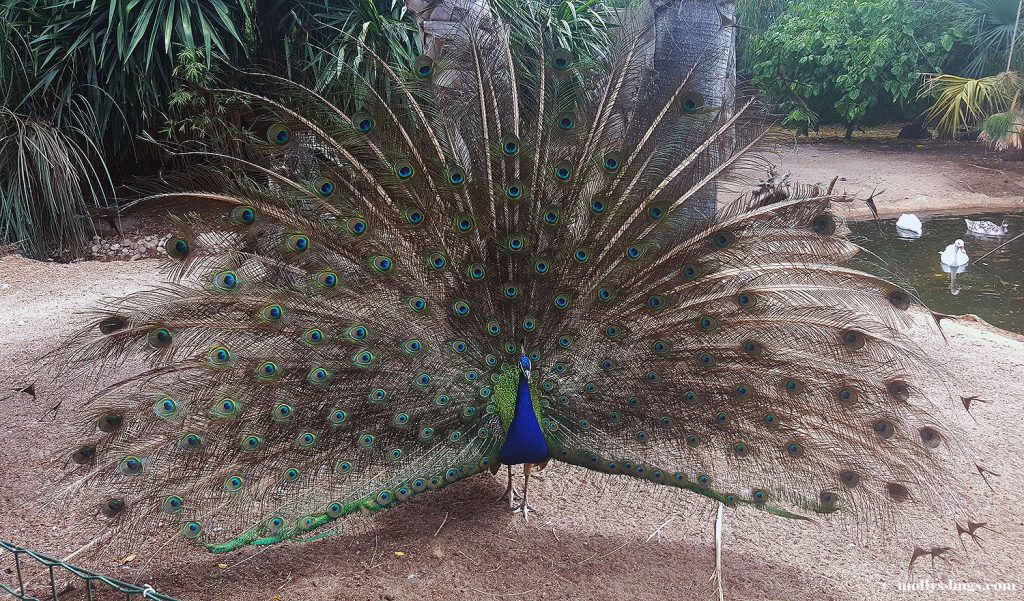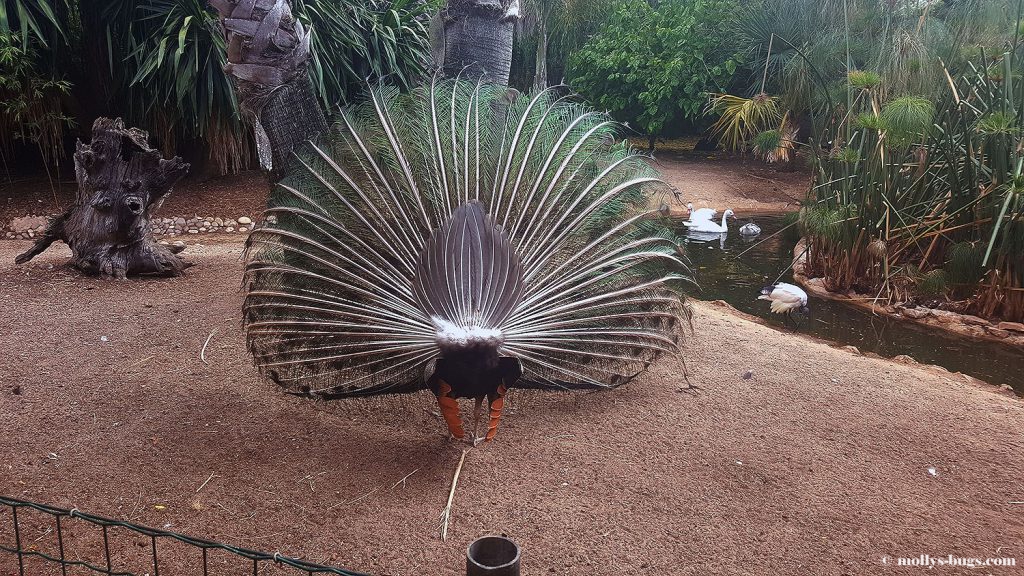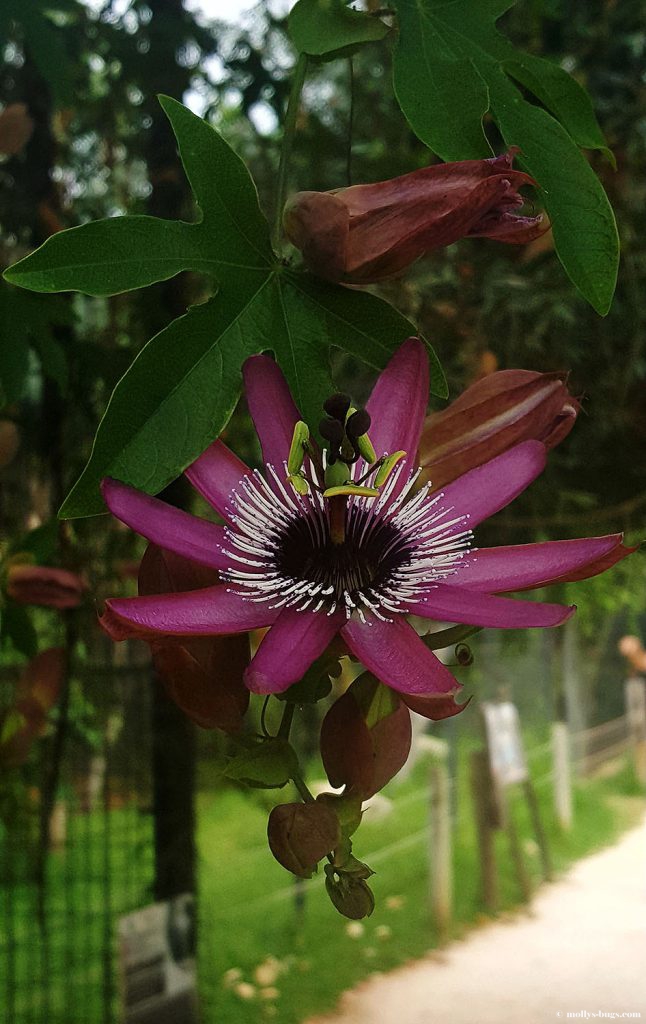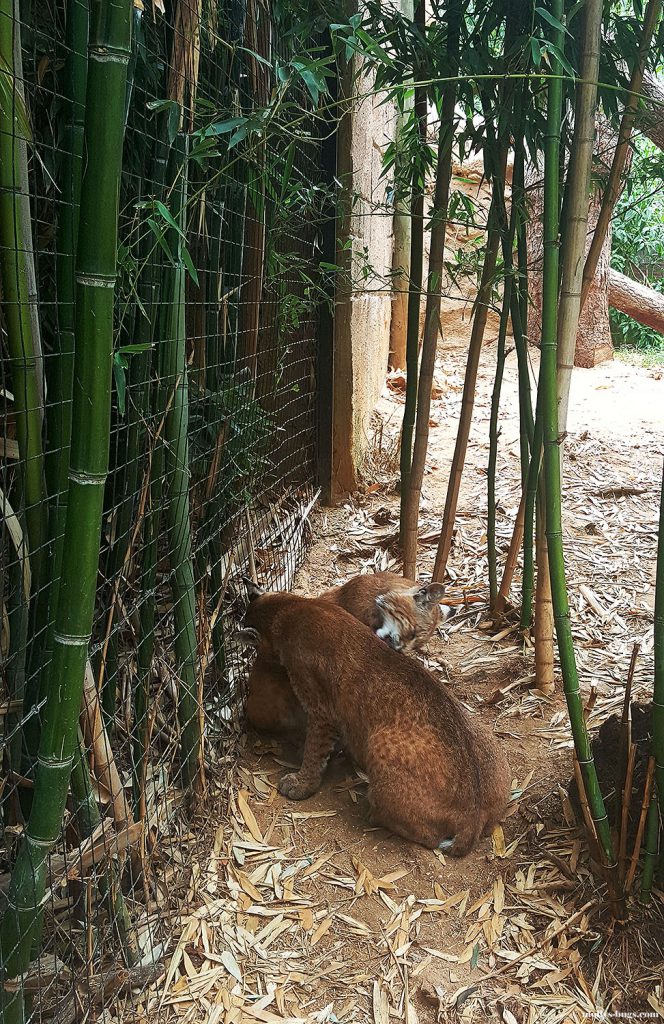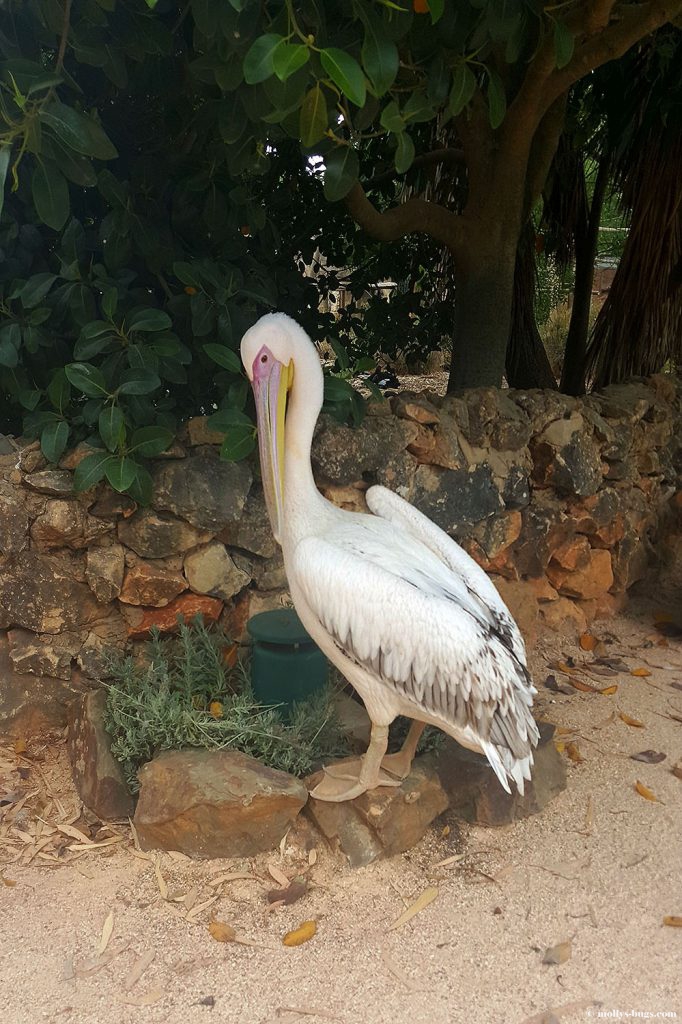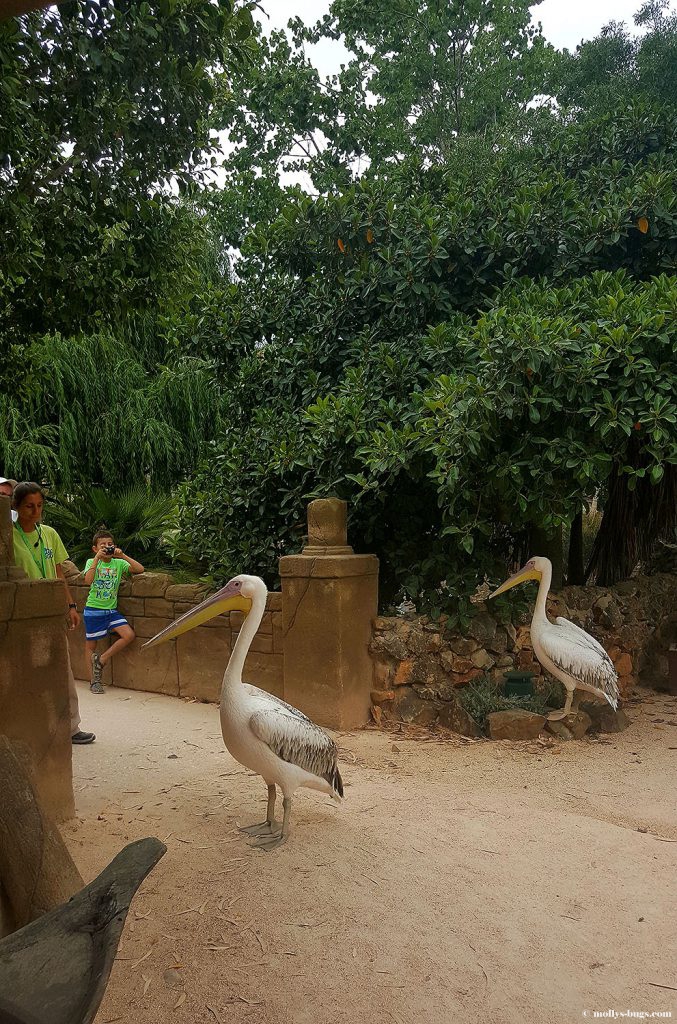 Meia Praia, the largest Lagos' beach, is 5 km long. Because of strong wind changing its directions and making your sunbathing uncomfortable, we like this beach the least. You can hardly comfort yourself when sand is getting under your sunglasses and attacking you like a thousand of small needles. The entry into the water is very comfortable without sharp steeps. Perhaps it was a windy day which ruined our beach experience. Anyway, although this beach was 5 minute walk, we decided not to get back to it.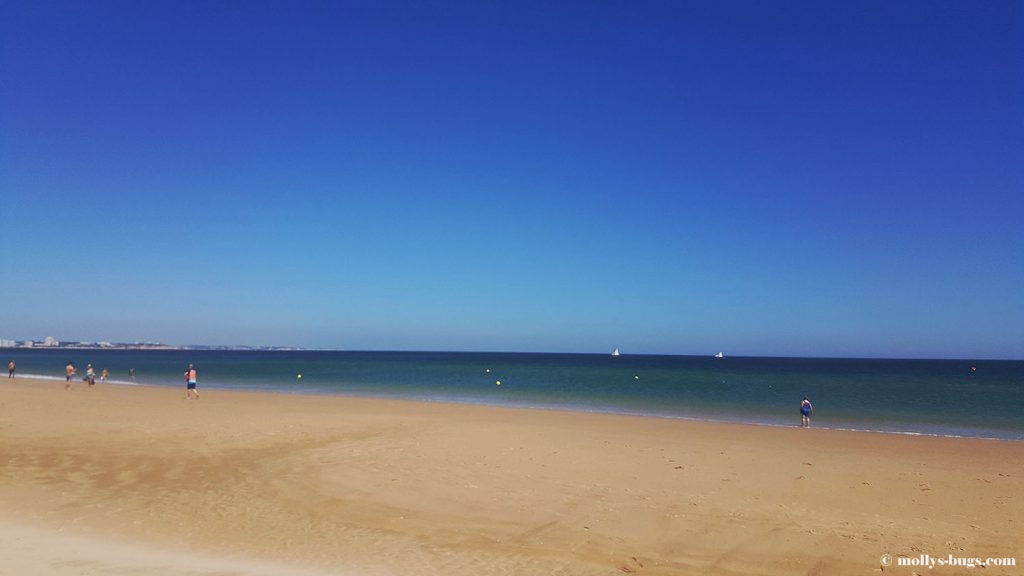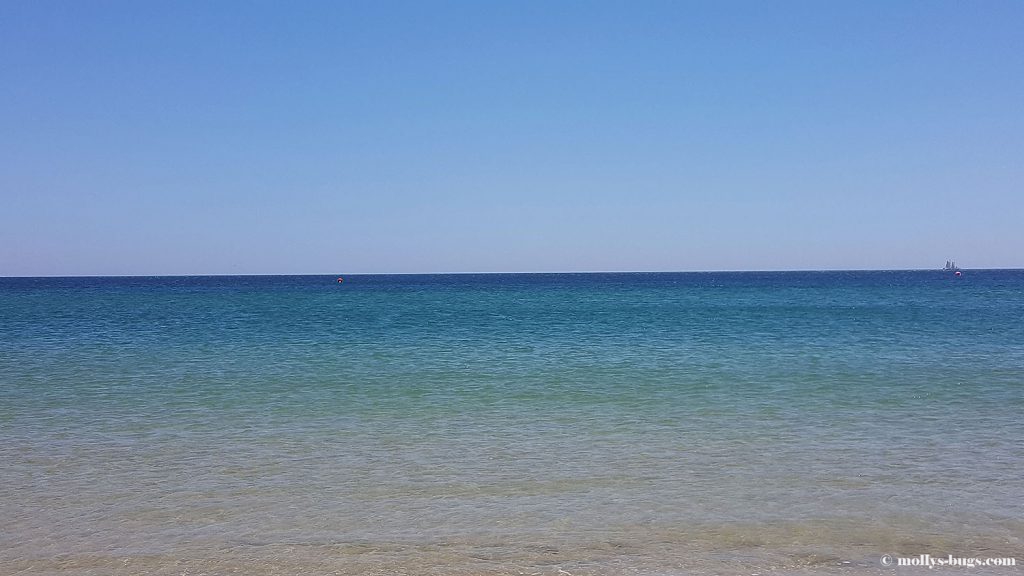 There is another beach within the city boundaries – Praia Dona Ana, one of TripAdvisor's most liked places. It is a midsized beach surrounded by astonishing rocks and cliffs.  Small wooden stairs get you down to the beach. Mind these stairs if you have a baby stroller. This beach is not good for a long stay: you can hardly find a cafe, WC or shower here. Sand is full of shells of various sizes and forms, so your kids will certainly have fun. Deck chairs are available for rent: EUR 8 per two persons per half a day or EUR 12 per full day. To get a better place, come earlier. The beach is quite small and may be overcrowded in a high season.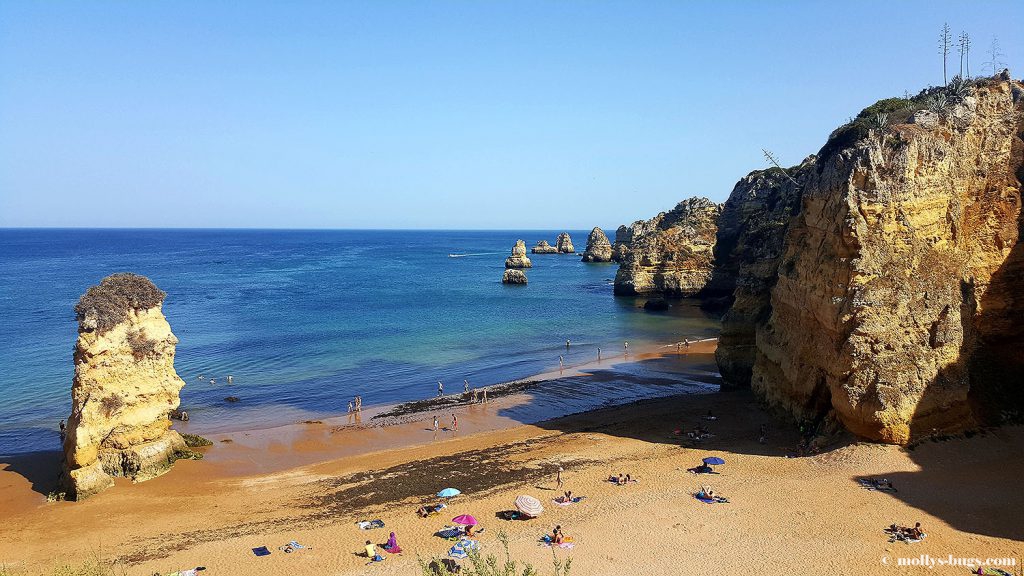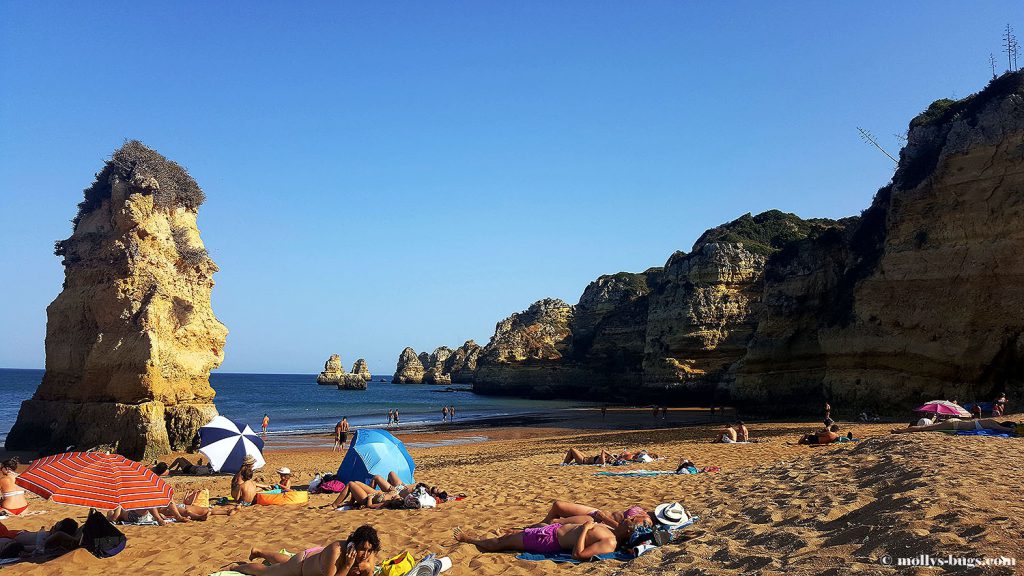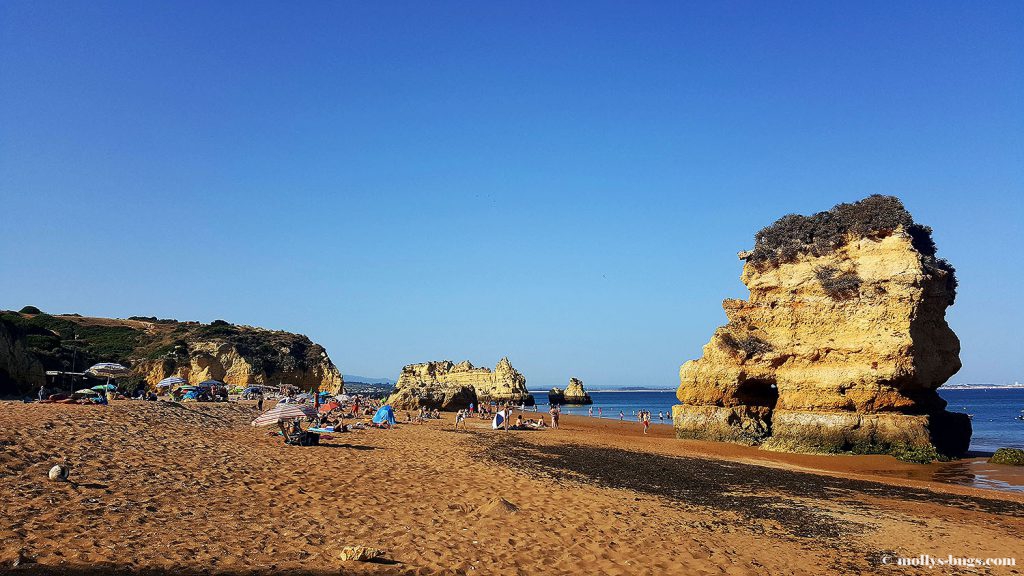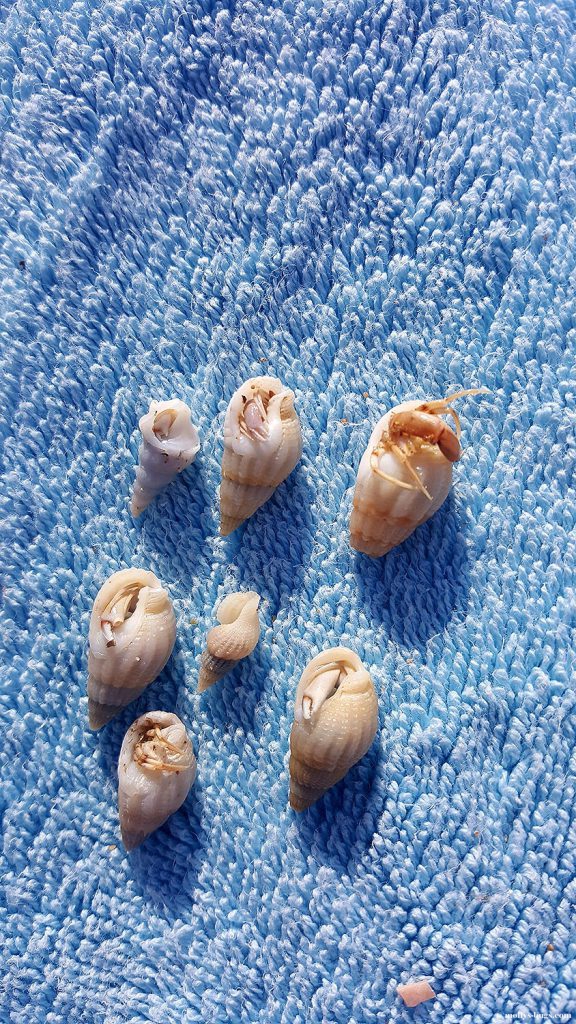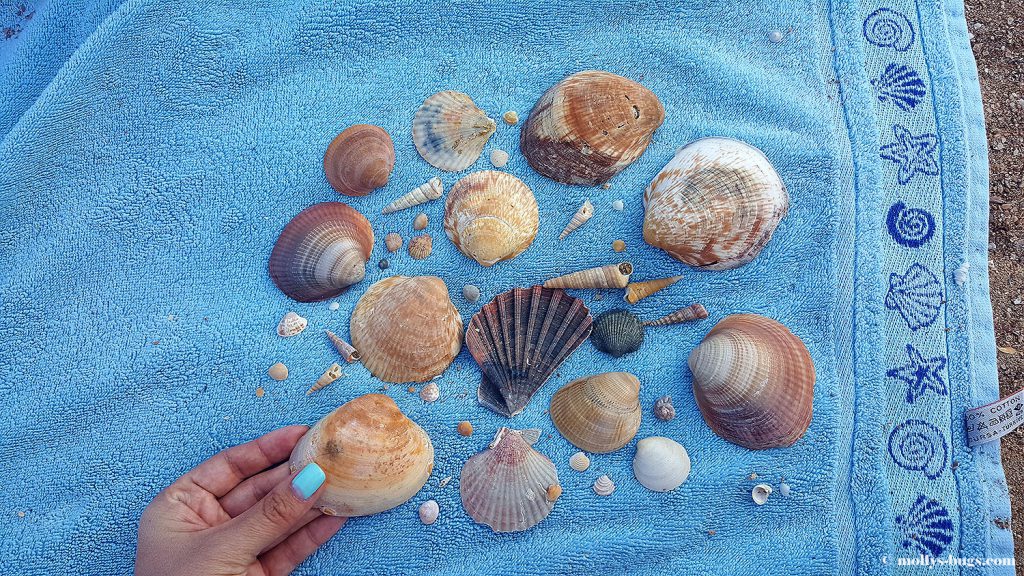 There is another beach 3 km away from Lagos' centre. Jumping ahead a bit, I must confess: this one became our favourite, and we spent there almost every day. Distinguished with EU Blue Flag for many years, Praia do Porto de Mos has all amenities and is very clean. It is very large sandy beach which, considering its large size,is never overcrowded. Whatever time you choose for your visit, you'll find a quiet place for your comfortable leisure without intrusive neighbours. Although this beach is less spectacular than Praia Dona Ana with its cliffs and grottos in water, it is well-protected from wind, has many amenities, including WCs, showers, and a large parking area, and is stroller friendly. Despite some wavelets, this beach is an ideal place for your quiet family vacation. Sand here is not rich in shells. You may also rent a catamaran, water ski or a scooter.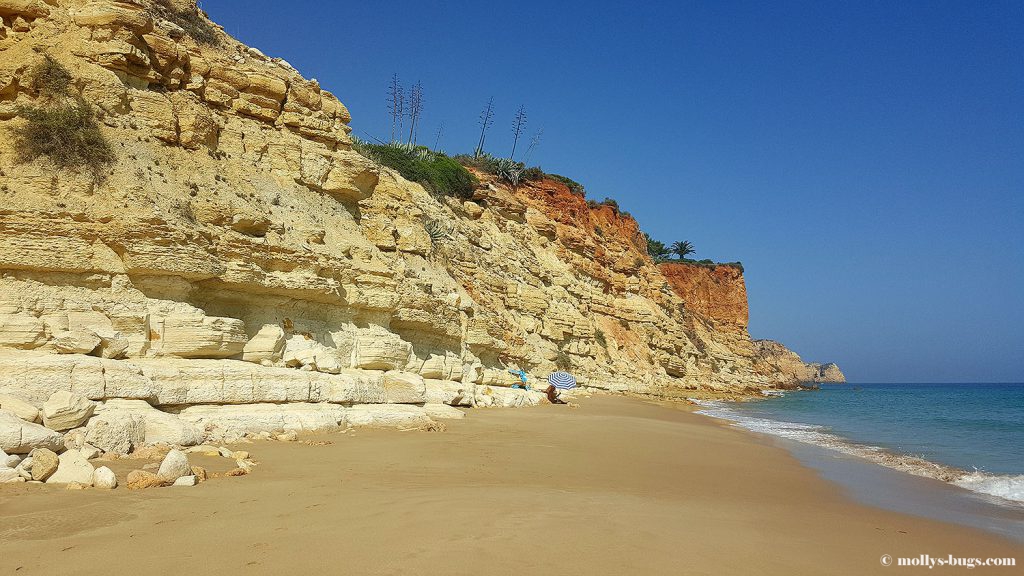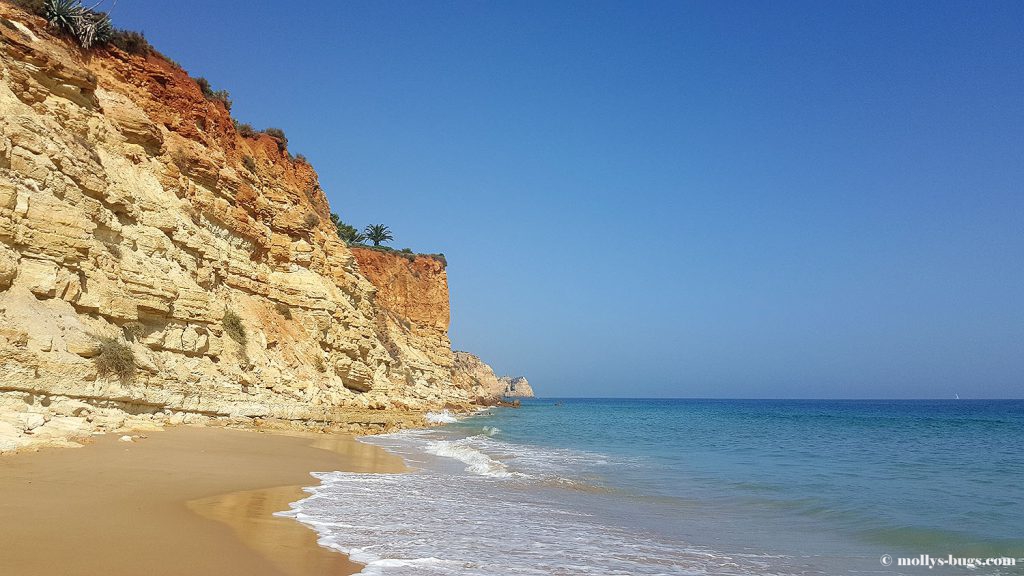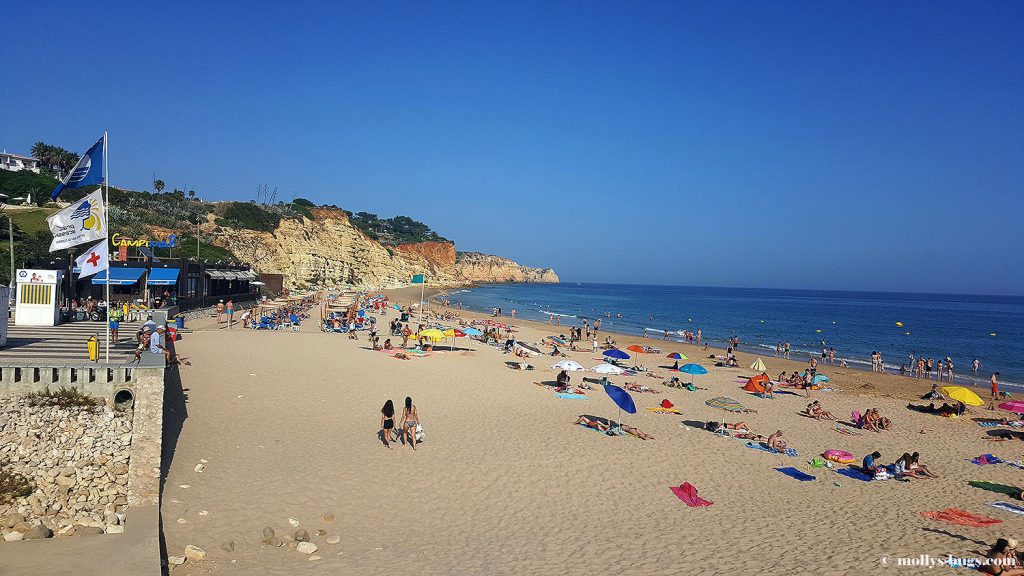 Other Algarve beaches were a little bit away from our accommodation. Portimão, a resort town, known for its luxurious Praia da Rocha, is 15 km far from Lagos. Looking at this beach from a height is really a breath-taking experience. Grottos and cliffs are located along the coastal line and stretched off into the ocean by hundreds of meters. The beach can host many people, and this is a holiday destination for many tourists. You could not seclude yourself here to enjoy the scenic seascapes: people are everywhere. Even walking far away behind the cliffs would not help you to escape. The entry to the water is smooth and is good for kids. The amenities include a paid parking site near the beach, paid shower (EUR 1 per minute) and a café. Even if you are not fond of large and noisy beaches, visit Praia da Rocha to make your own opinion of it.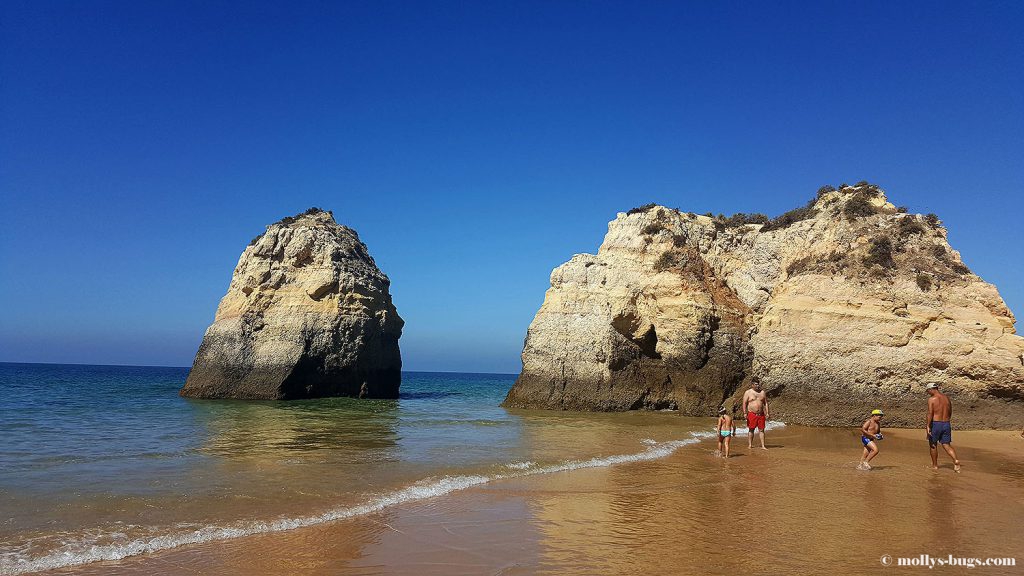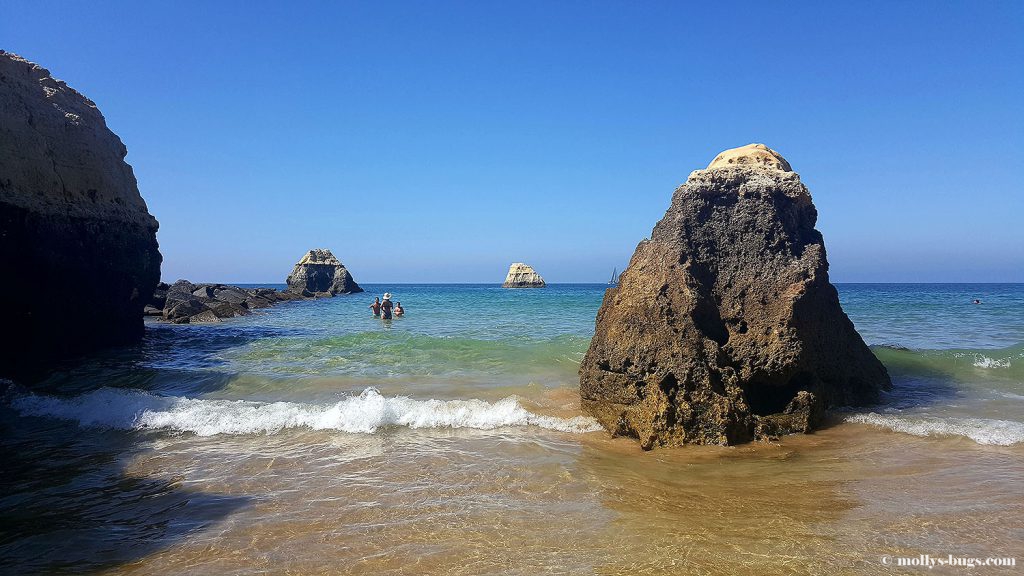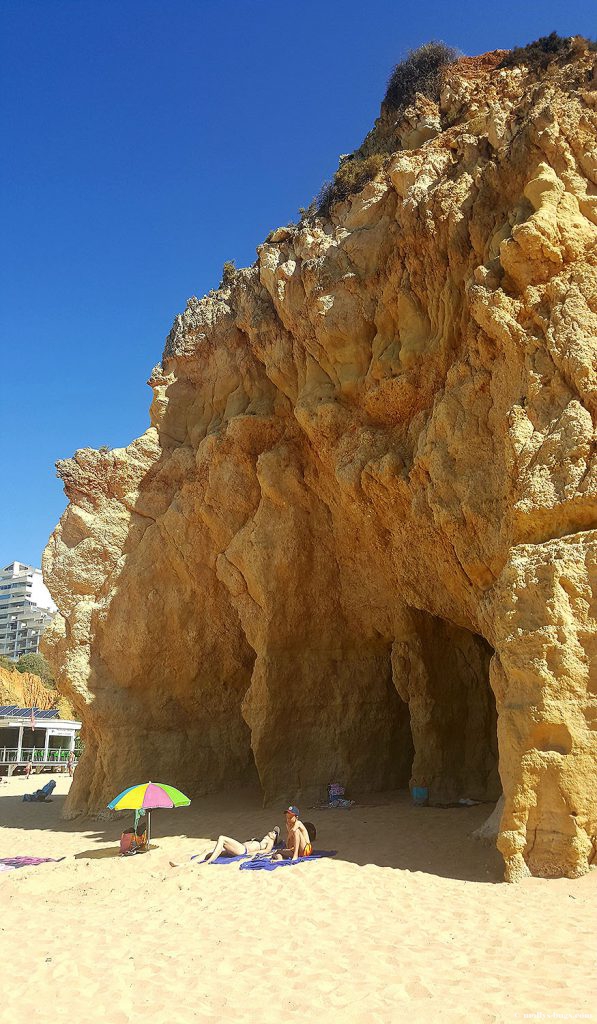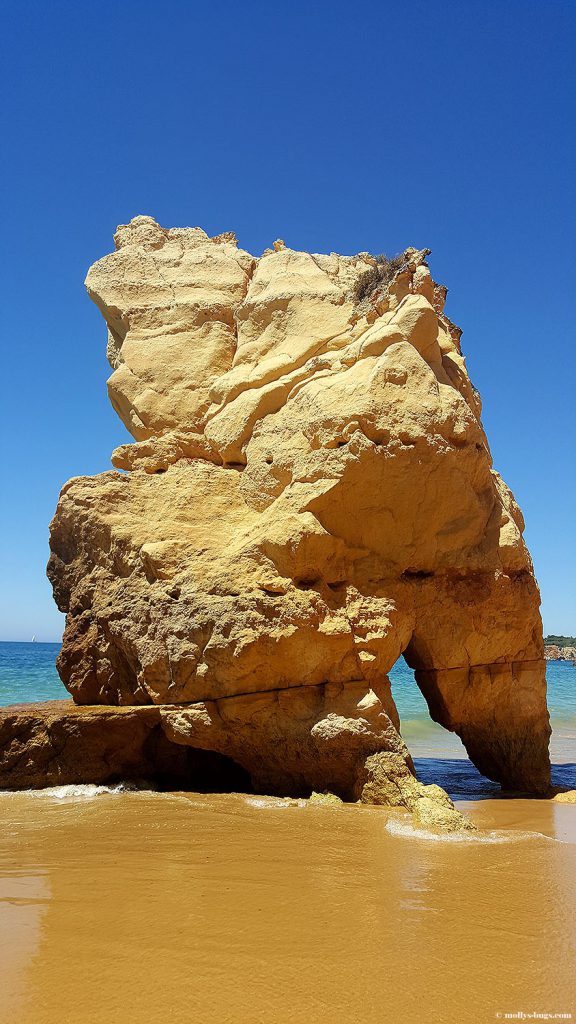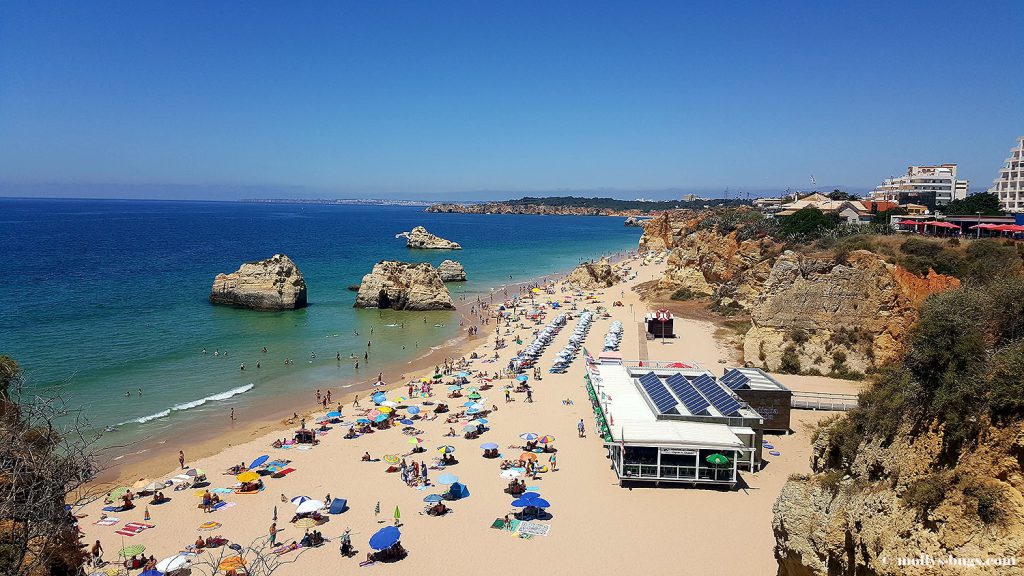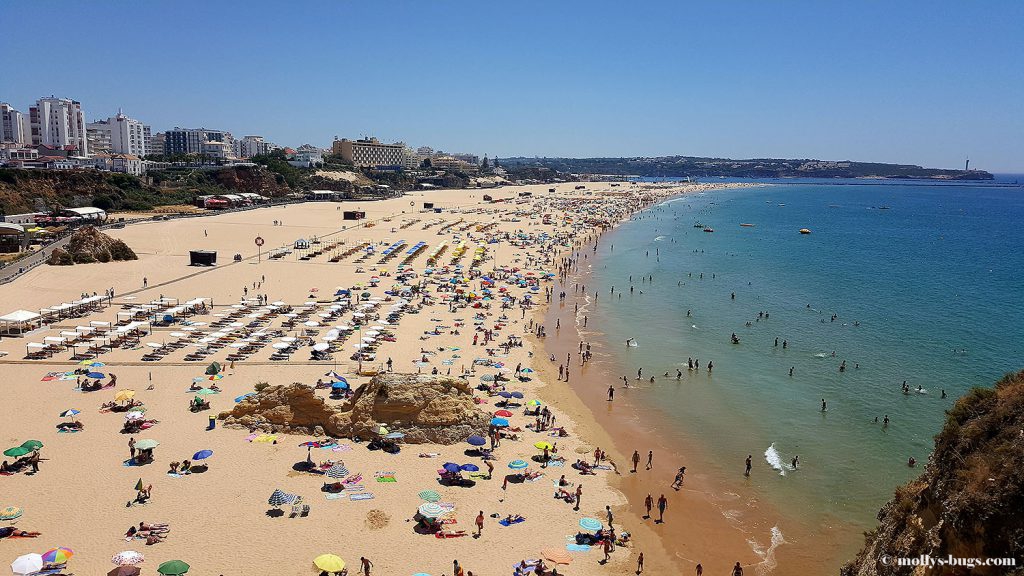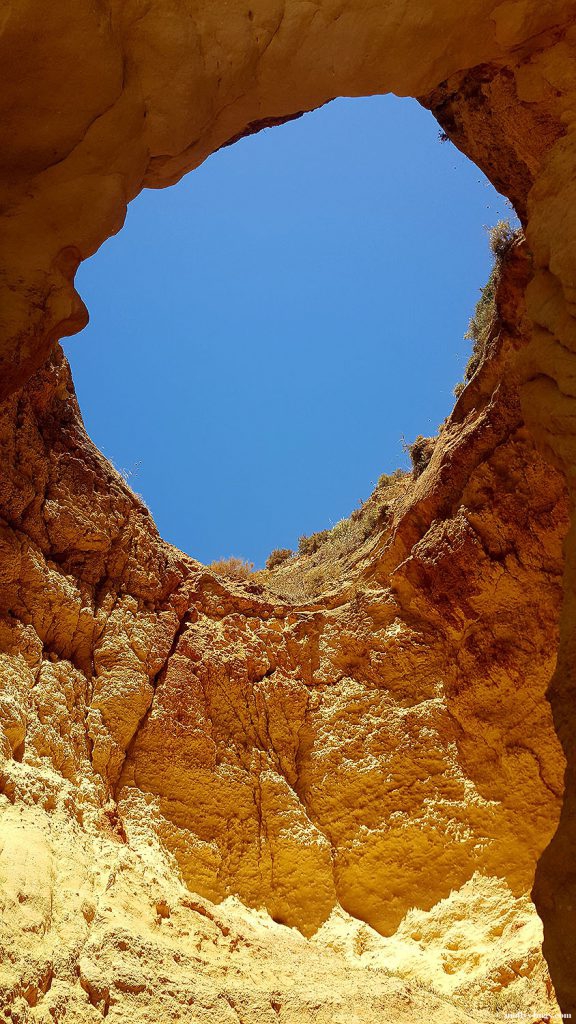 Praia de Benagil is one of the most recognisable and the most photographed beaches. The astonishing cave Benagil, Algarve coast's landmark, neighbours the beach and makes it so popular. Frankly, this beach does not suit every taste. It is tiny in size and too overcrowded. Strong waves and the steepen try to the water do not make it an ideal place for your kids. The beach has no rescue services. There is one shower with a long queue and a few cafes with WCs. Another drawback of such tiny beaches is the sun quickly setting behind the rocks and stopping your sunbathing. Unlike Praia do Porto de Mos, where you can enjoy sunbathing until 08.00 p.m., Praia de Benagil and other similar beaches are exposed to sun until 06.00 p.m. at the latest. However our ultimate goal was to see the cave. To make the most of it, we took a guided tour on a motor boat to explore 20 caves accessible only from the water. We liked the way the trip was organised. In addition, we could see beaches and sea caves from far off.  Although we didn't landed inside Benagil cave, an apparent shortcoming of this tour, the beauty of this unique place is really impressive. We decided not to visit this beach for the second time.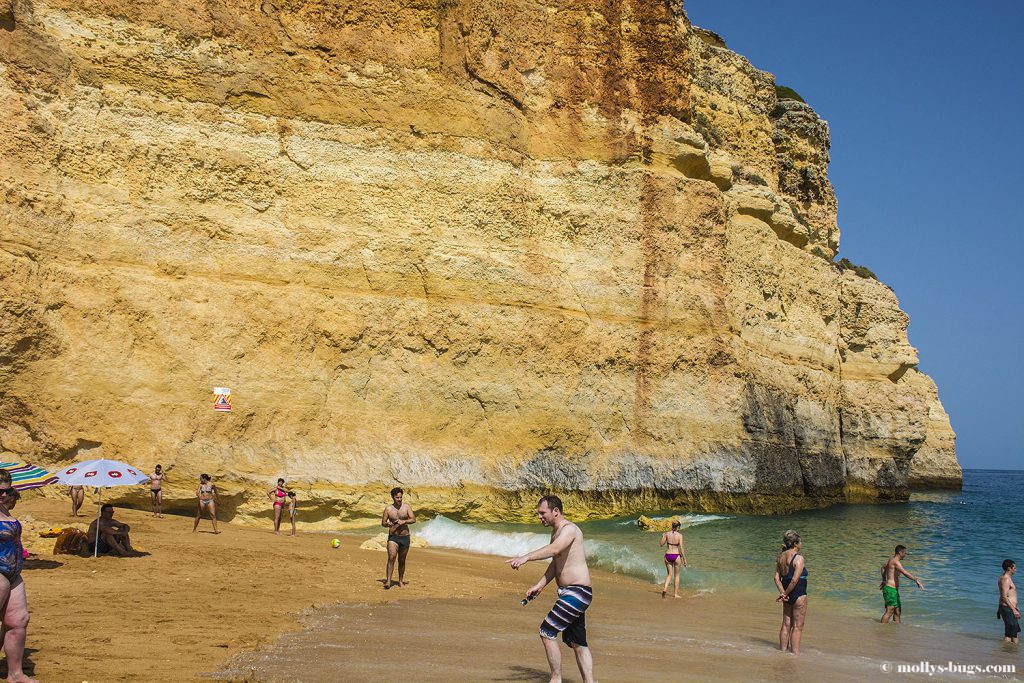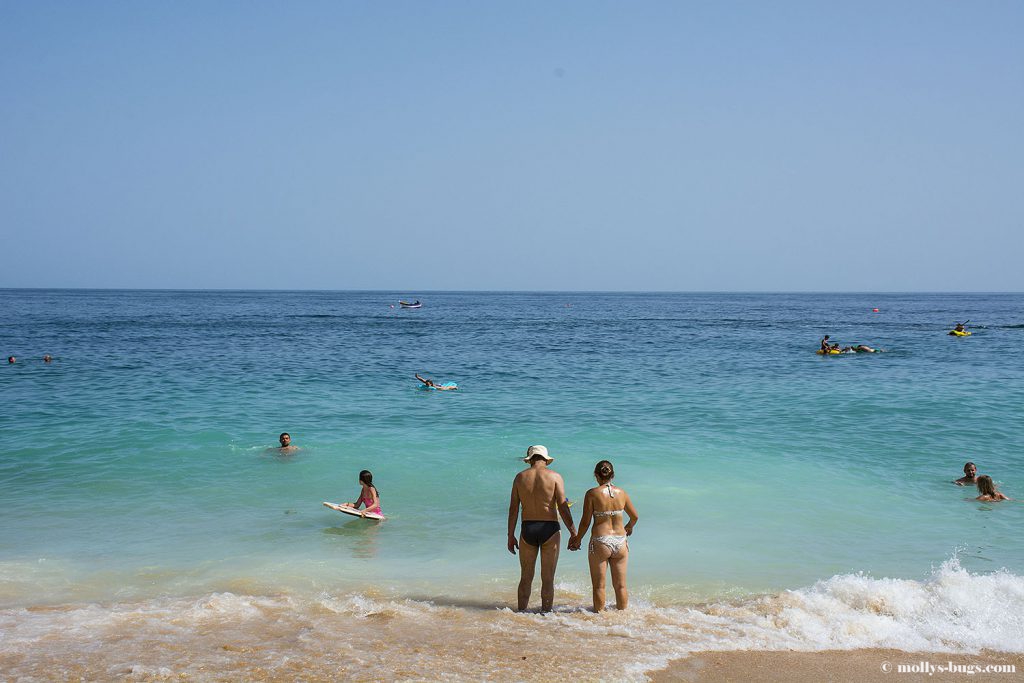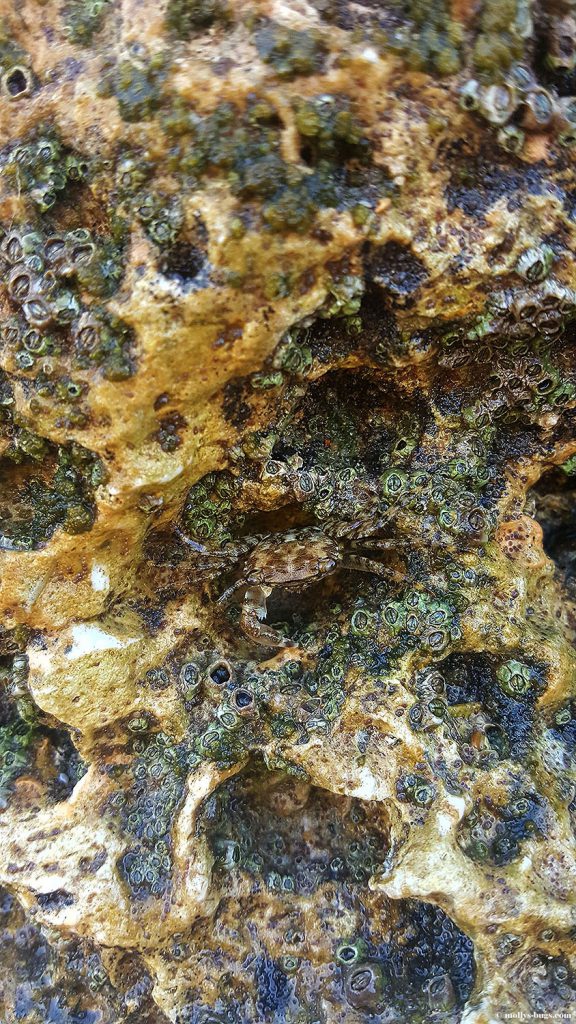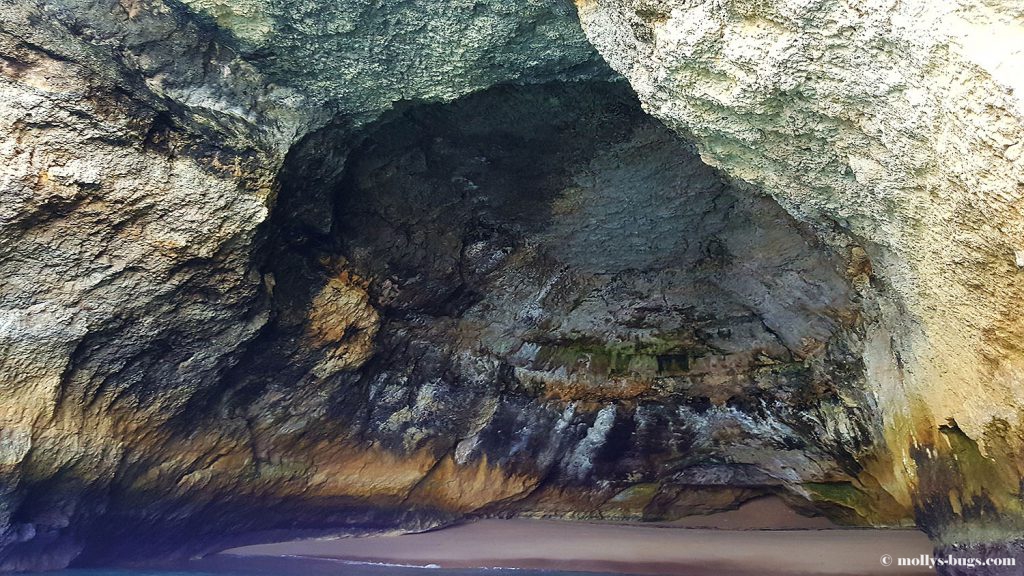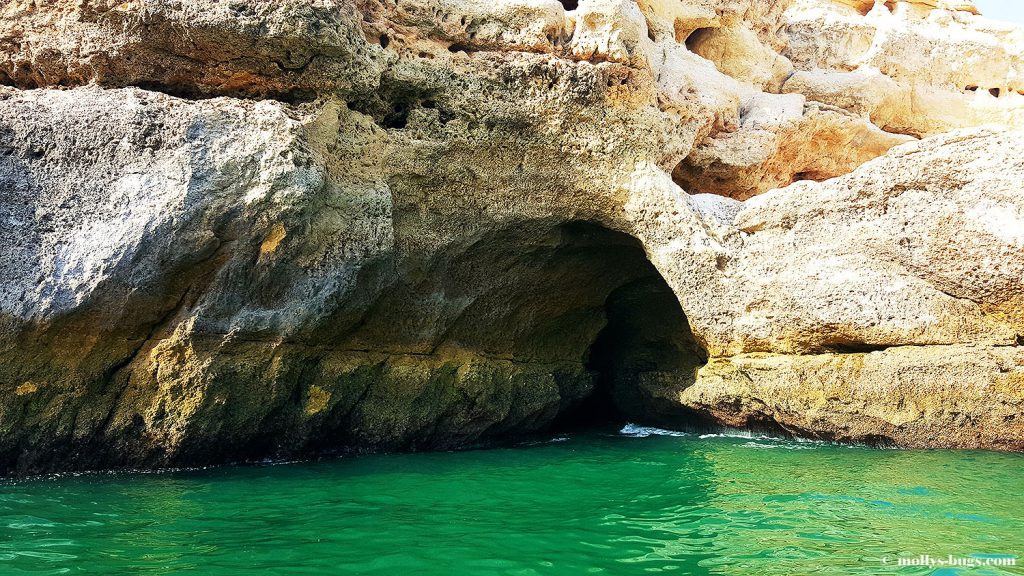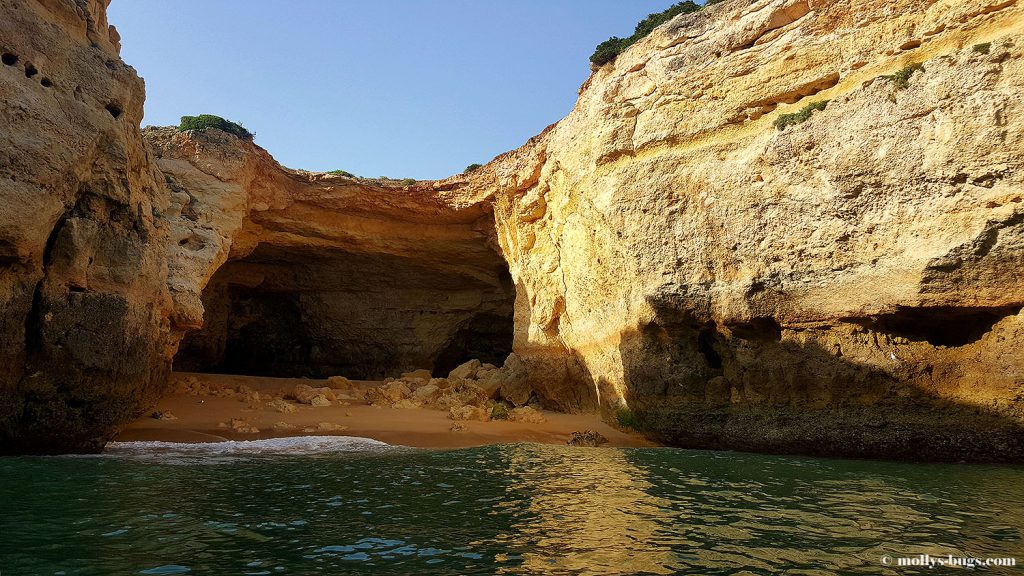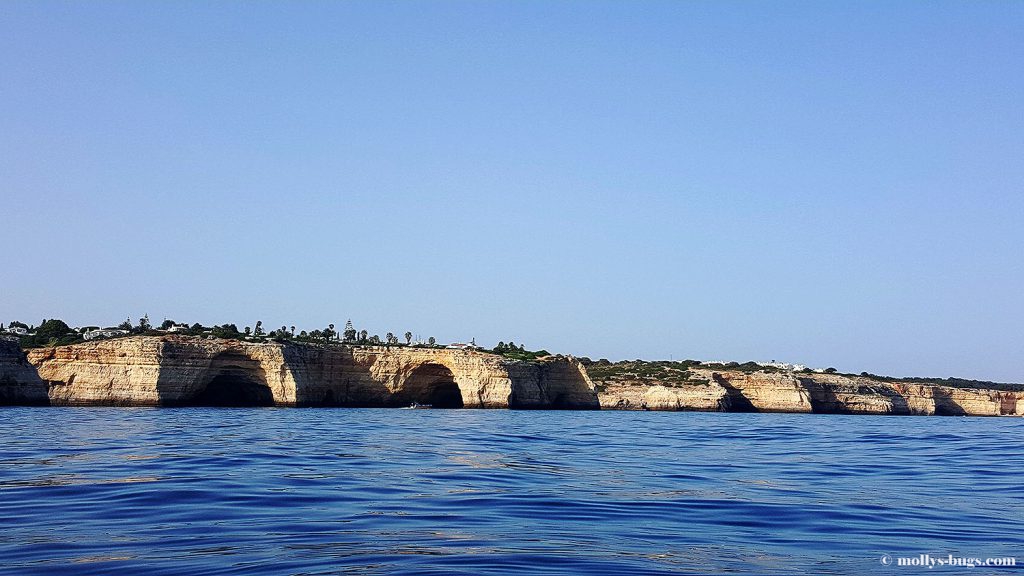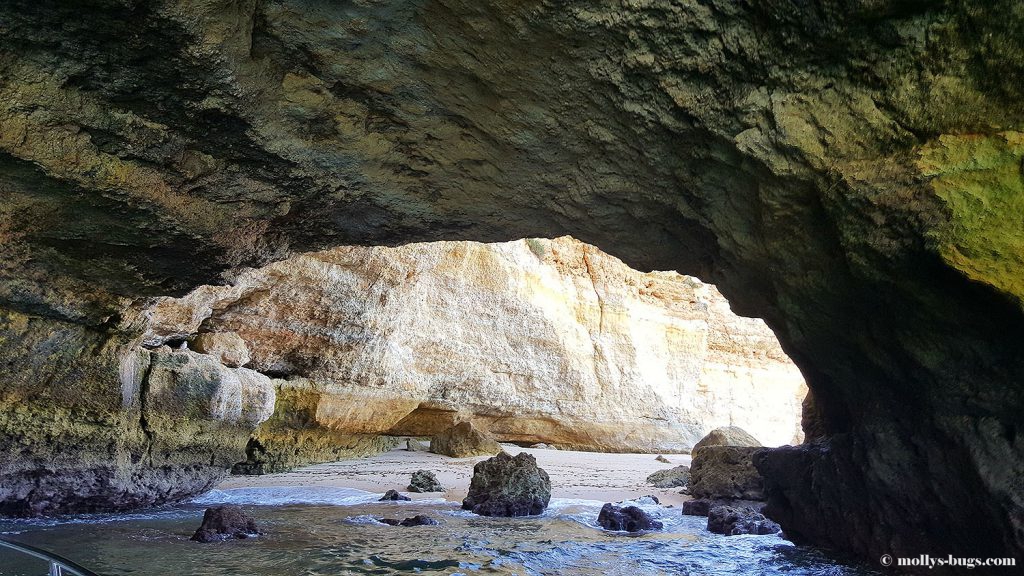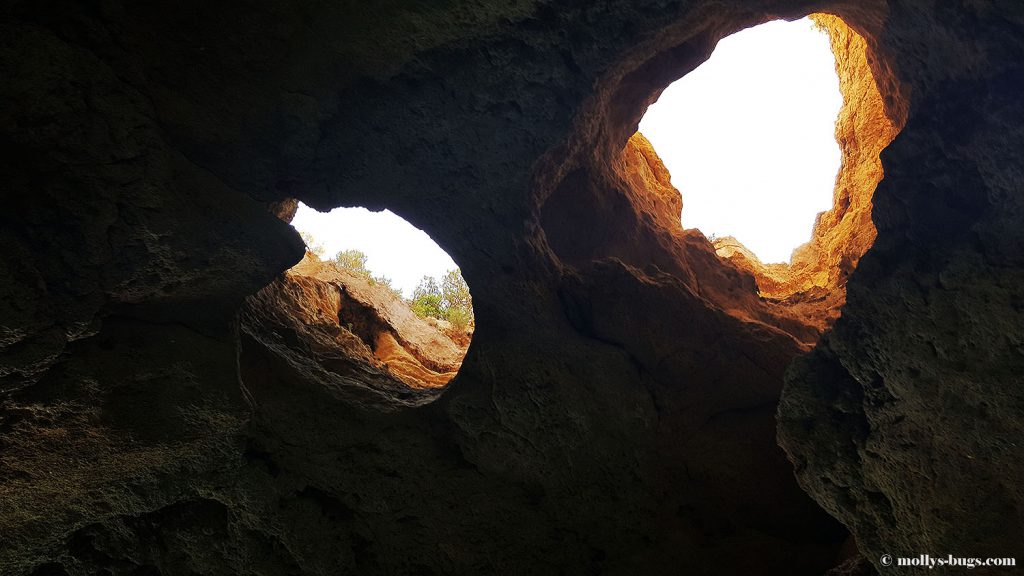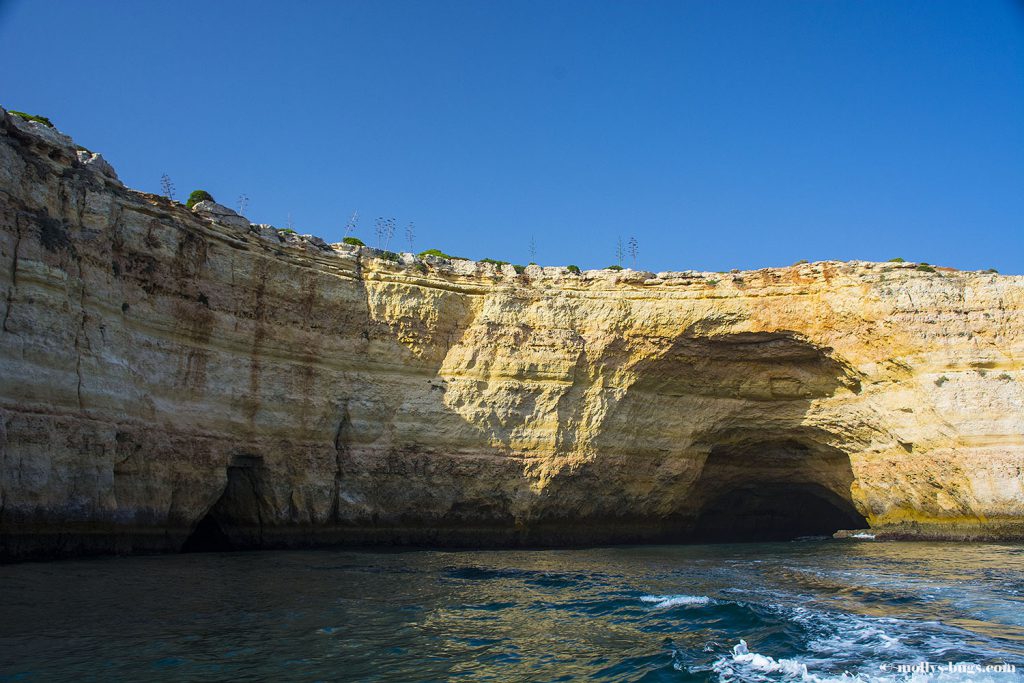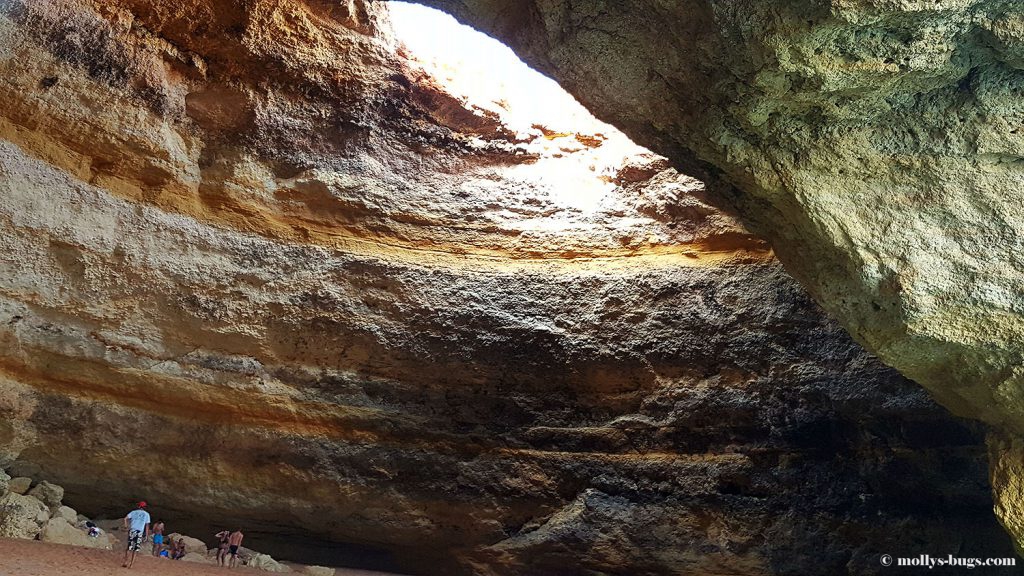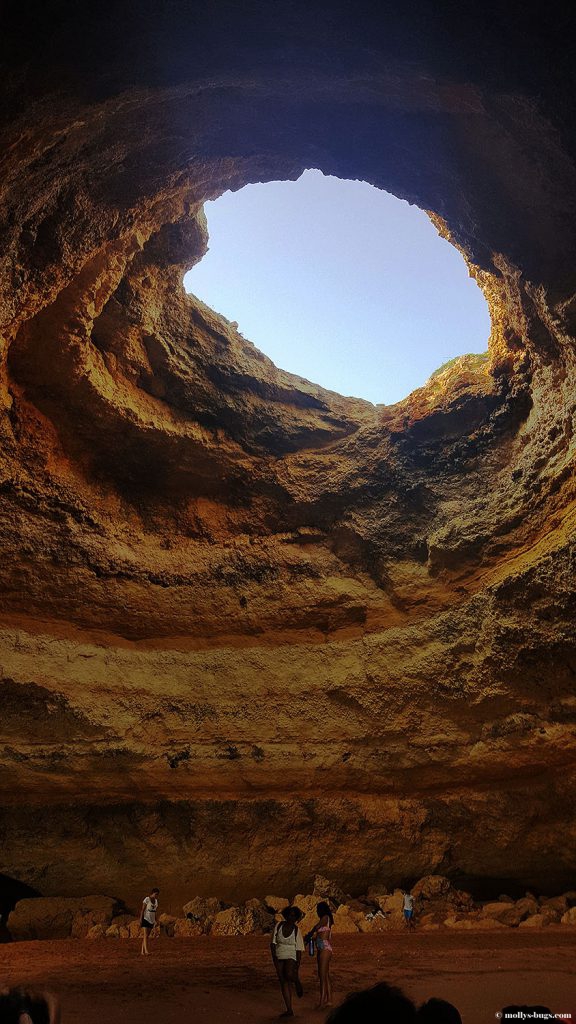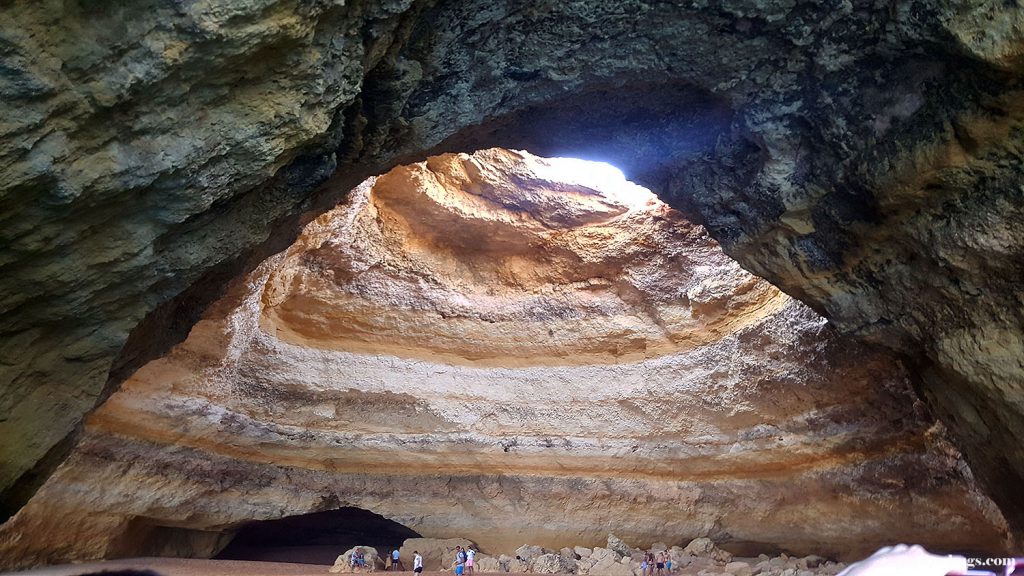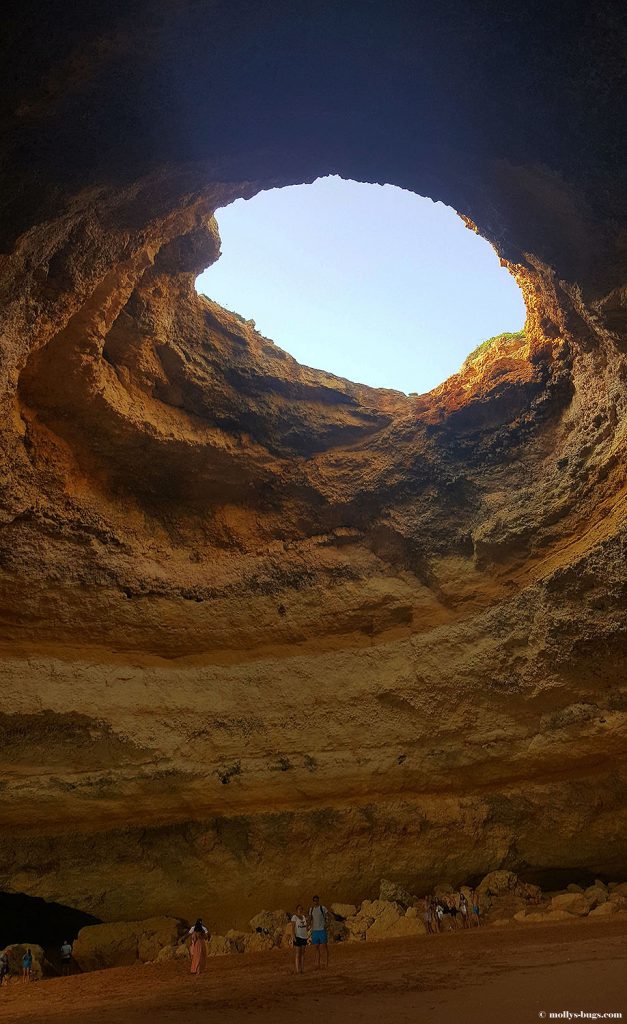 If you take a trip to Albufeira, a vibrant town, take time to visit a neighbouring beach – Praia de São Rafael distinguished with a blue flag. Crystal clear water, scenic views of bright yellow rocks along the coastal line and exceptionally white sand will certainly make your stay there very pleasant and unforgettable. Although this beach is not large enough to 'hide away', you will easily find a quiet place to escape. We were a little bit upset to discover that sand here has no shells at all. If our accommodation was closer to this beach, we would certainly visit it again.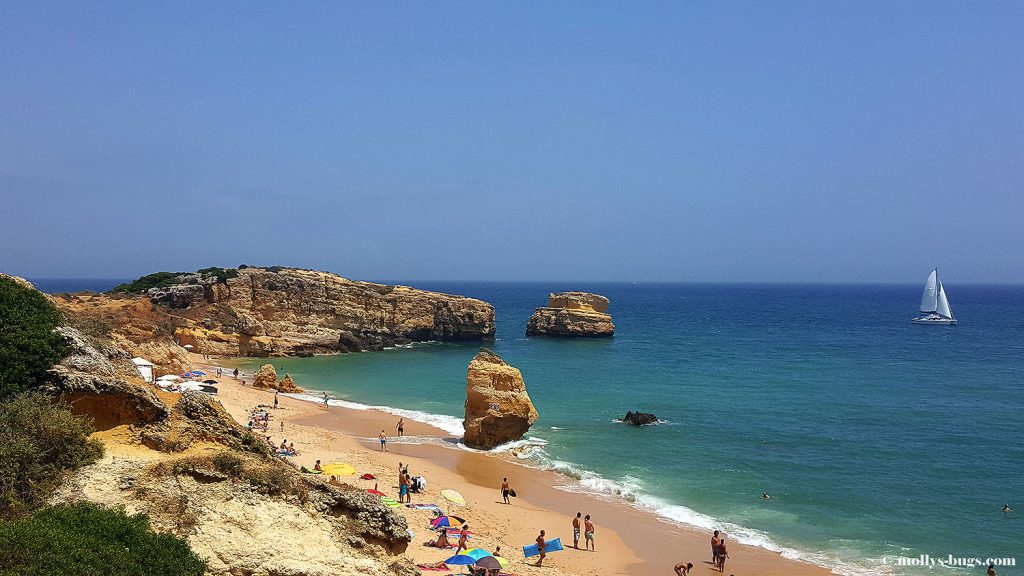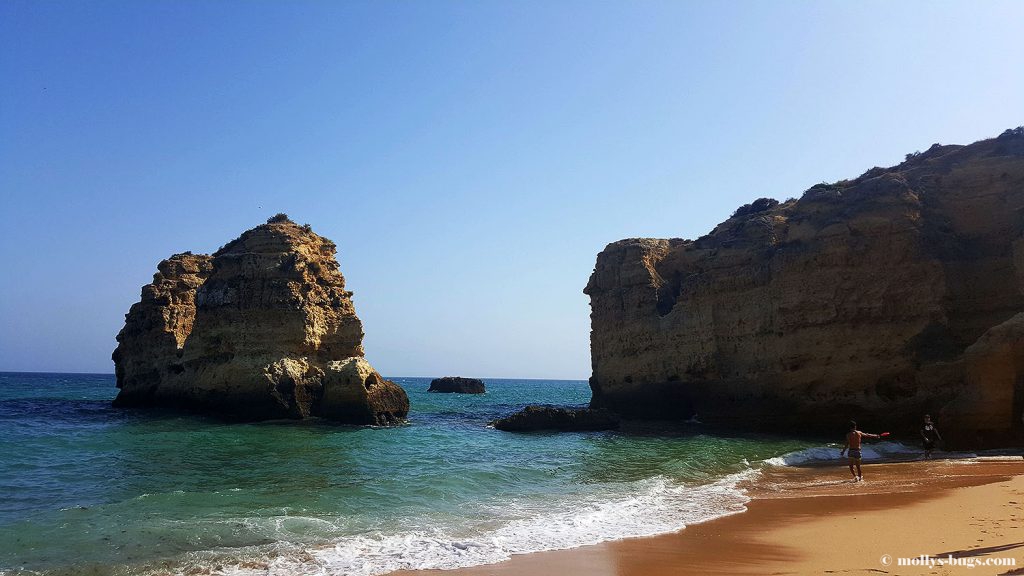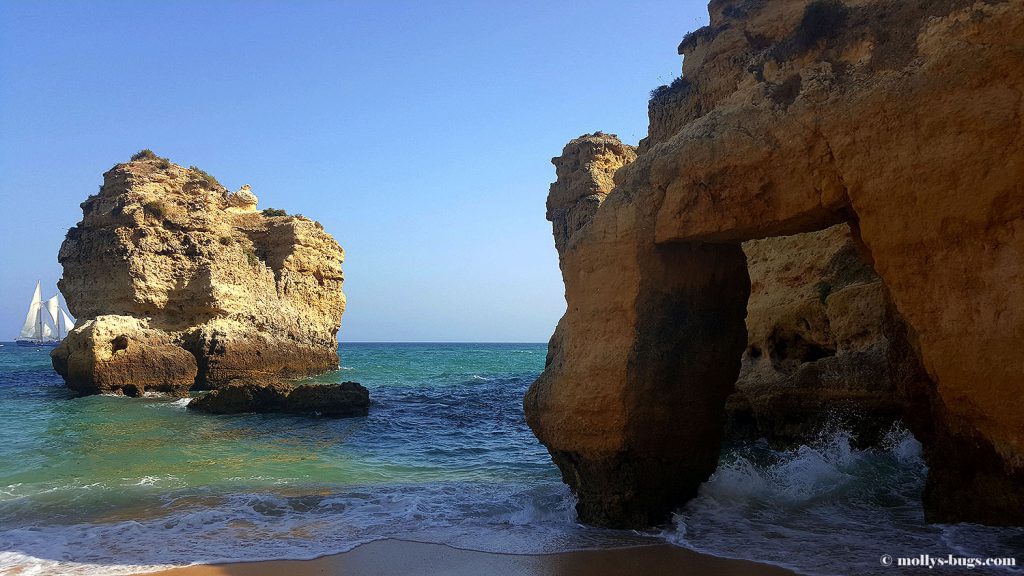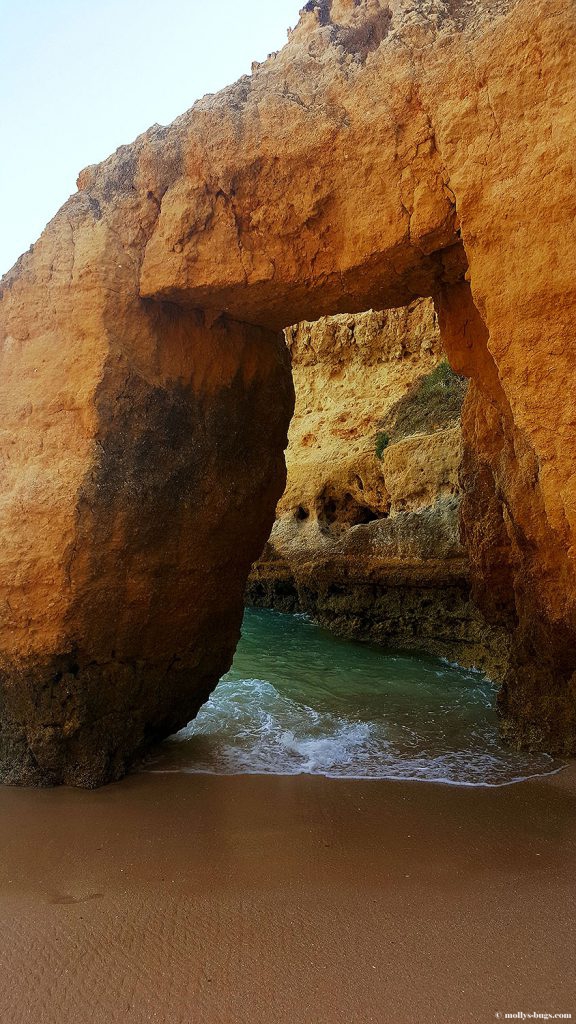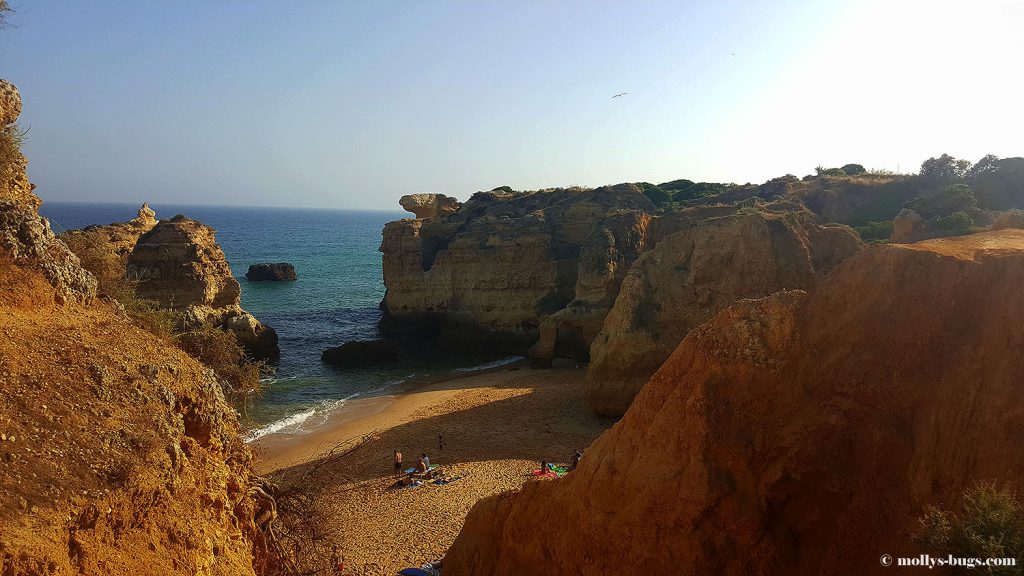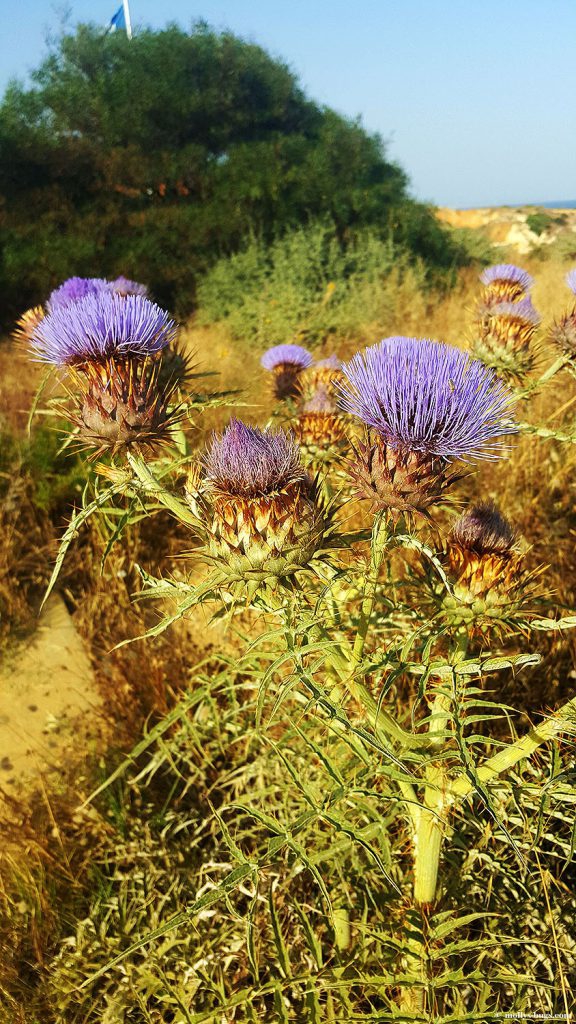 Another unique bay, we strongly recommend, is Praia de Carvalho. To get to this beach, you need either to go down steps cut into the cliff or to walk down through a small tunnel in the rock a little further from the entrance. We have read much about this deserted place but we were unpleasantly surprised to find an overcrowded bay. There was no room at all and we had to squeeze up. The problem is that the beach is really tiny and narrow. It is the smallest beach of all we have seen. Furthermore, it is a bay, meaning that your sunbathing ends at 06.00 p.m. when the sun sets behind rocks which shadow the sand. In late afternoon, the water becomes cloudy and wavy. The entry to the water is steep. To get to the beach, you have to go down the stairs quite a long way. Need I say a word about no amenities on such a tiny beach? Anyway it deserves a visit to see it.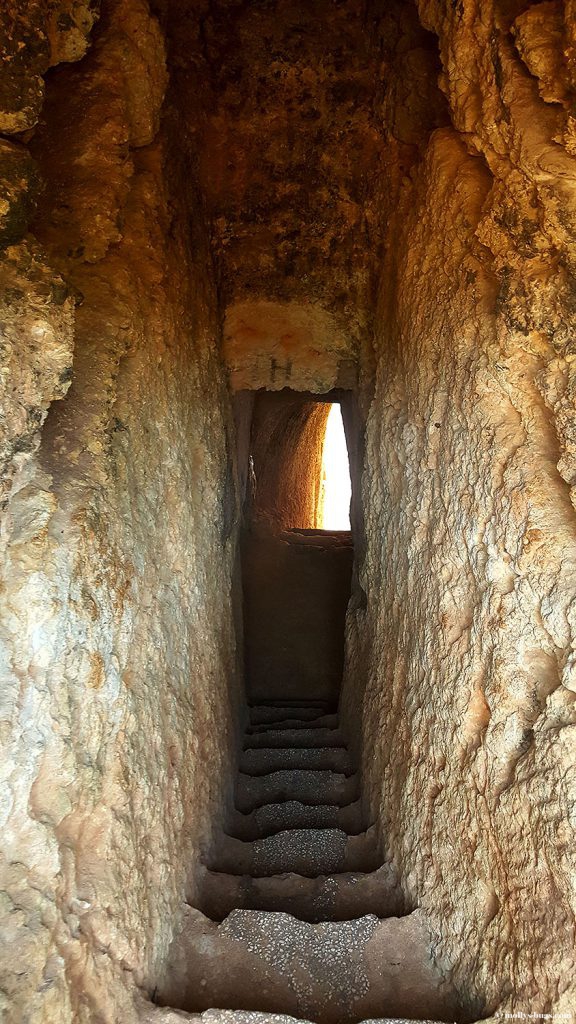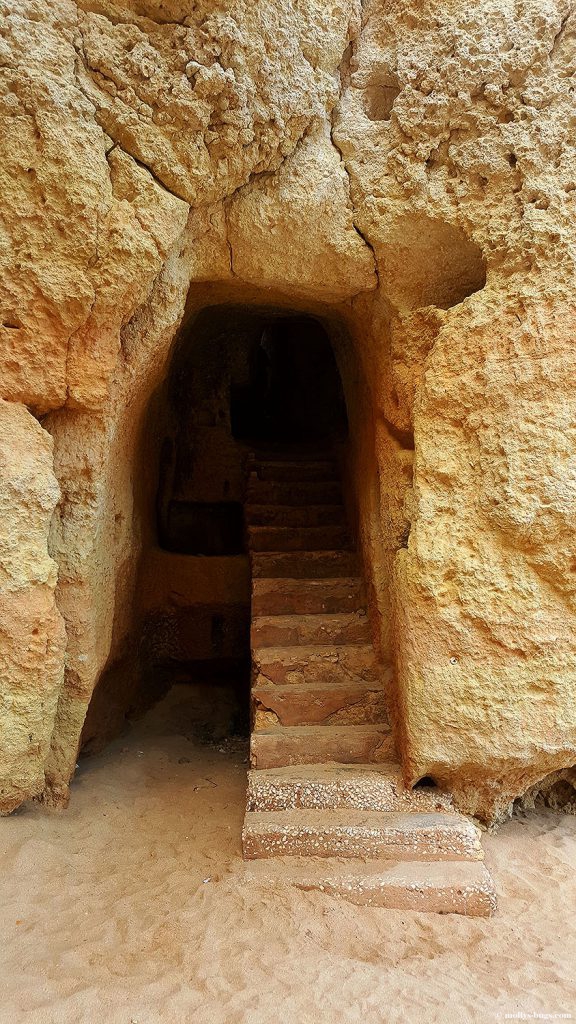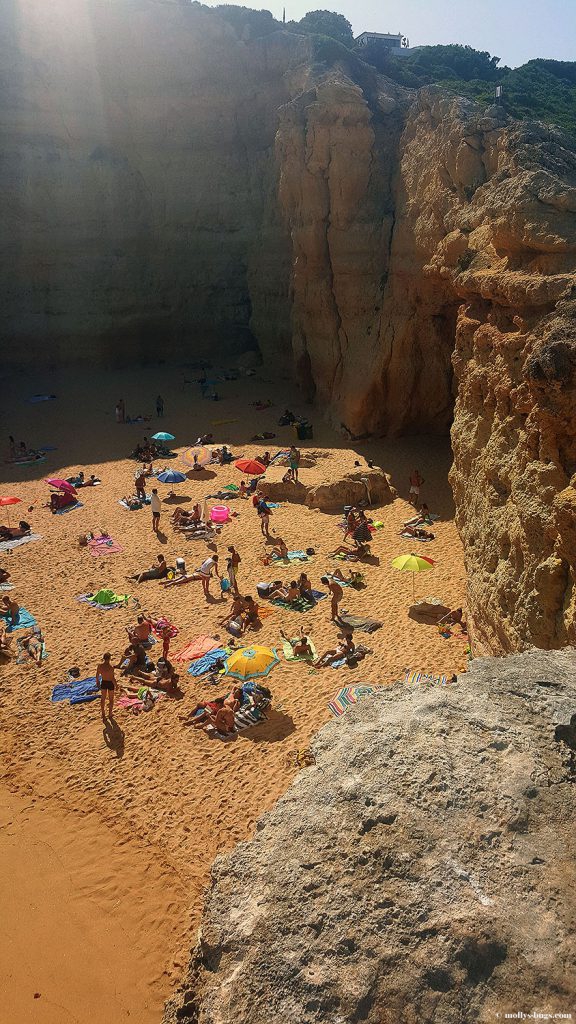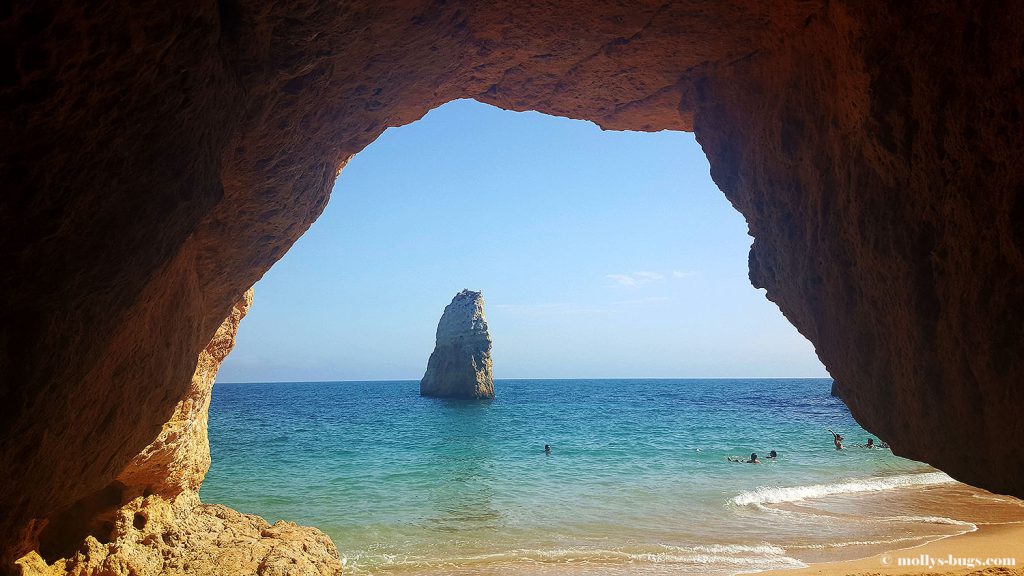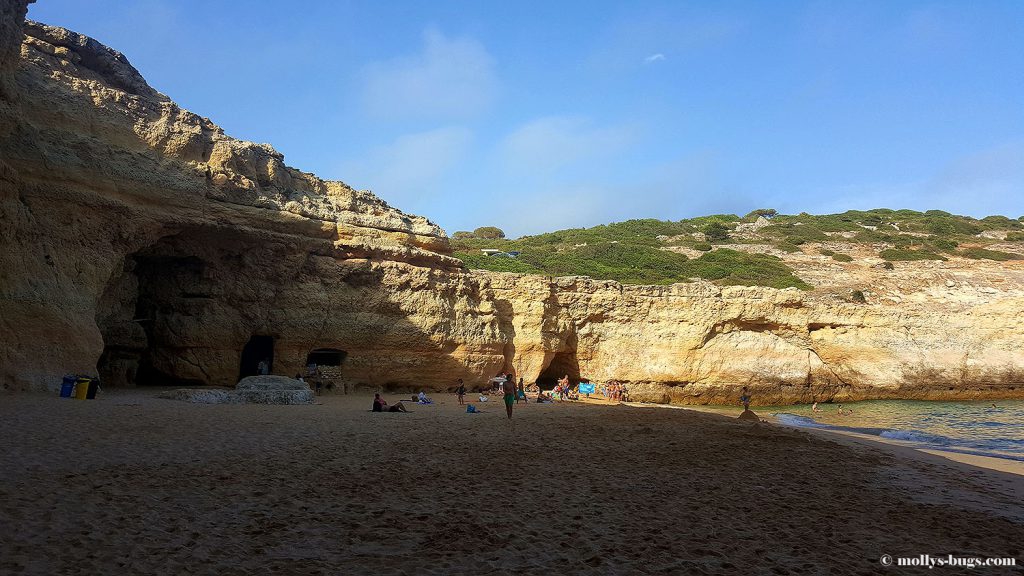 Another scenic beach which wouldn't leave you unmoved is Praia da Marinha. The European Best Destination website rightly nominated this beach as number one in the list of Europe's best beaches. In MichelinGuide, this beach is among Top 10 Europe's Beaches. The beach is very photogenic from any perspective. A relatively small beach with white sand contrasts well with emerald-blue ocean water. Rocks which sheltered the bay all around remind me ofNapoleon cake rather than granitic rocks sharpened by wind and water. There are also grottoes and caves you may explore at a low tide. The 18th century shipwreck attracts many divers. This is a very good beach for kids.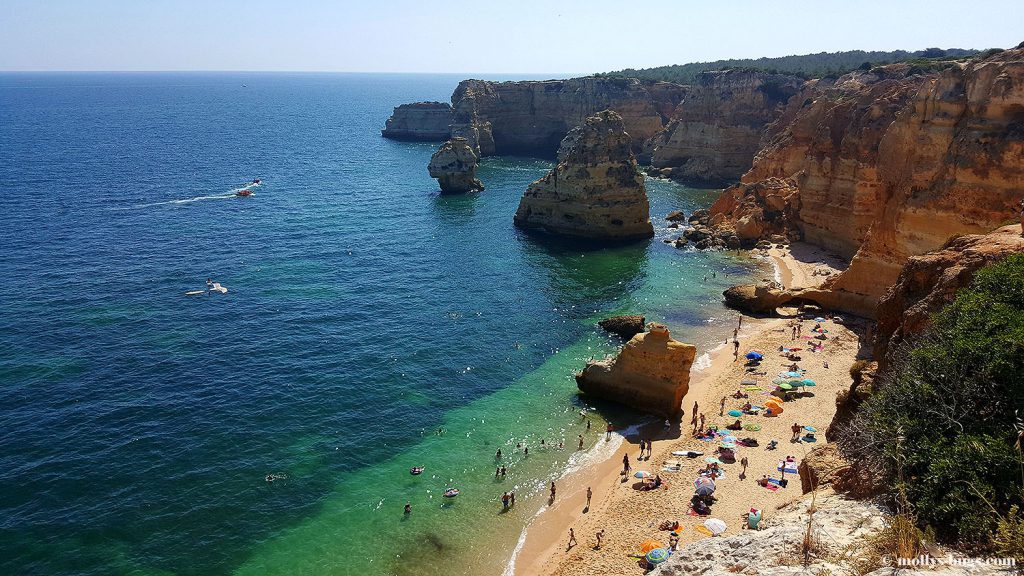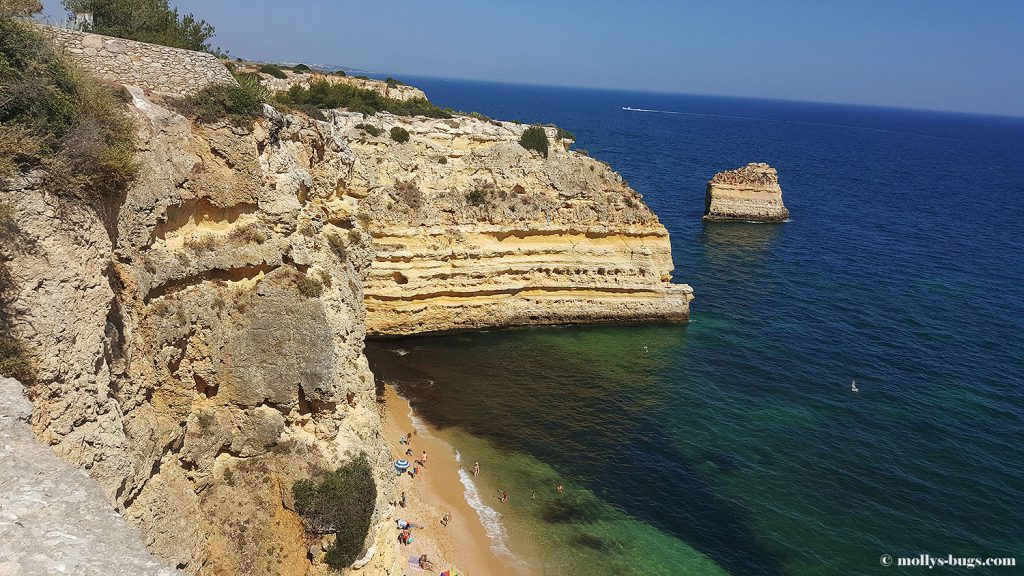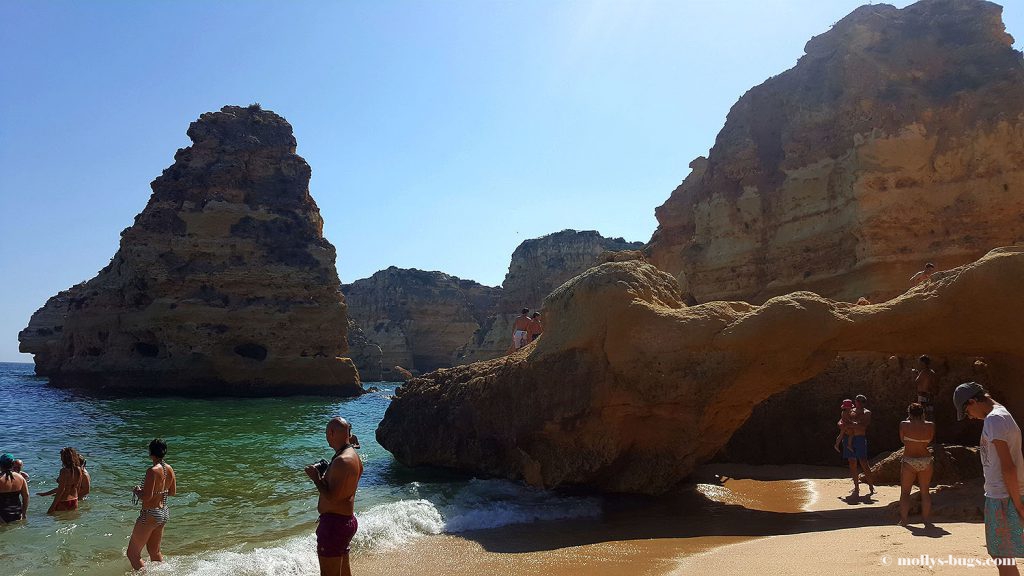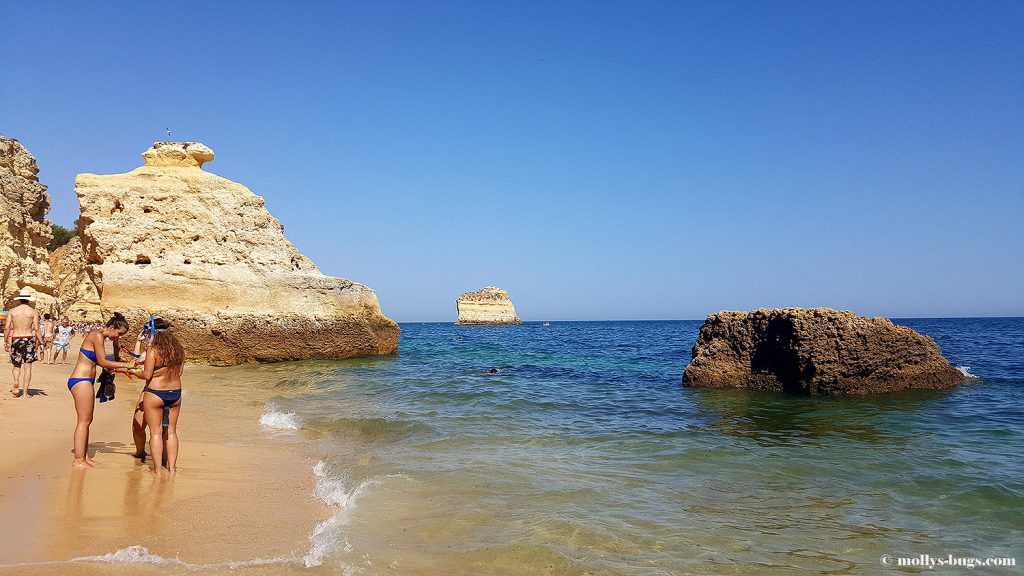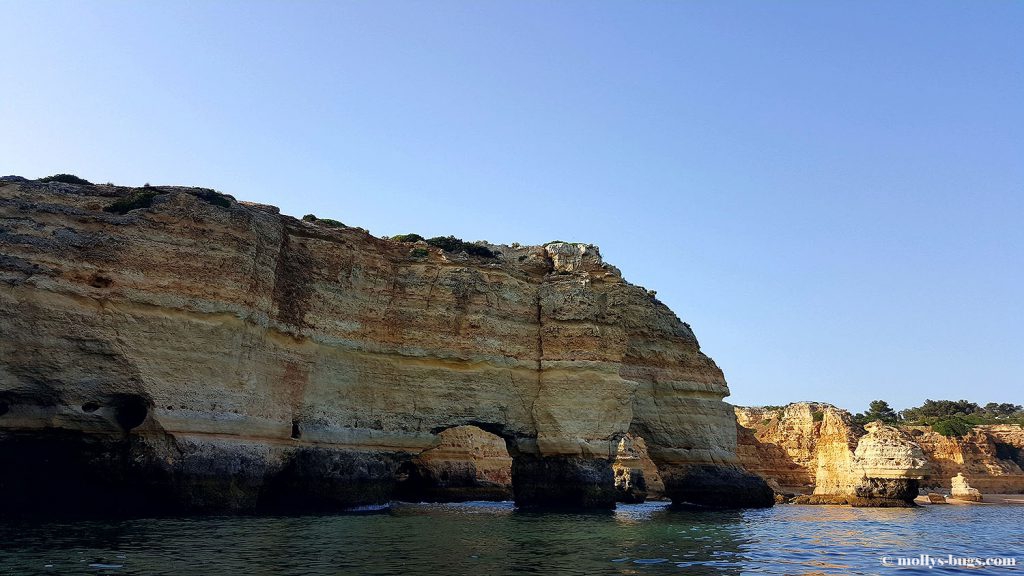 During our stay on the south coast, one day was overcast and we decided to take a day out to go to Faro, Algarve's capital described by many travellers as a 'shabby' and 'dull' town. Nevertheless, we had to see it ourselves. We must admit the description was not far apart from the truth. Neither architecture, nor local points of interests are impressive. We started with visiting the old town to see the palace and the central square and walked to Nossa Senhora do Carmo constructed in the 17th century. This Church is famous for its chapel built with 1,200 skulls of monks. When entering the chapel, you see an inscription that does not make you high: "These bones wait for your bones." Interestingly, wherever we walked in the city, we saw stork nests: a church roof, a city hall, or a lamp post just in the middle of a busy crossing… To sum up, visit this town if you have enough time and a wish, but it is not worth making special arrangements to get there.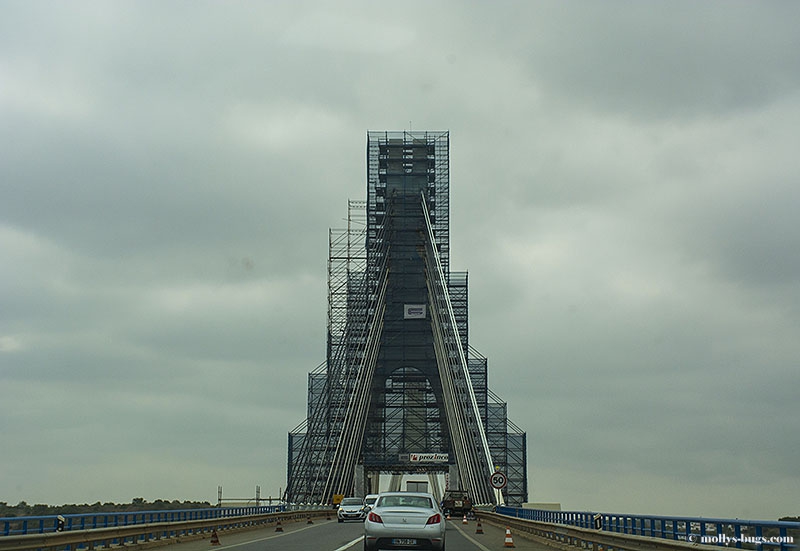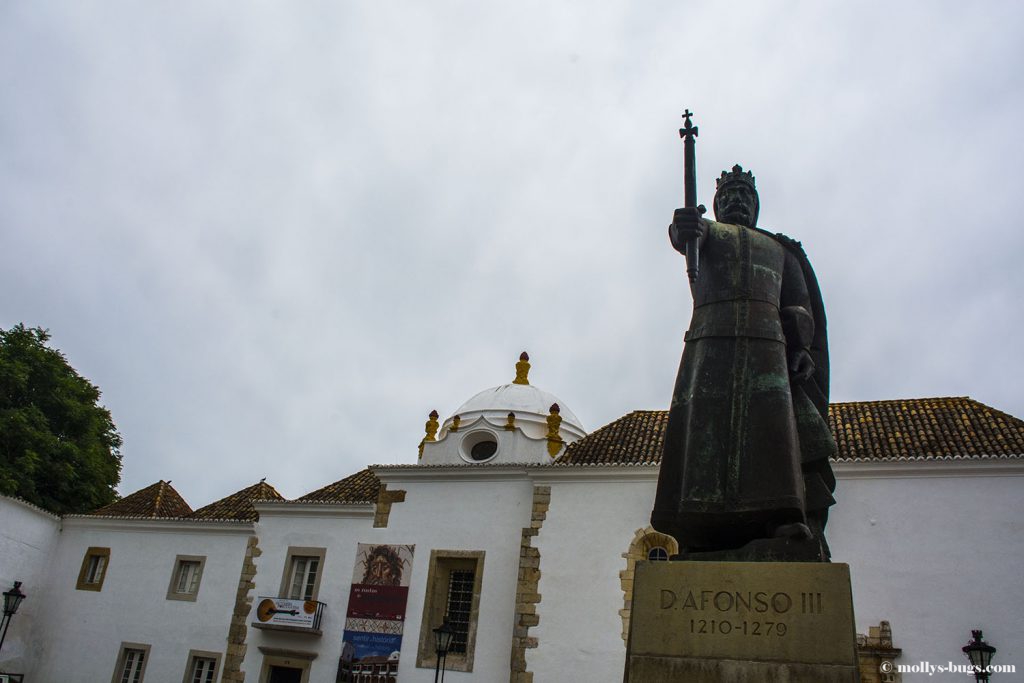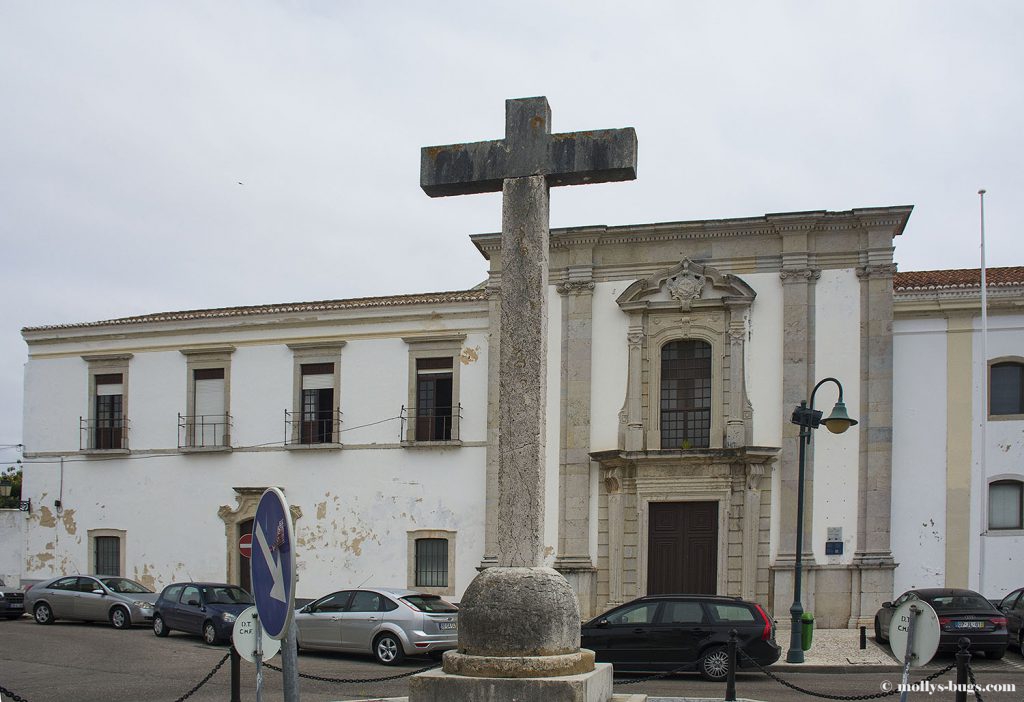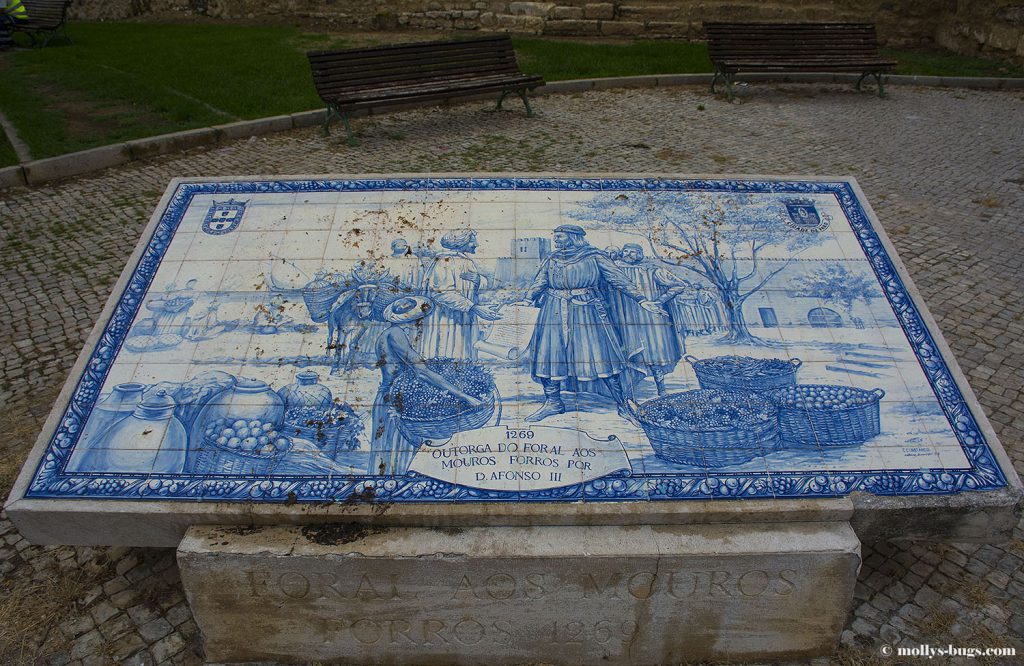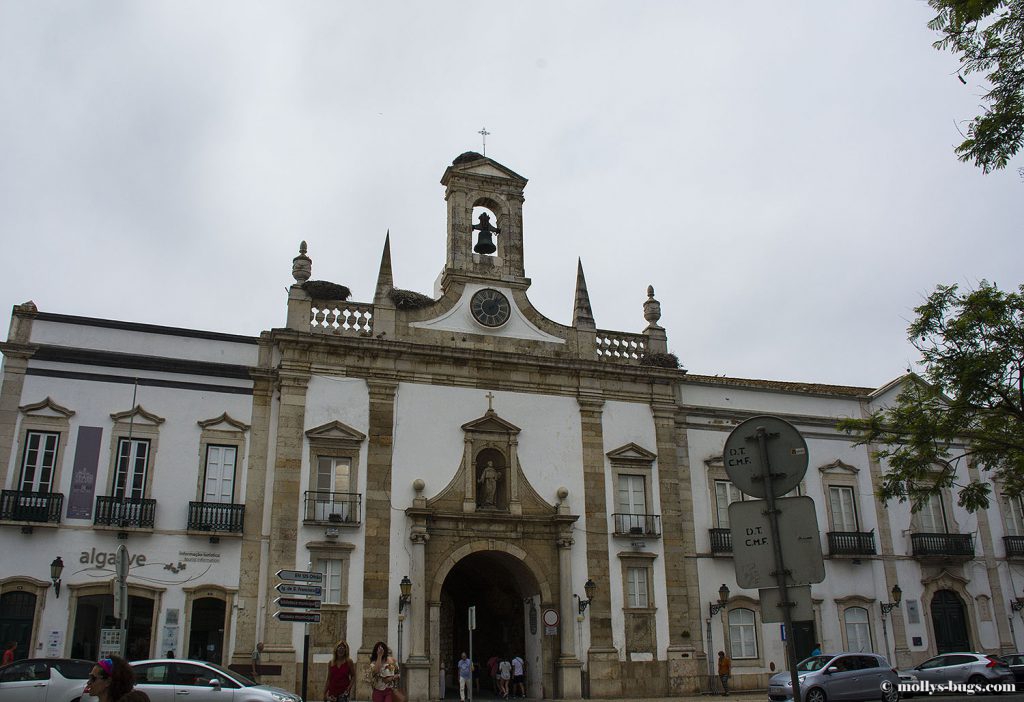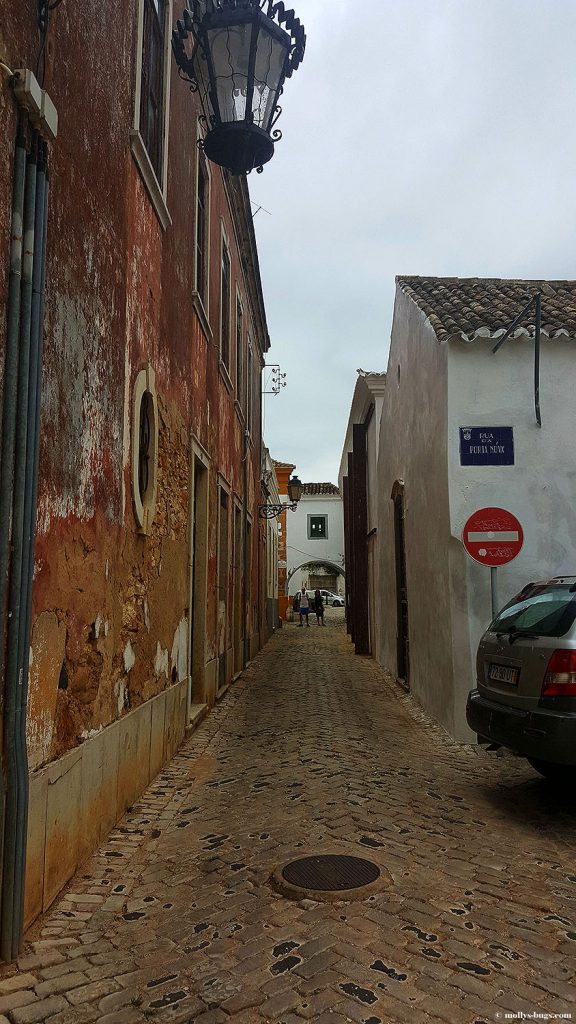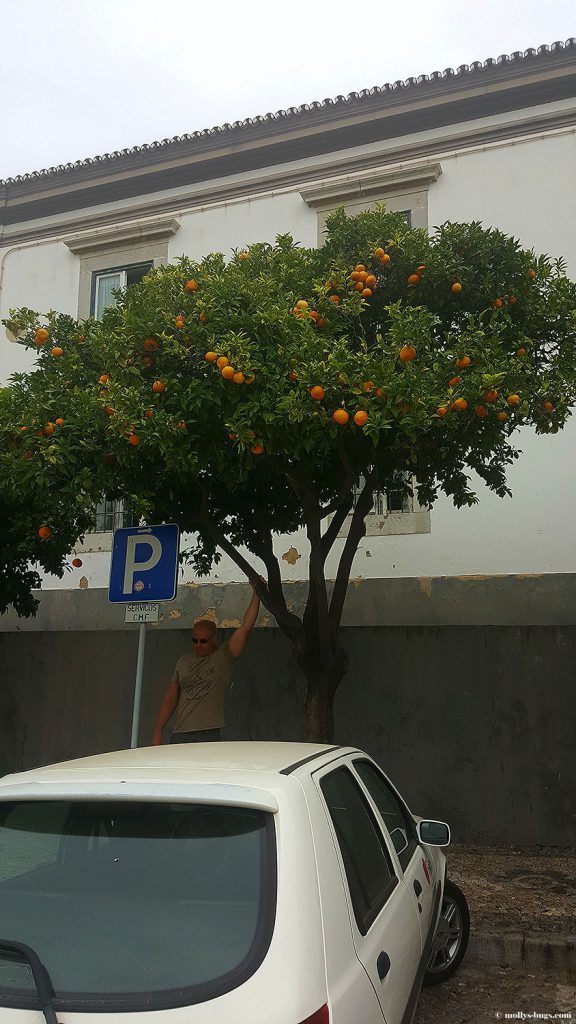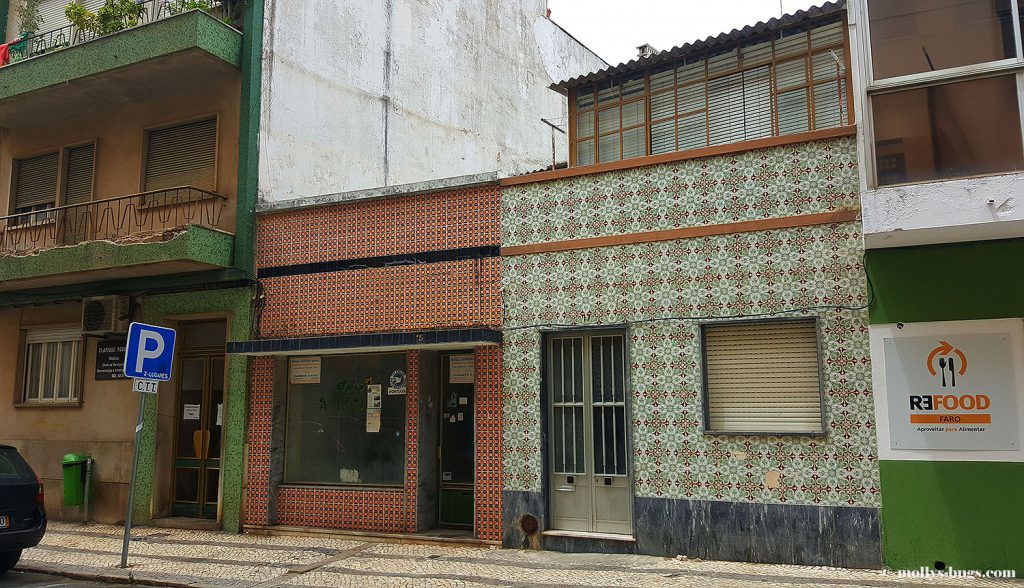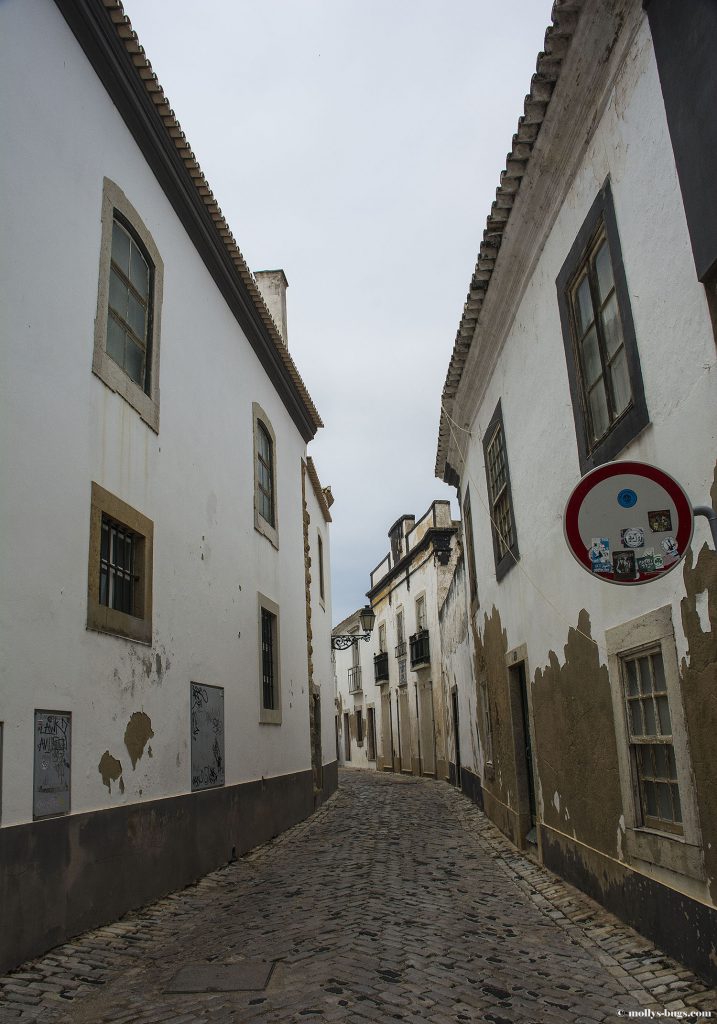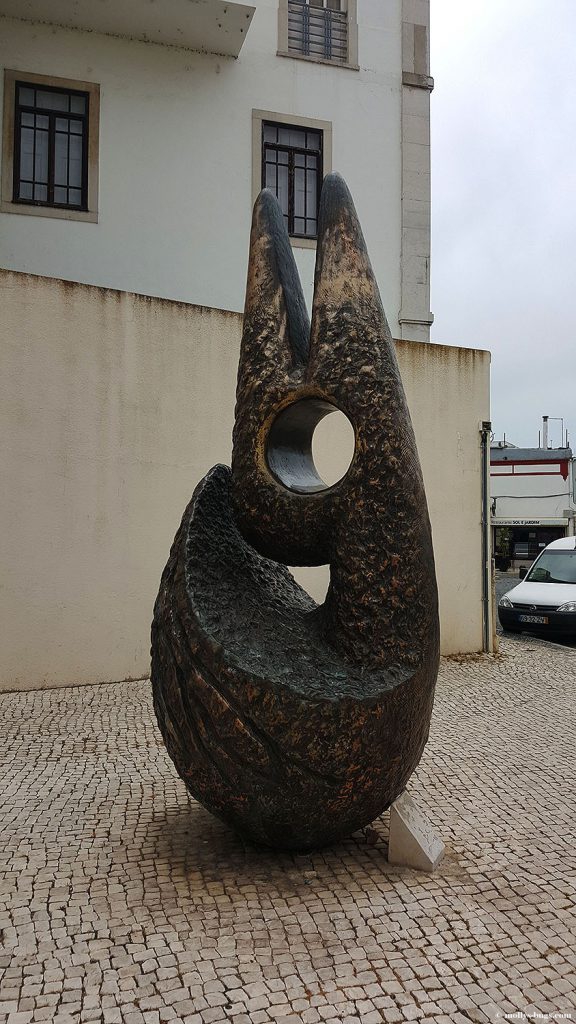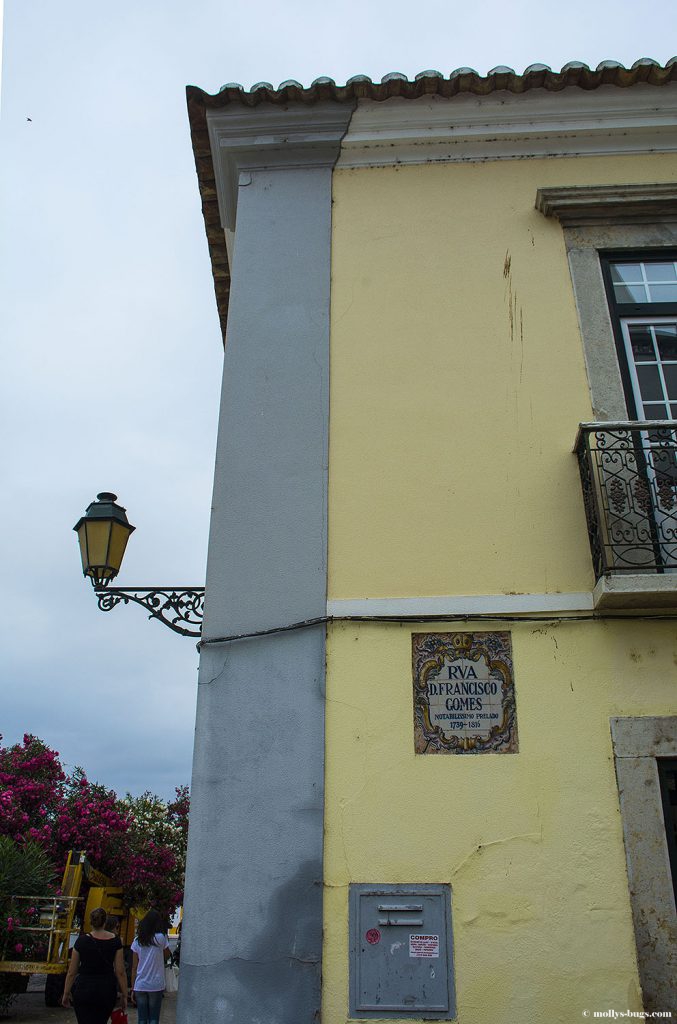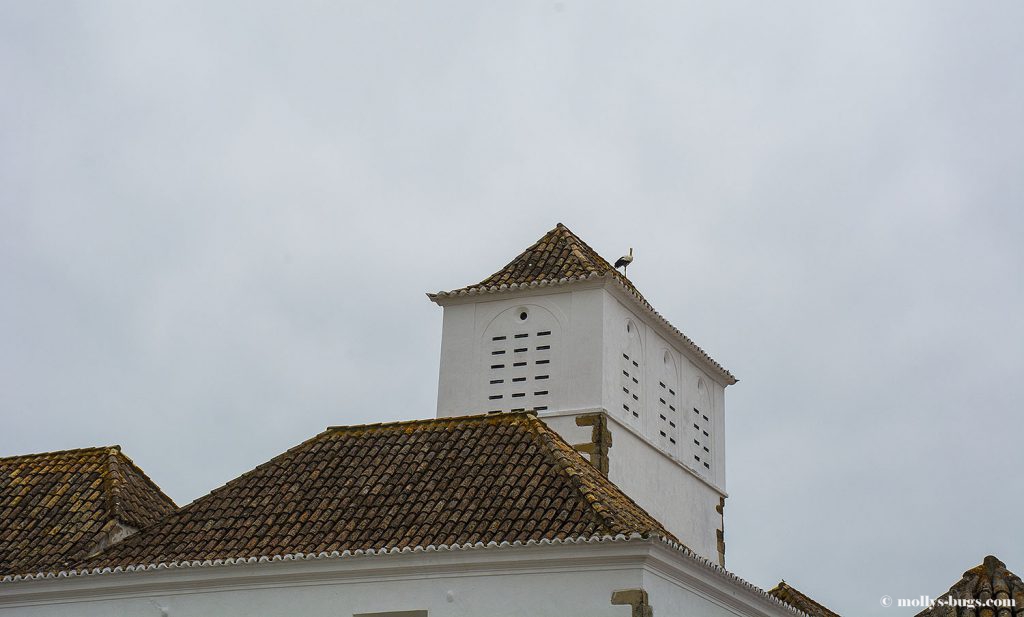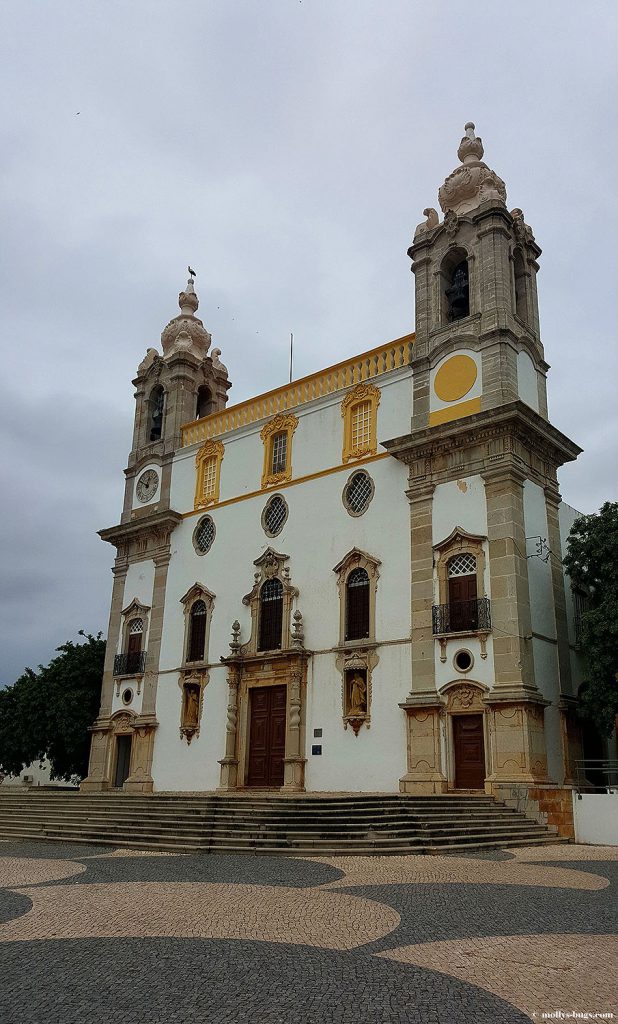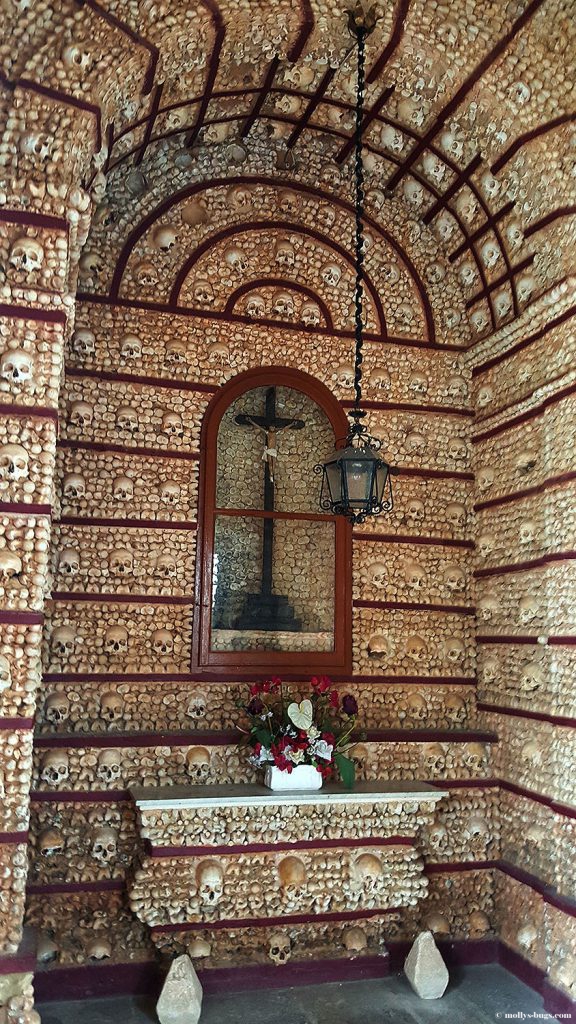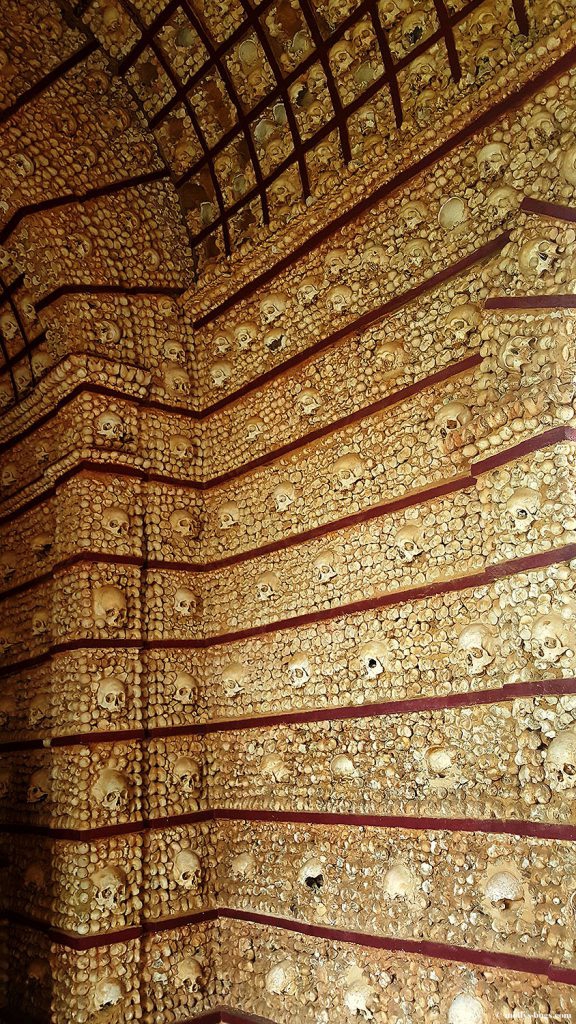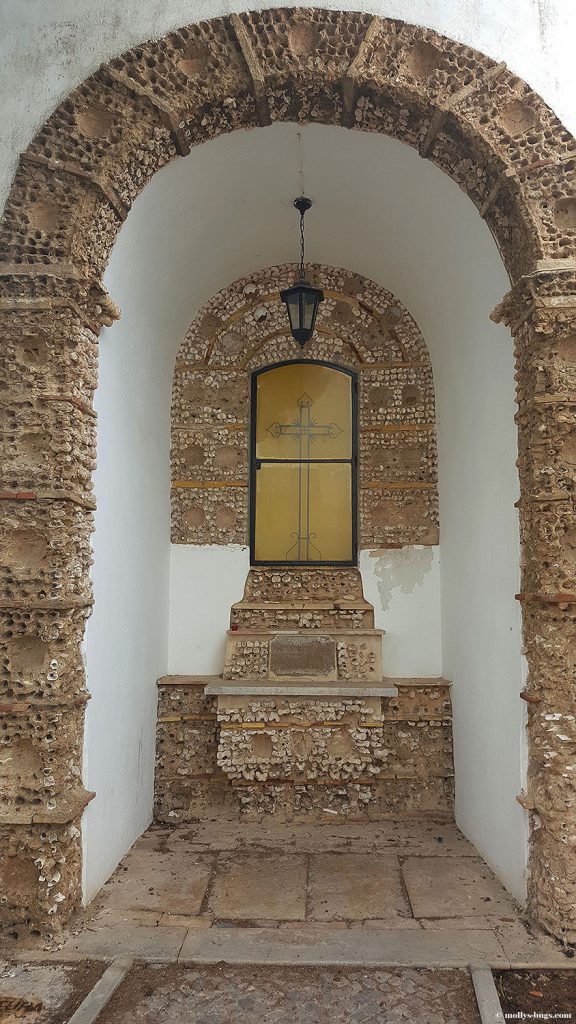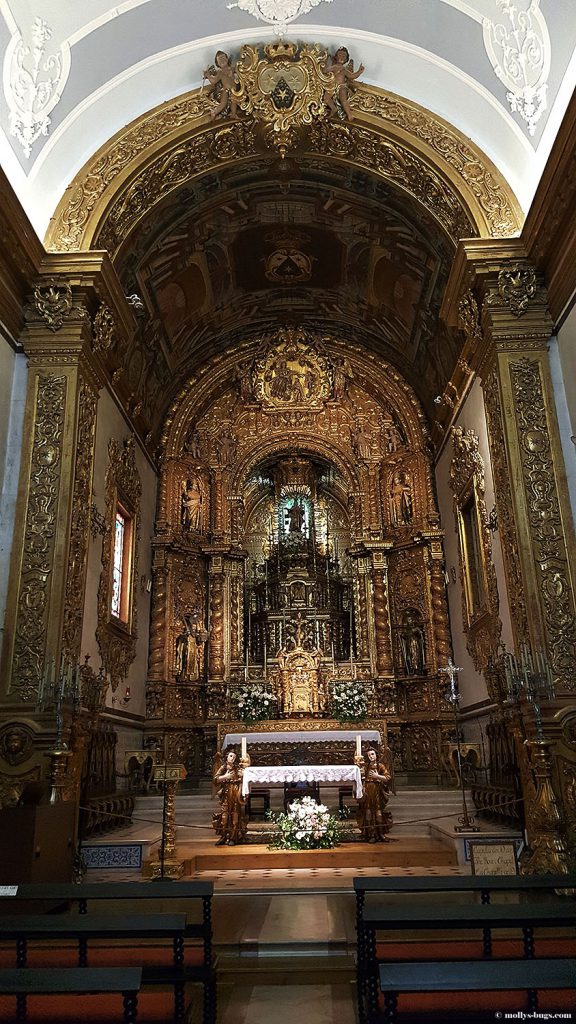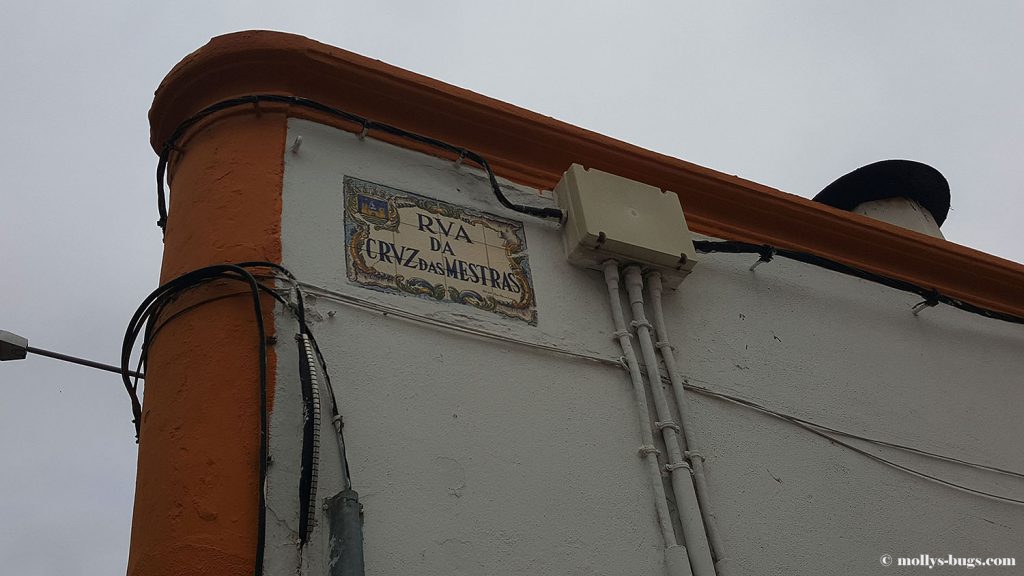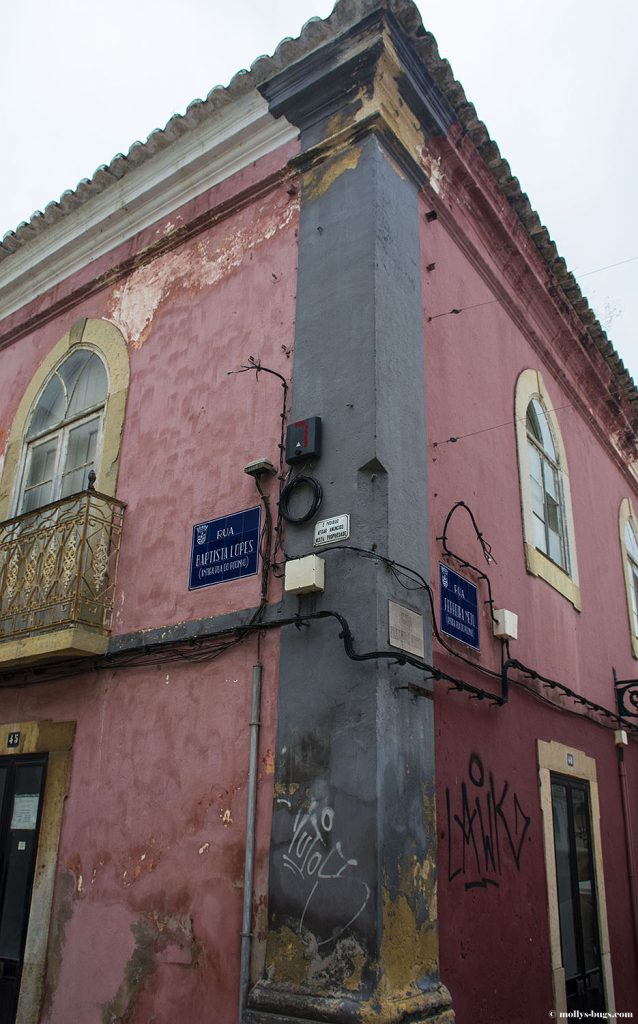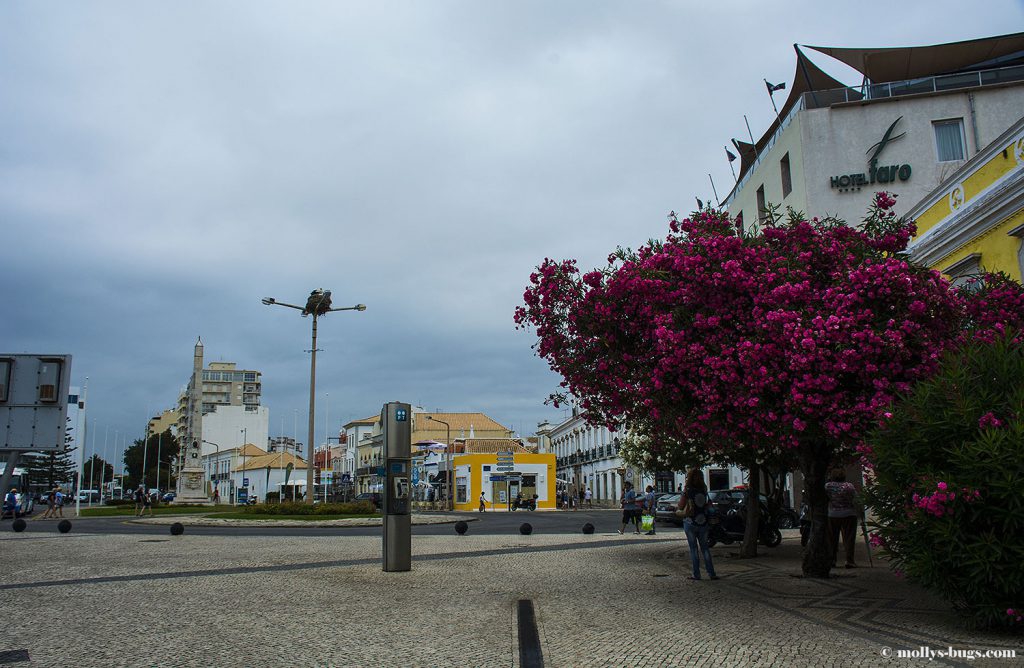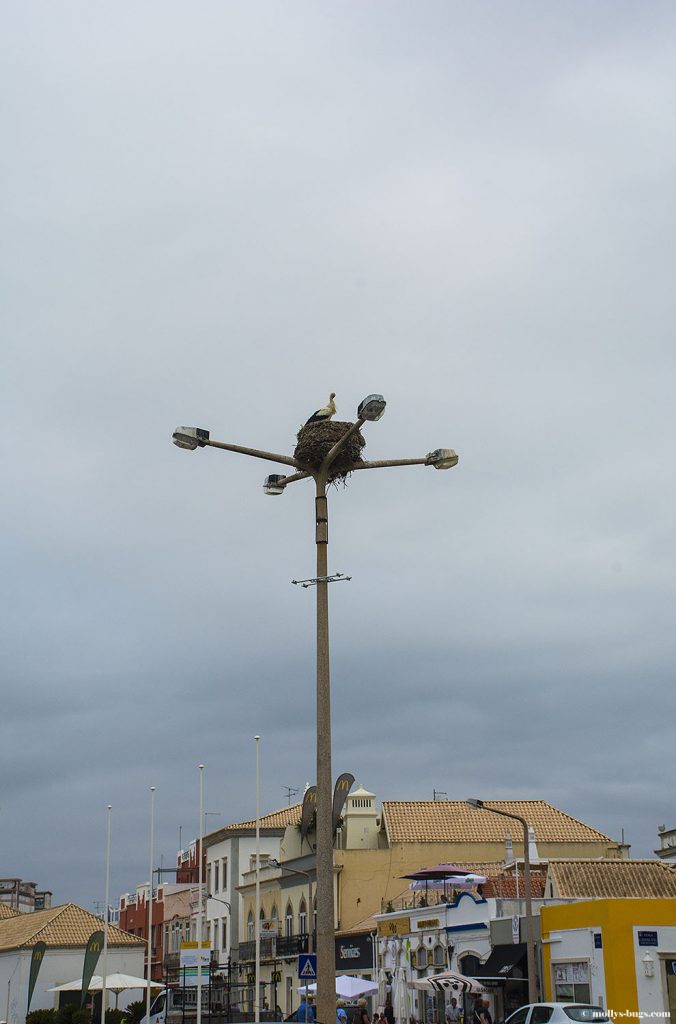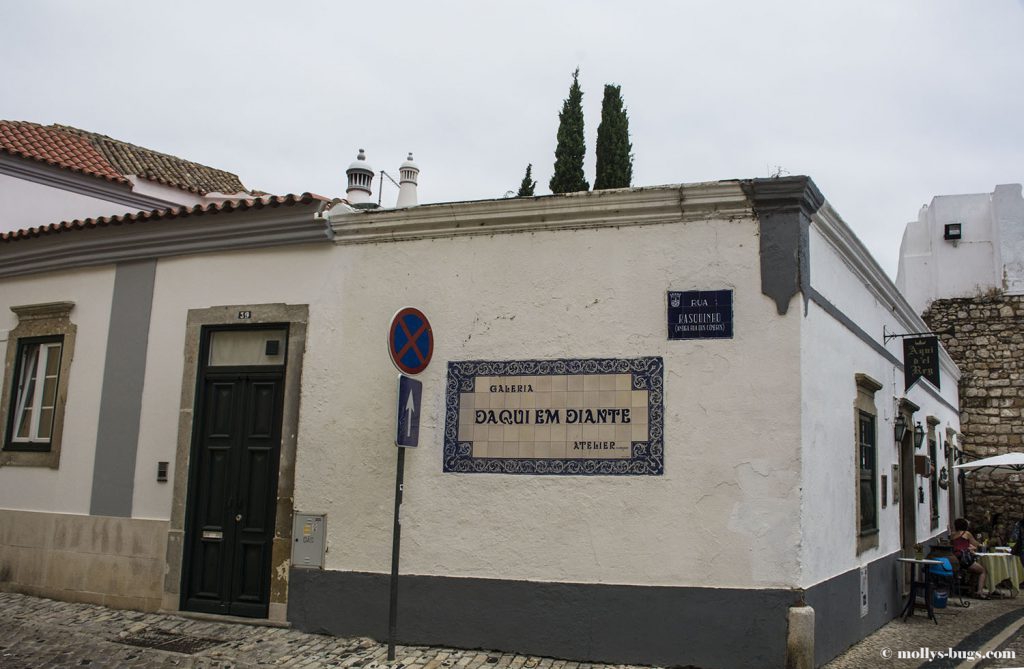 To summarize, we enjoyed our vacation in Algarve very much. Even more, it was our best beach experience ever! Prices for food and accommodation are much lower than in neighbouring Spain, and the ocean is very comfortable and refreshing especially when the daily average temperature is +43°C. Make sure you don't plan your visit to Algarve in early season when the ocean is too cold. The best season here is July and August.
You may also like:
All You Need to Know Before Travelling to Portugal
Sintra: Mysterious Oasis of Happiness
Lisbon: the Remote Capital of Western Europe
Buddha Park: Serene Tranquillity for Your Soul