Nuuk is the largest city on the island of Greenland and is home to about 15,000 people – one fourth of the country's total population. It's the smallest capital in the world. However, despite its official status of the main city, tourists could hardly find any special entertainment there. So, the only purpose we arrived there was to see the capital of Greenland. Looking ahead, I can say that 3 days we stayed in Nuuk were too much and we run out of ideas how to spend our third day there.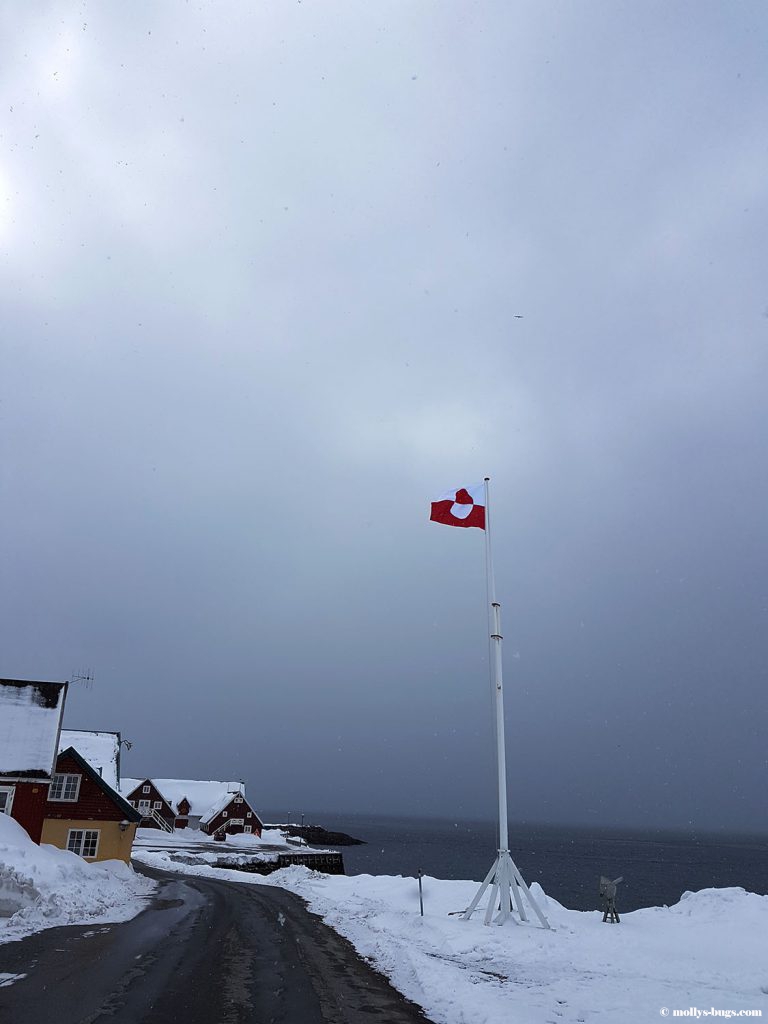 Air travel
The city is called Godthab (Godthåb) in Greenlandic and can be translated as Good Hope. This name reminds me of Gotham, a fictional city where Batman lived. Nuuk is just 240 km to the south of the Polar Circle.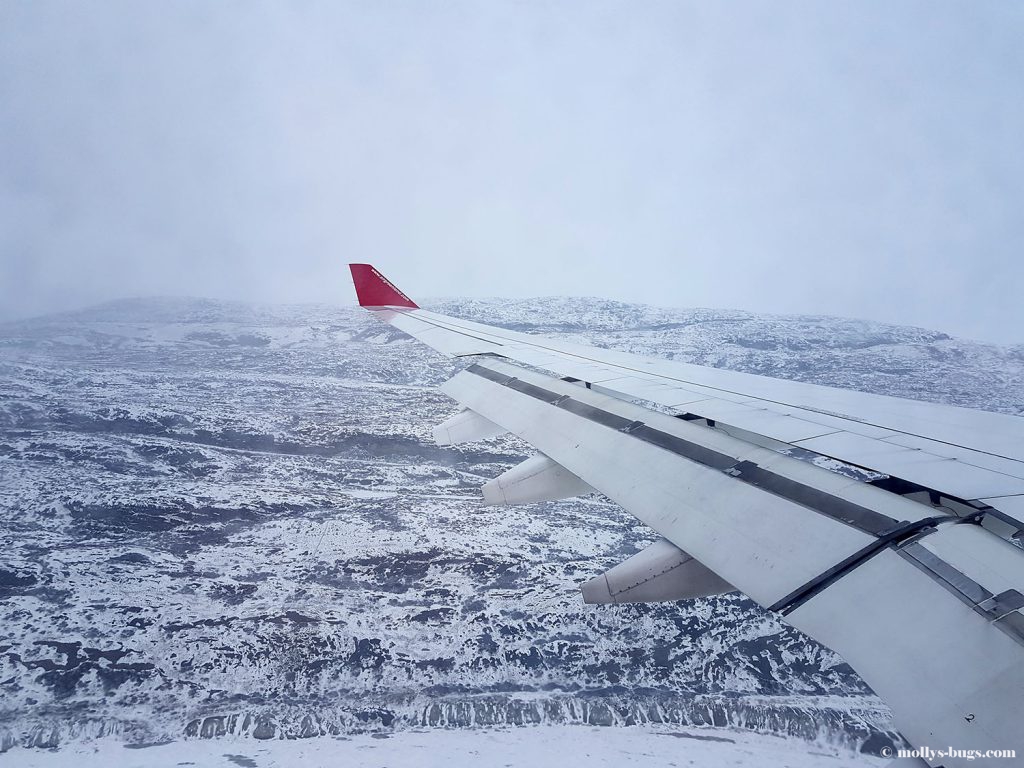 You can get to Nuuk only by taking a regular flight from Kangerlussuaq or, in the summer time, a seasonal flight from Keflavik (Iceland).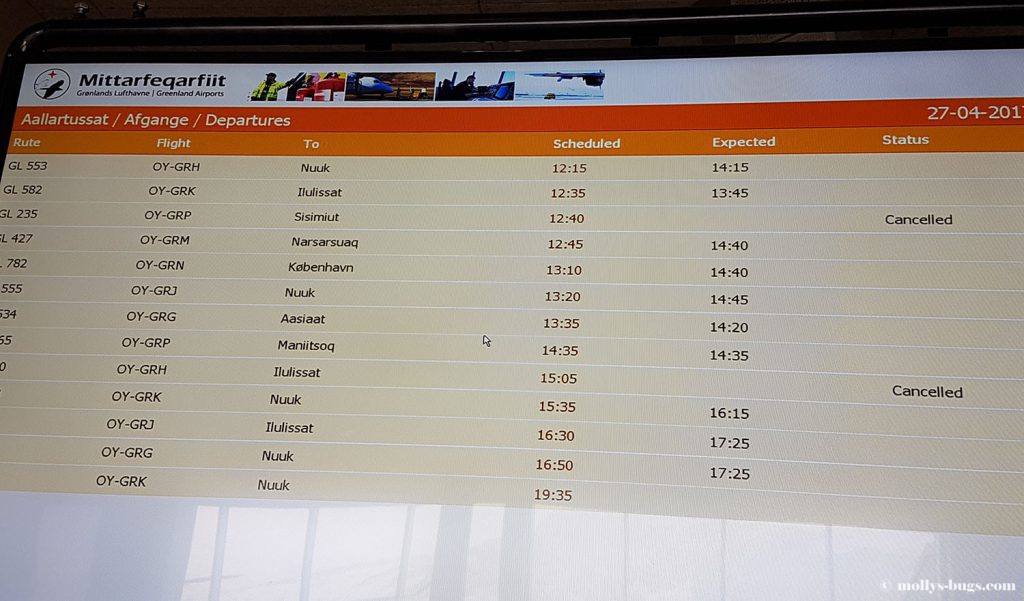 We flew from Copenhagen (Denmark) on a huge Airbus 330 for 4.5 hours to get to Kangerlussuaq, the largest air hub in Greenland. From that point we headed to Nuuk after a long delay. Several flights had been even cancelled that day due to very bad weather, so we had nothing but wait and hope to get to the capital of Greenland. Luckily, we've got there.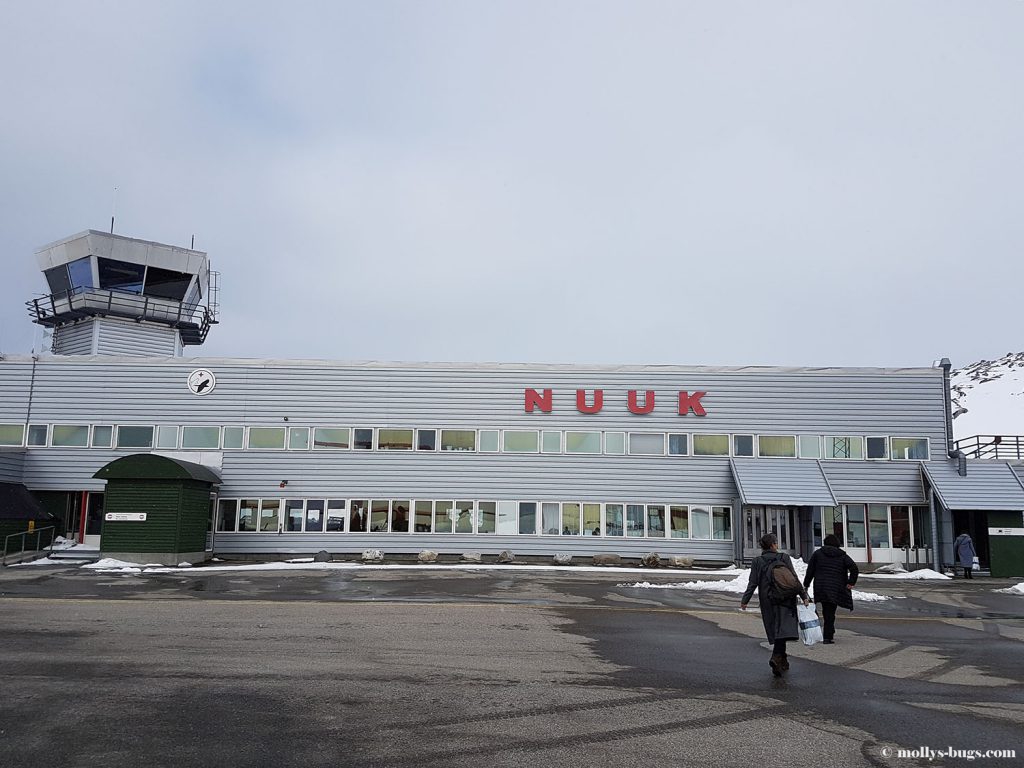 We took a taxi from the airport to our hotel that was just 20 km away and paid almost $20. The odometer of our taxi read 320,000 km – we shouldn't have been surprised if people could drive outside the city, but the cities and towns in Greenland are not connected by road.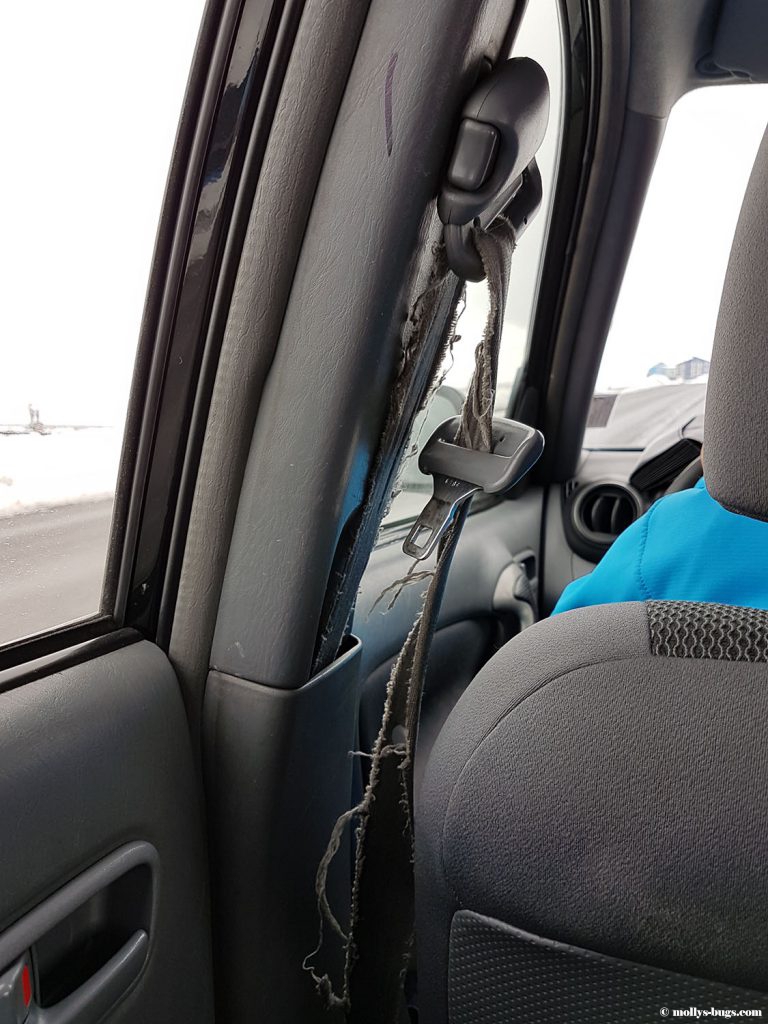 Where to go in Nuuk?
Our hotel was located in an industrial area, a 15 minute walk from the city centre. This shows how small the city is. The choice of accommodations in Nuuk is extremely limited, e.g. booking.com offers 4 hotels only, and since our trip to Greenland was quite a long one, we were looking for good value for money.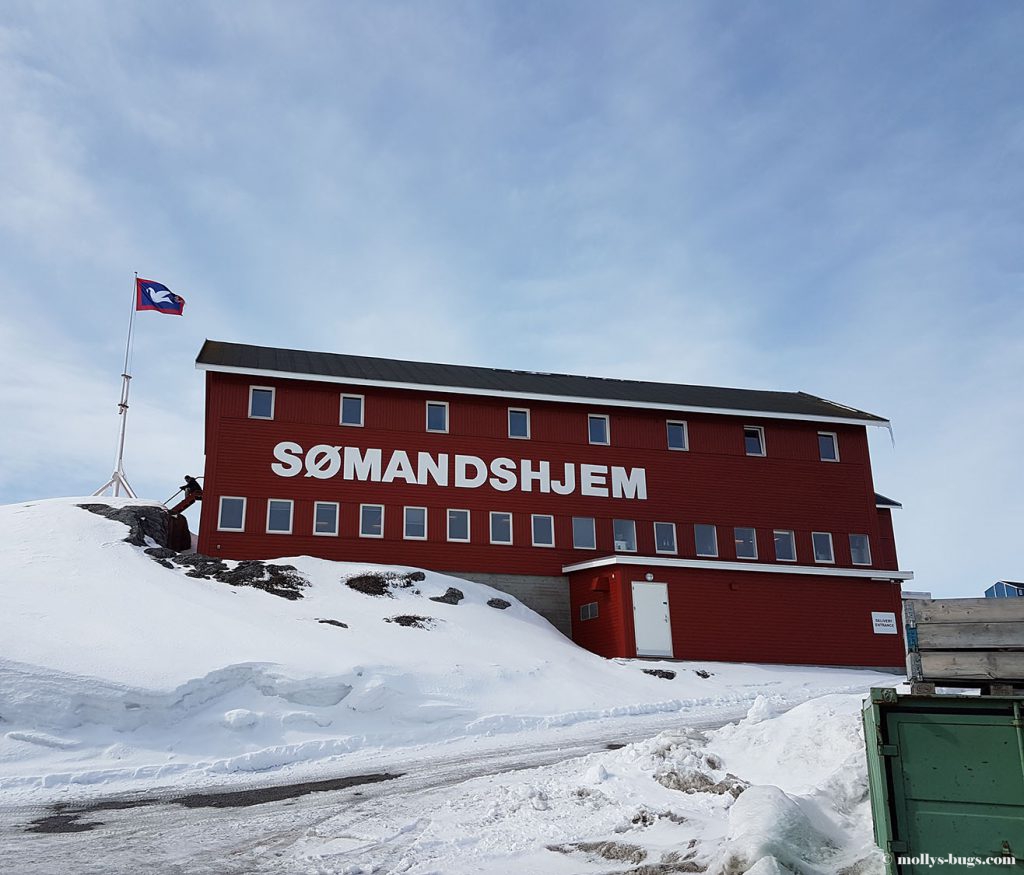 Where to live in Nuuk?
If you decided to come to Nuuk you should manage everything. There are not so many hotels so please book it beforehand. Because there is only 5 or 6 hotels and one of it is the largest hotel in Nuuk. It called Hans Egede Hotel. This hotel has 140 suites and apartments, two restaurants and free internet access. It is very untypical because the most hotels in the country charge a fee for wi-fi. But if you choose to live in apartments it is also a good idea. They are cheapest than hotels and looks very good and comfortable.
The Supermarket
The first point we visited immediately upon arrival was a large local supermarket, one of the two in the city. The abundance of products has knocked us off feet, so have done the prices. But one thing was absolutely clear – against our expectations the capital of Greenland has everything. Even more, in addition to a very good choice of products in the store, local fishermen and hunters sell shrimps, musk ox meat and fish just in front of the supermarket.  I've shot a video about our visit to the store. Please watch it here to know the prices for all products and see the range of available goods and products.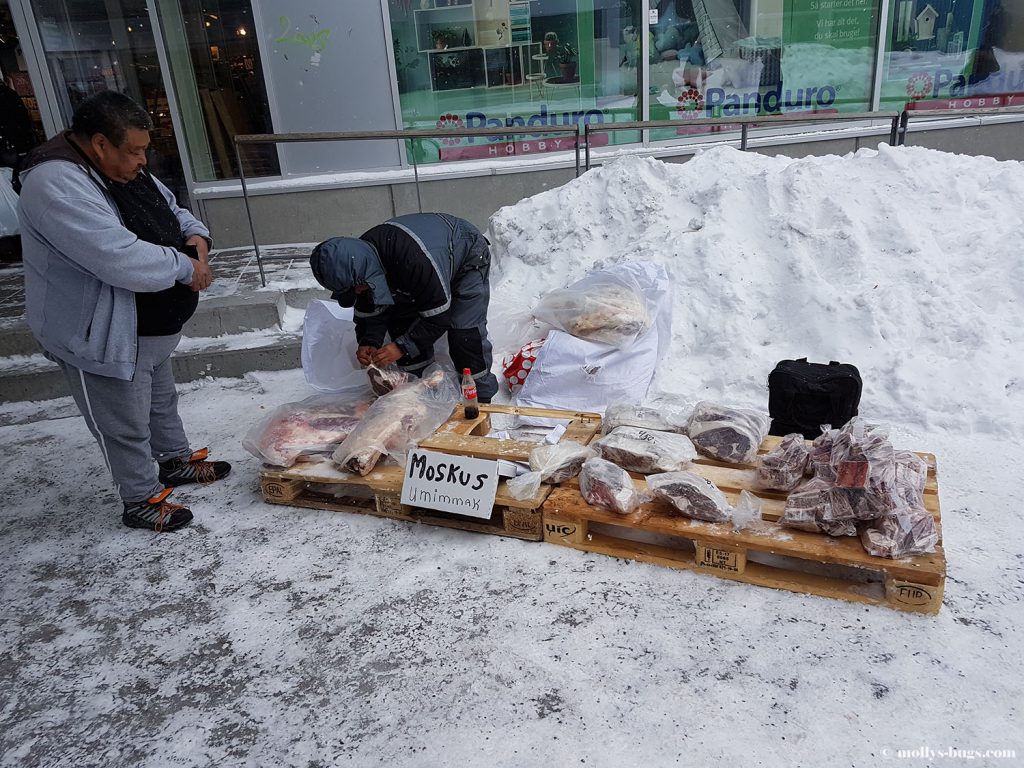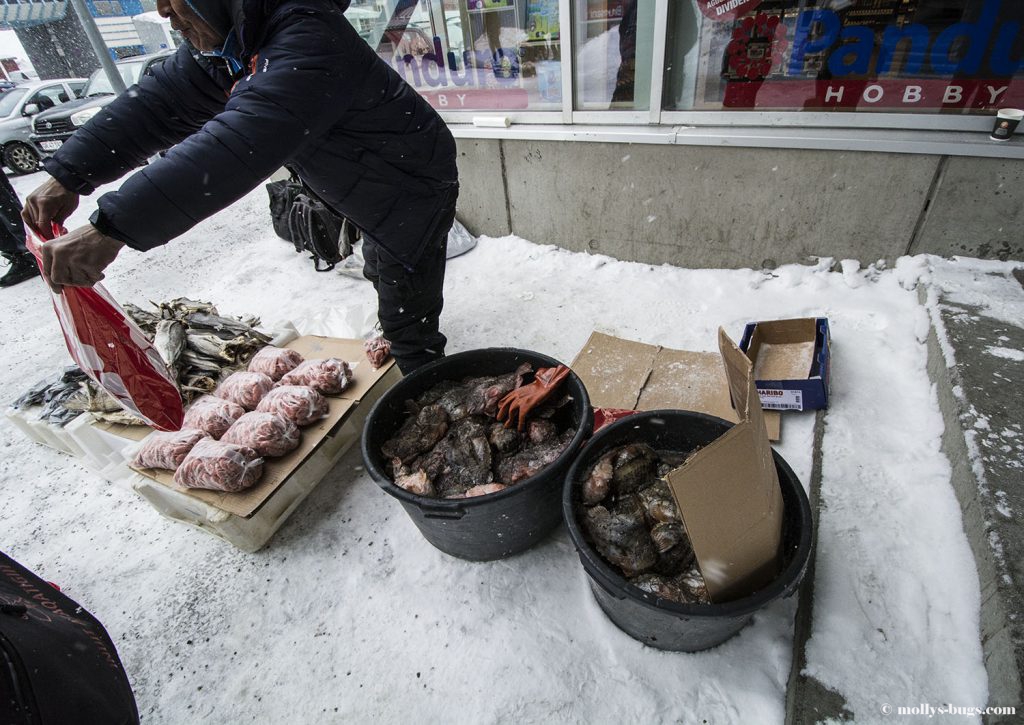 The Shopping Mall
There is only one shopping mall in Nuuk with about 15 stores selling different kinds of goods, starting from children's toys and staff and ending with trekking items and sportswear. In other words, you'll hardly find a very good choice, but can buy everything you may need for everyday life. This is a good example how big and megacities differ from small ones like Nuuk that seems to be free from consumerism imposed by aggressive advertising and a huge variety of goods in shopping malls.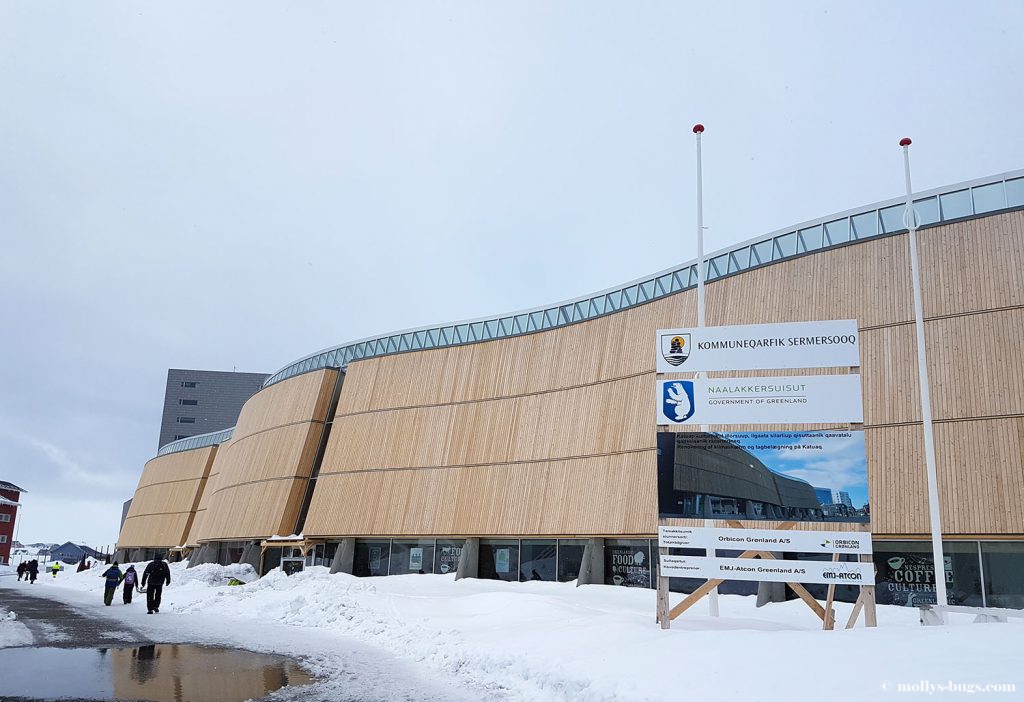 Old Nuuk
The old town is represented by many colourful wooden houses standing on the shore of Baffin Bay. It took us just half an hour to walk it around. Every house differs from its neighbour, but at the same time they all leave an impression that they are very much alike.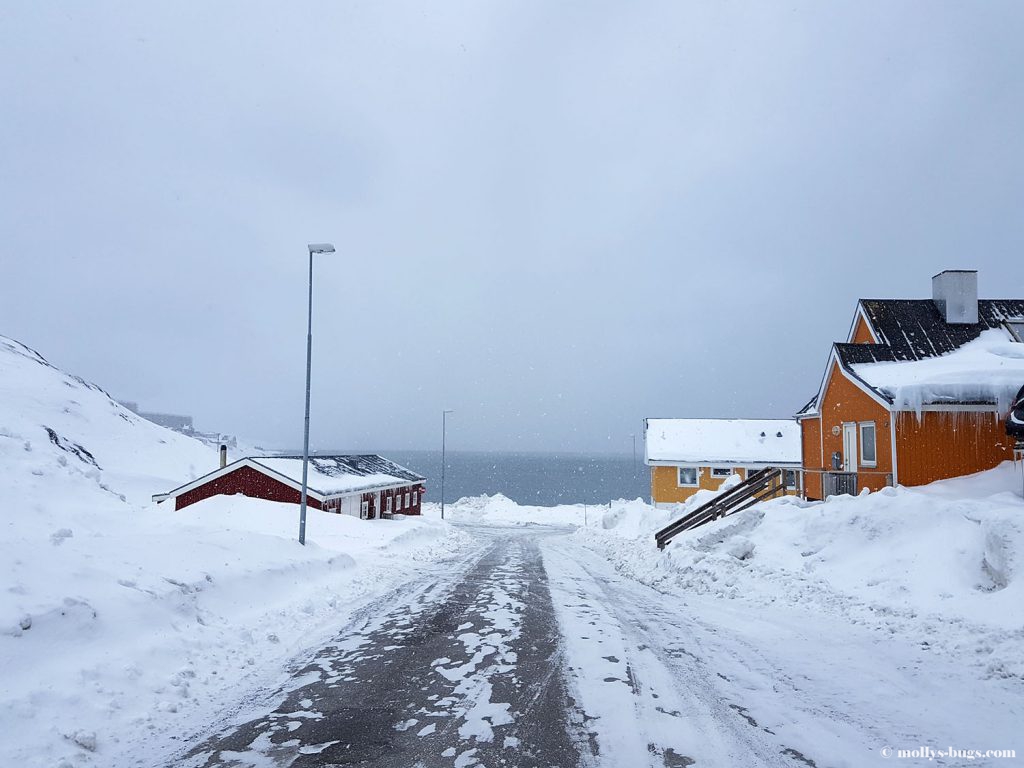 There is a wooden Lutheran church known from many postcards with Nuuk cityscapes. It stands at the beginning of the old town. It really fits into the local cityscape very naturally. It was built in 1848. Since then it has been gathering all those who would like to attend the service every Sunday.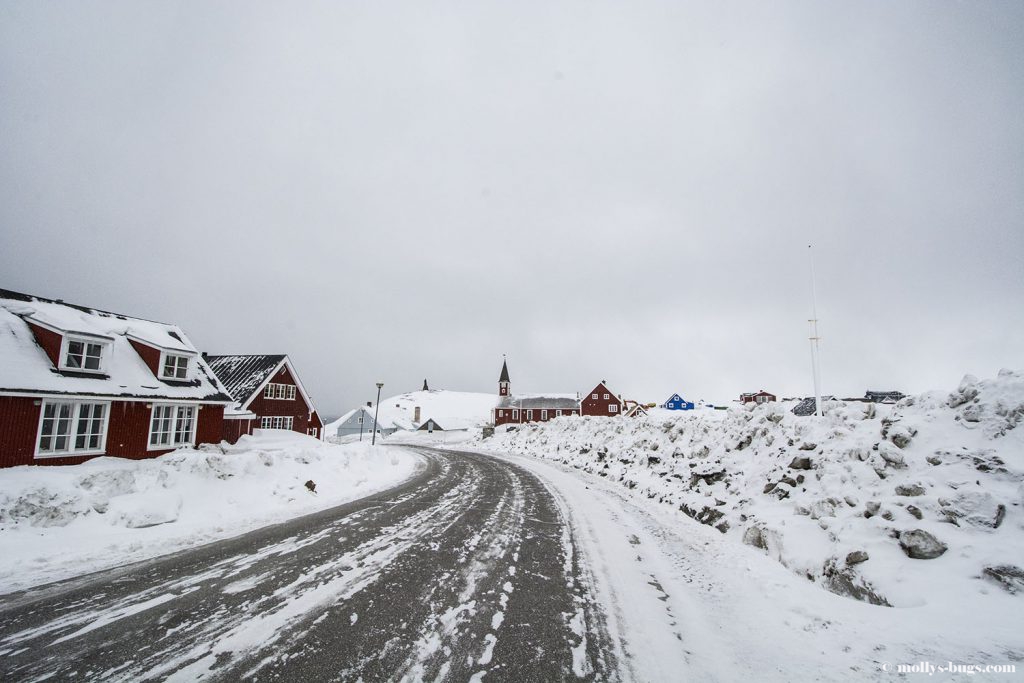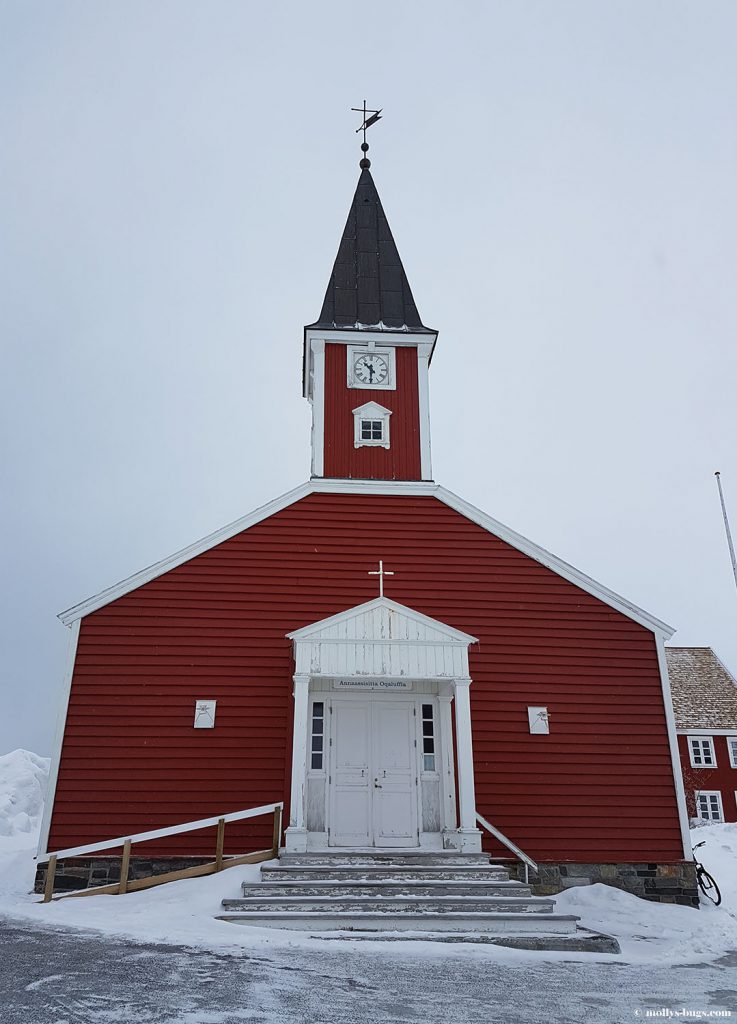 The monument to the founder of Nuuk Hans Egede, a Norwegian missionary who founded the city in 1728, stands next to the church. These lands had been however inhabited long before Hans' arrival – excavations showed that the local Eskimo tribes lived there 4,200 years ago. Hans Egede came here to convert 12 families to Christianity. It's hard to imagine how long this desperate missionary had to come to get there. No doubts, he deserved the memorial. Unfortunately, because of the huge amount of snow, we couldn't get to the top of the monument to see the famous panorama of city, so we had to shoot everything from below.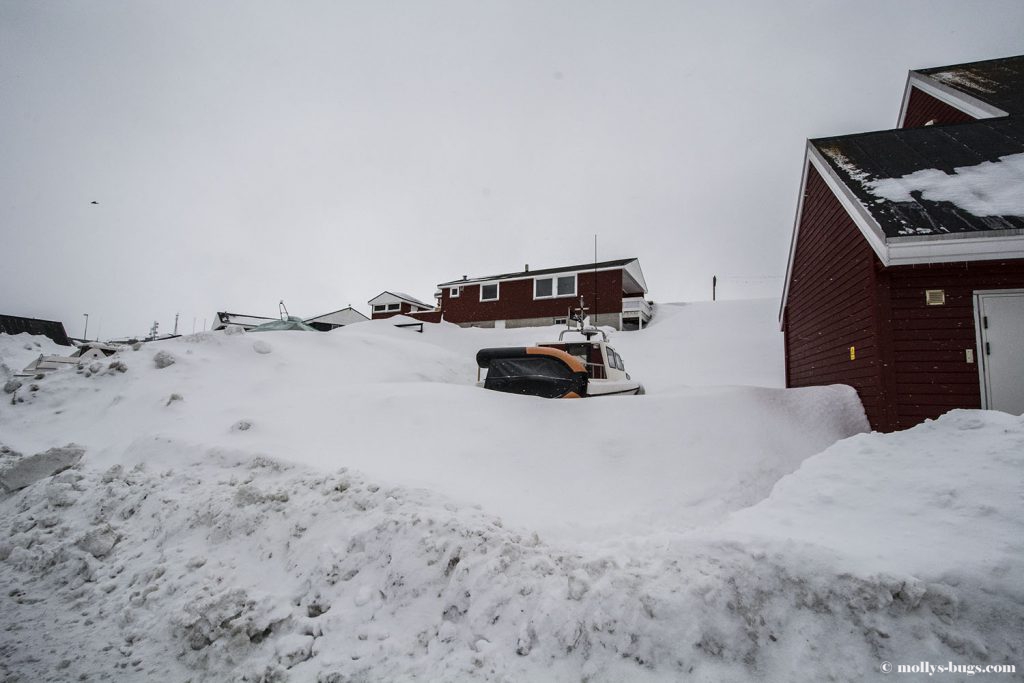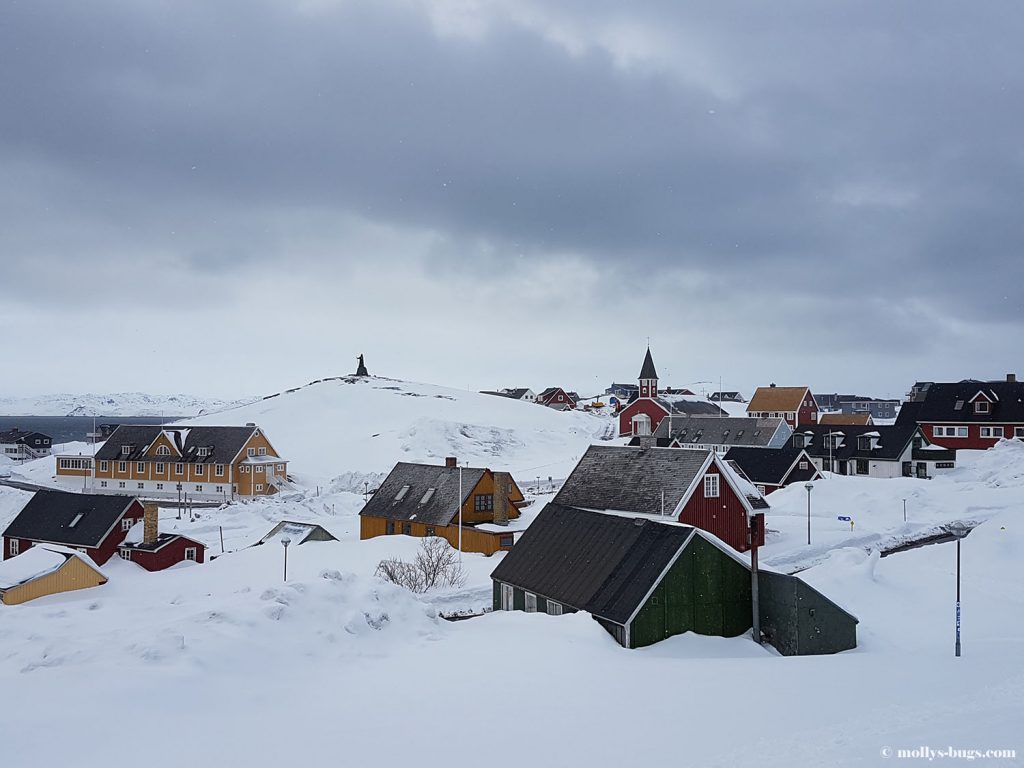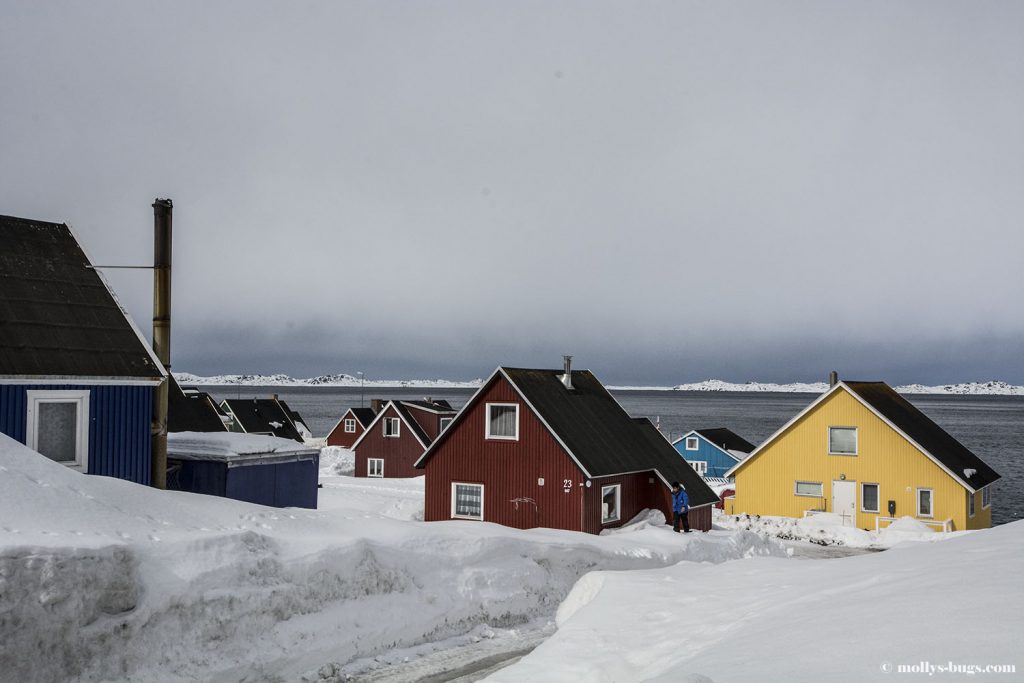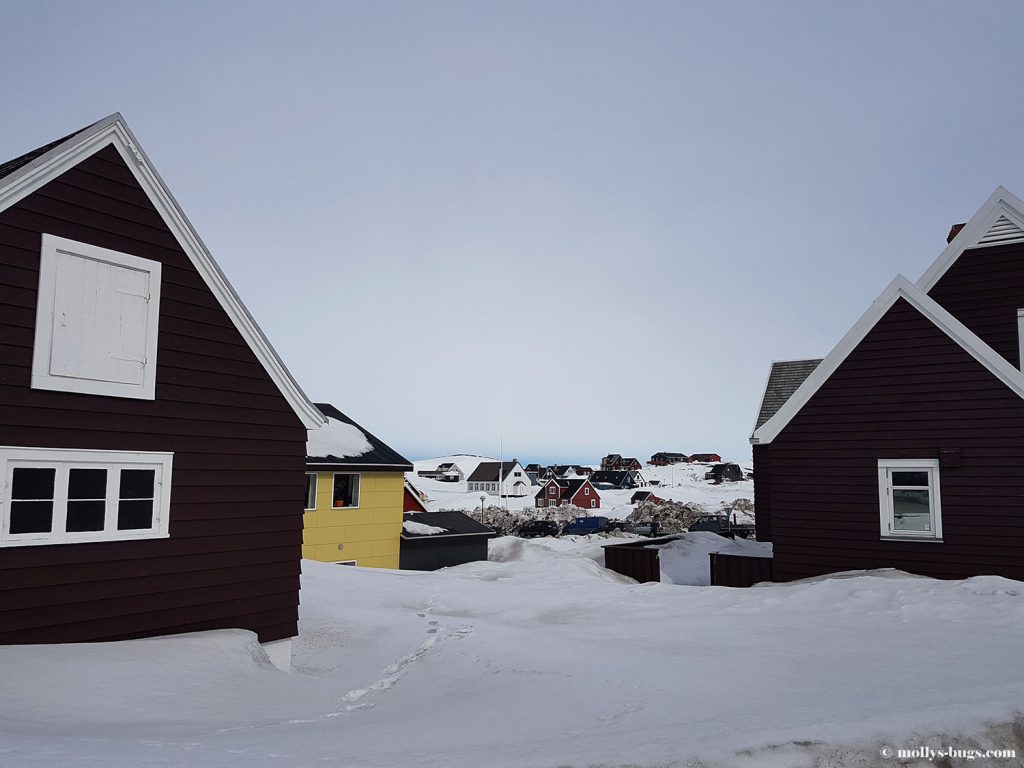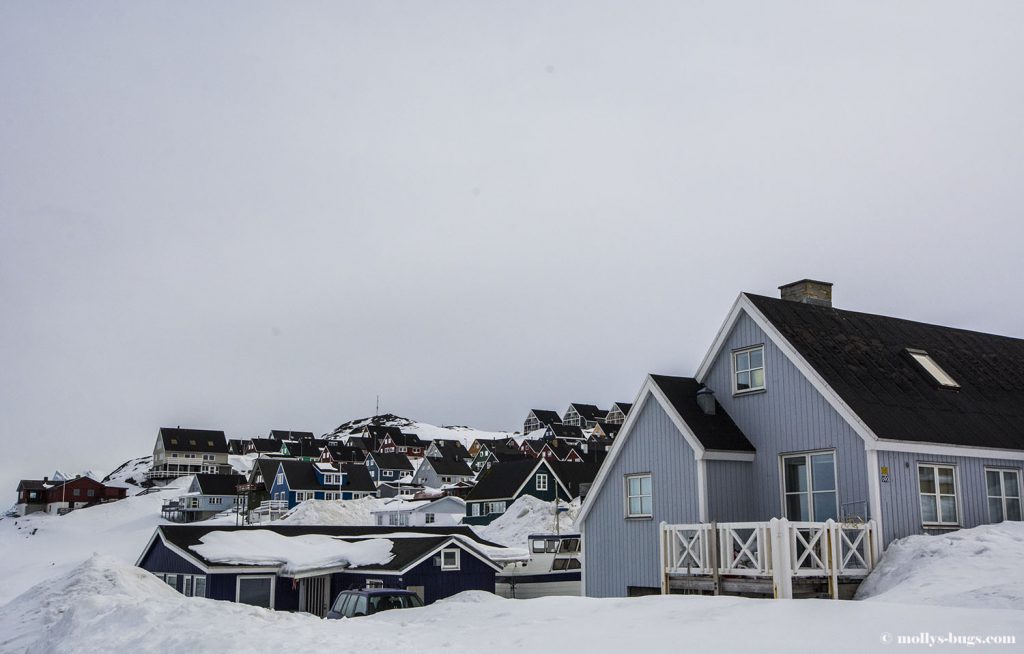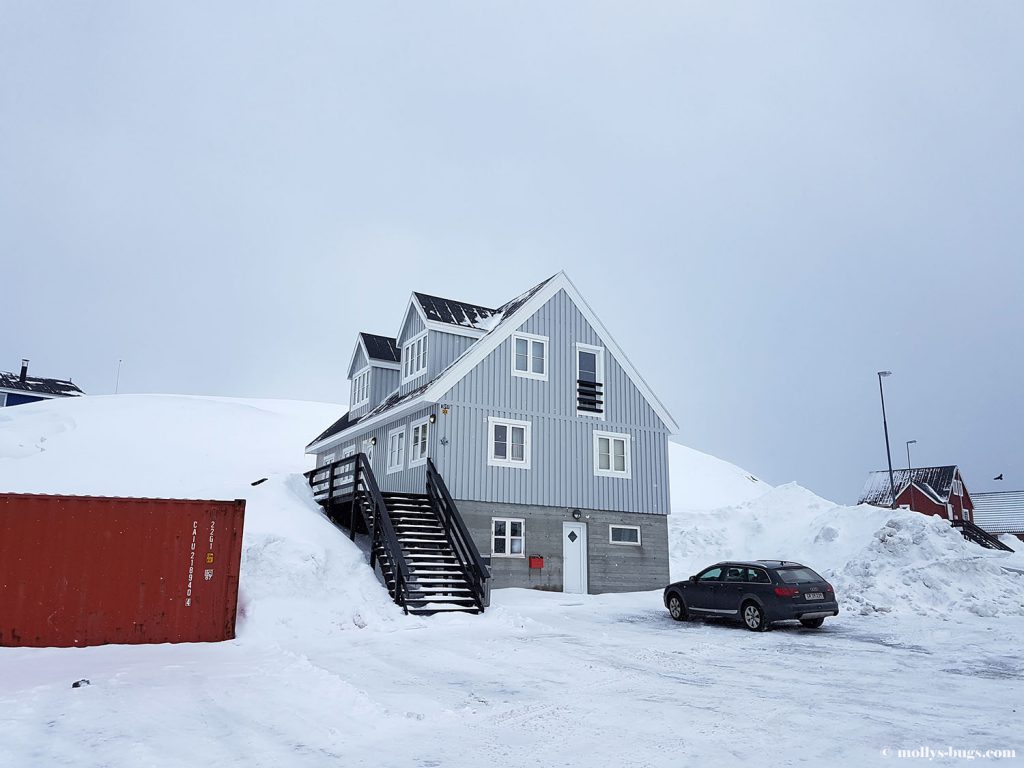 New Nuuk
Despite its apparent remoteness from the rest of the world, Nuuk is actively developed and expands its borders, as far as geology allows. New quarters of modern multi-storey panel houses are built and contrast strongly with the old city with its single-family houses. This is because Nuuk is constantly growing and needs an inflow of different specialists – the city hosts 67% of all Greenlandic companies and 56% of all Greenlandic industries. But for me it is those accurate authentic coloured houses, not the dull grey new buildings that make the true face of Nuuk.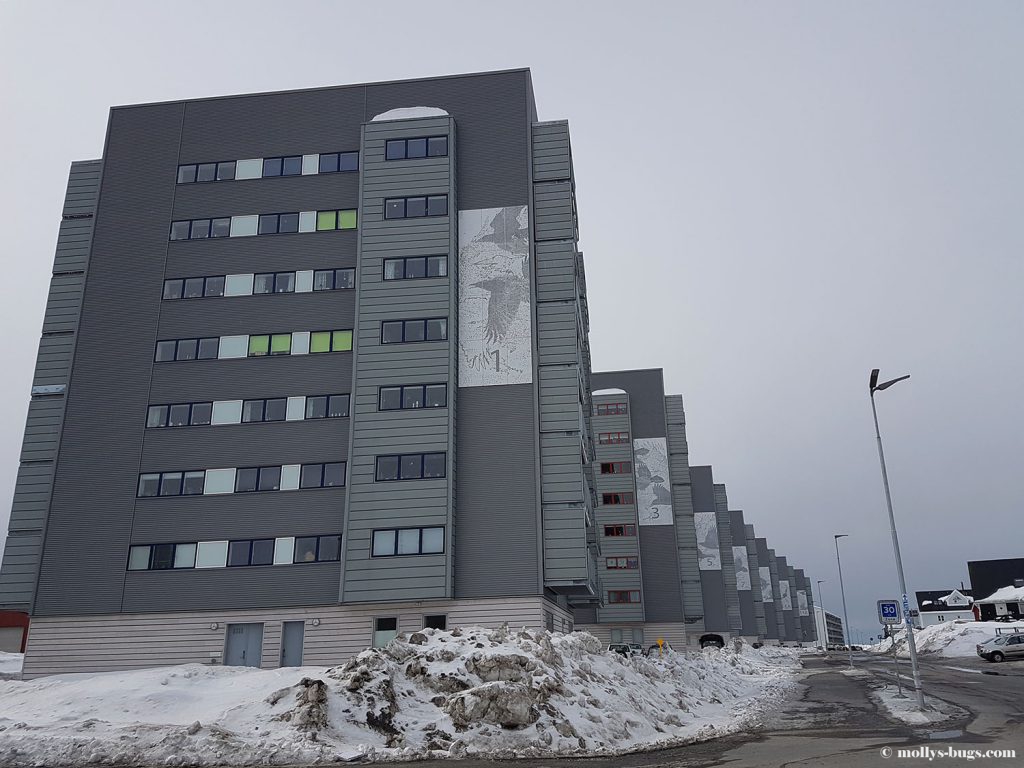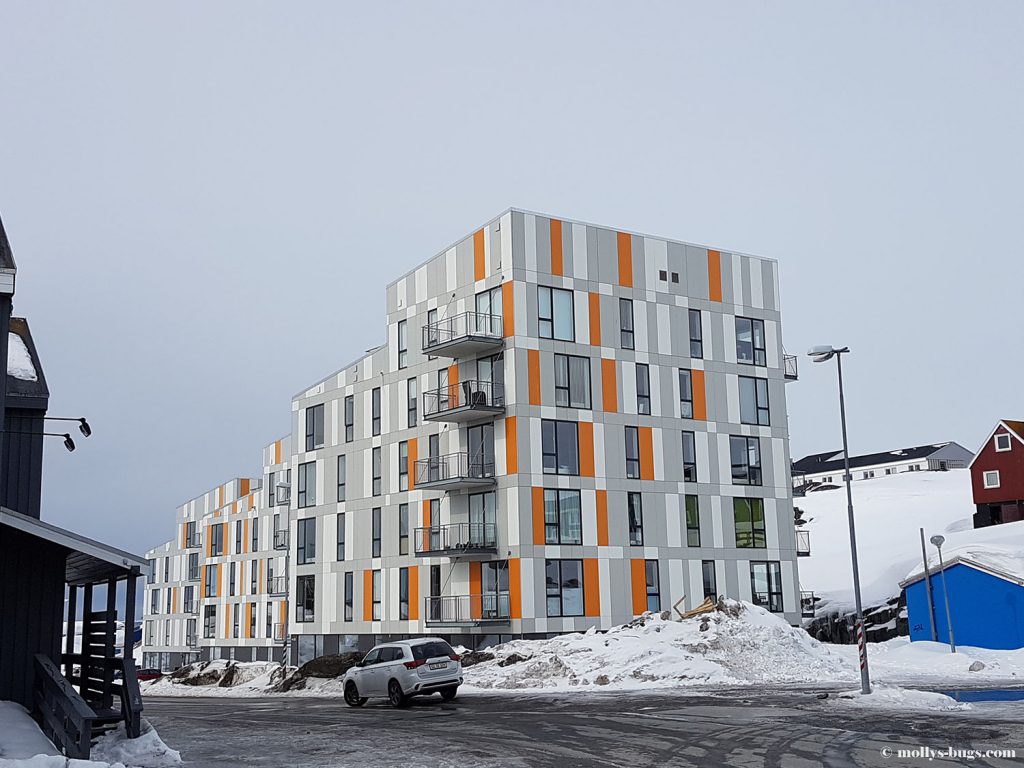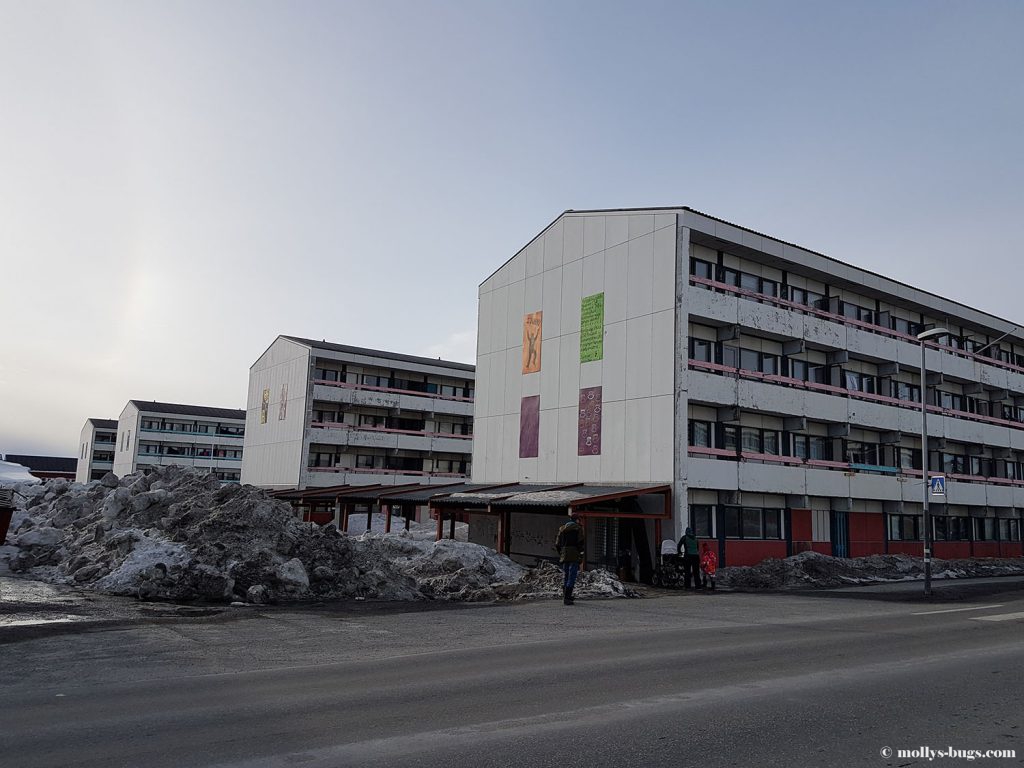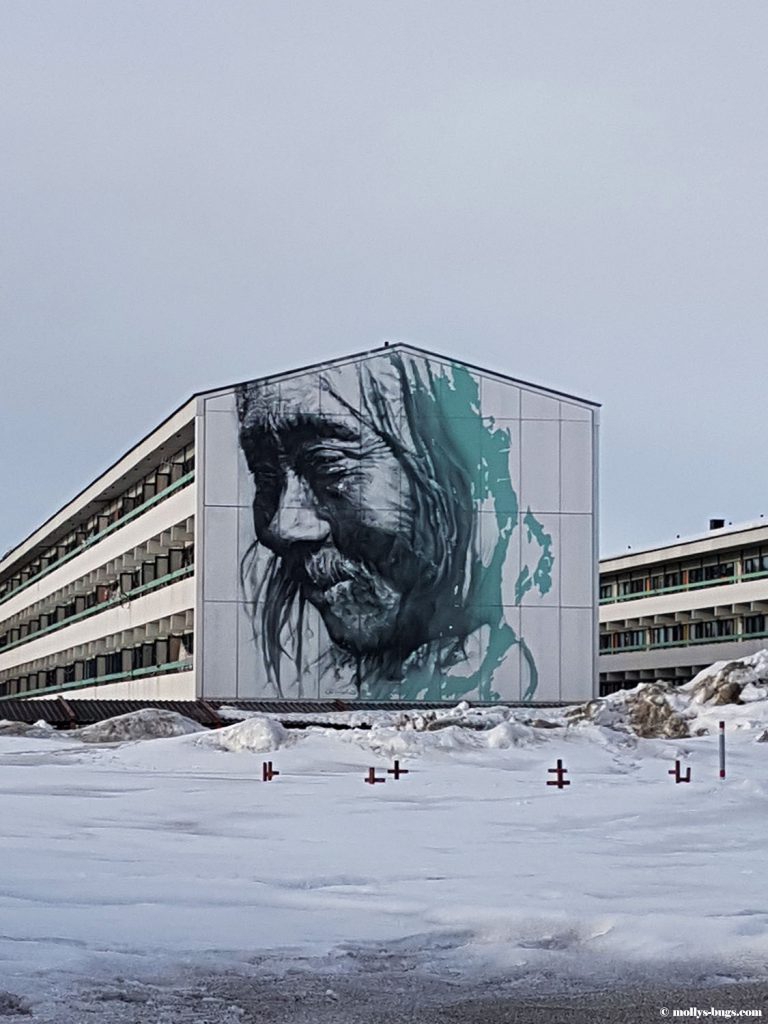 The National Museum of Greenland
The main national museum is just close to the old town, and the admission is free. We've got acquainted with the earliest history of the island, the life and customs of its first settlers. The museum also pays much attention to the problem of melting glaciers and global natural disasters which may be the consequence of this process. Another exhibition tells visitors about the indigenous people – the Inuit also known as Greenlandic Eskimos. Here you can find the authentic kayaks and hunting tools used by the ancient people to hunt for seals and catch fish in the sea. You can see their everyday clothes made from seal skins, polar bear skins, and also national costumes worn for special occasions. The museum has made a special exhibition devoted to dogs – they have been supporting people all time humans live on the island and have been playing a very important role in human's life, especially beyond the Polar Circle, where there are no deer which could help humans to move in snow. We definitely recommend visiting the Museum to better understand the history and culture of Greenland.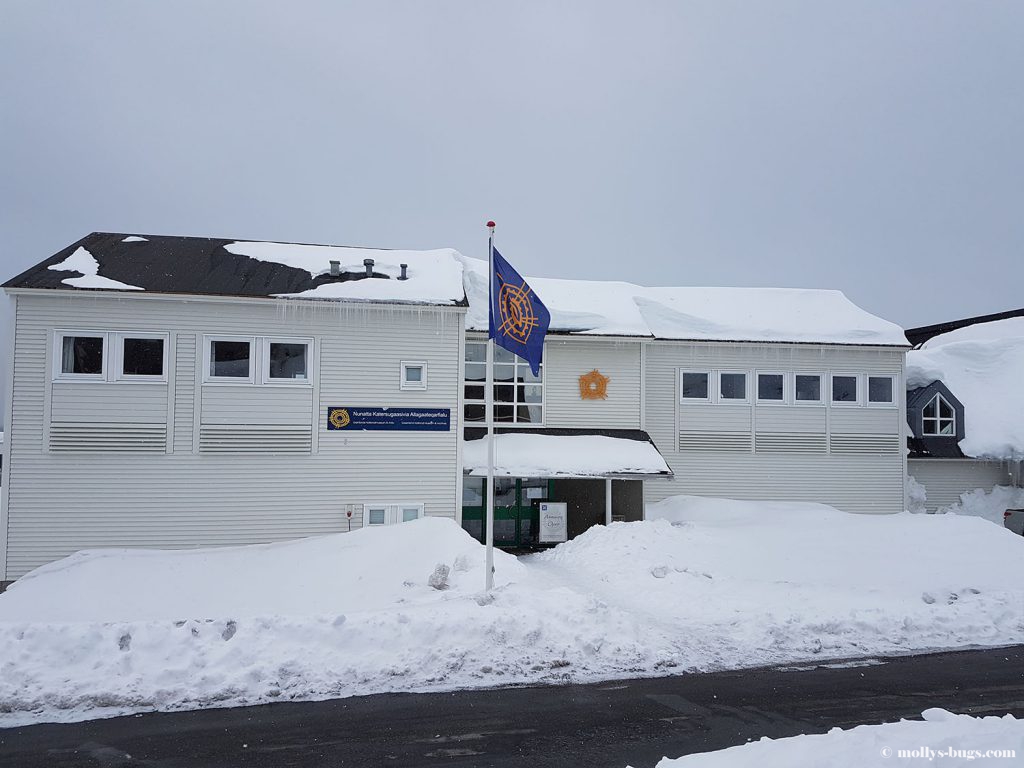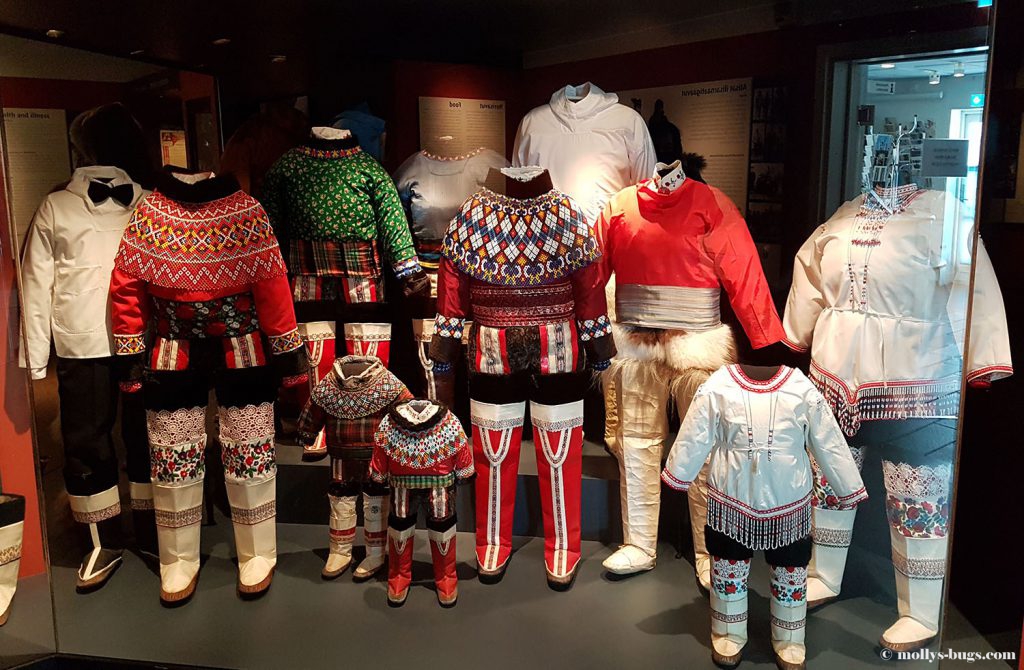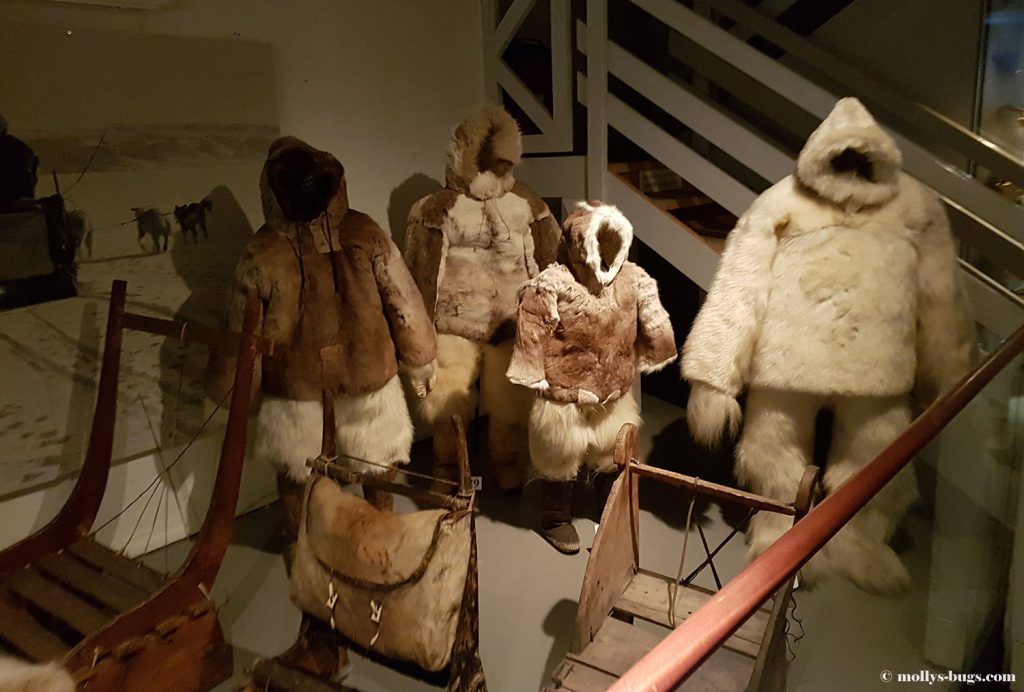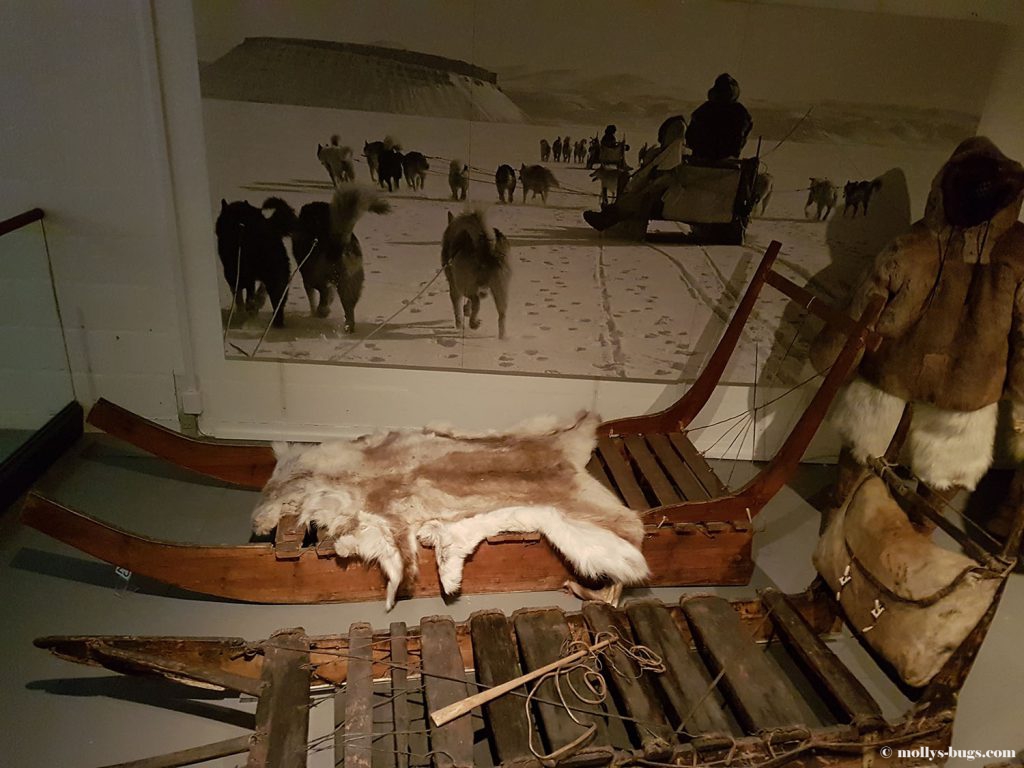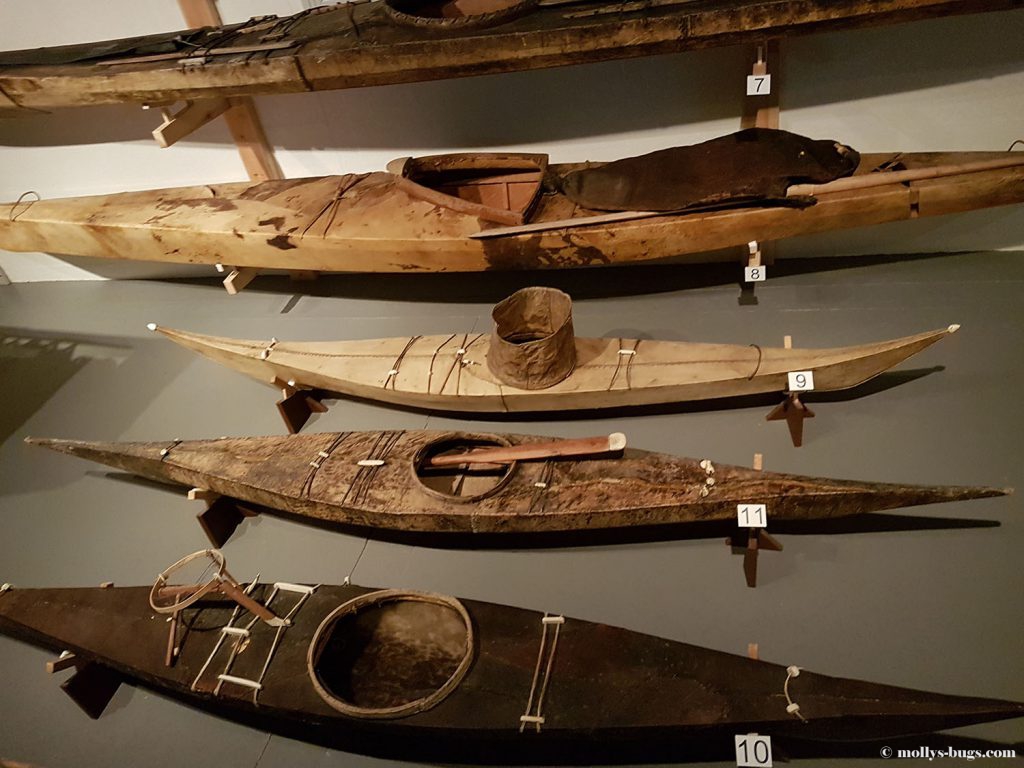 Baffin Bay
Nuuk is located on the shore of Baffin Bay that is connected to the Arctic Ocean. The average water temperature here rarely rises above 1.5 degrees Celsius and can even freeze in especially severe winters. Walking along the beach, I noticed a monument submerged in water by a half. It was difficult to see what it was exactly like from a distance, so I've just taken a picture from the shore and we kept walking to the old town. Imagine my surprise when, after an hour of walking, we came back and found that the water had completely left that place and exposed both the entire monument and the rocks behind it. We accidentally experienced the natural phenomenon known as ebb and flow which are caused by the position of the Moon. Just imagine what a huge amount of water moves along the surface of our planet in a reciprocating motion every 13 hours! And the most amazing thing is that we saw it with our own eyes and could even capture it on our camera.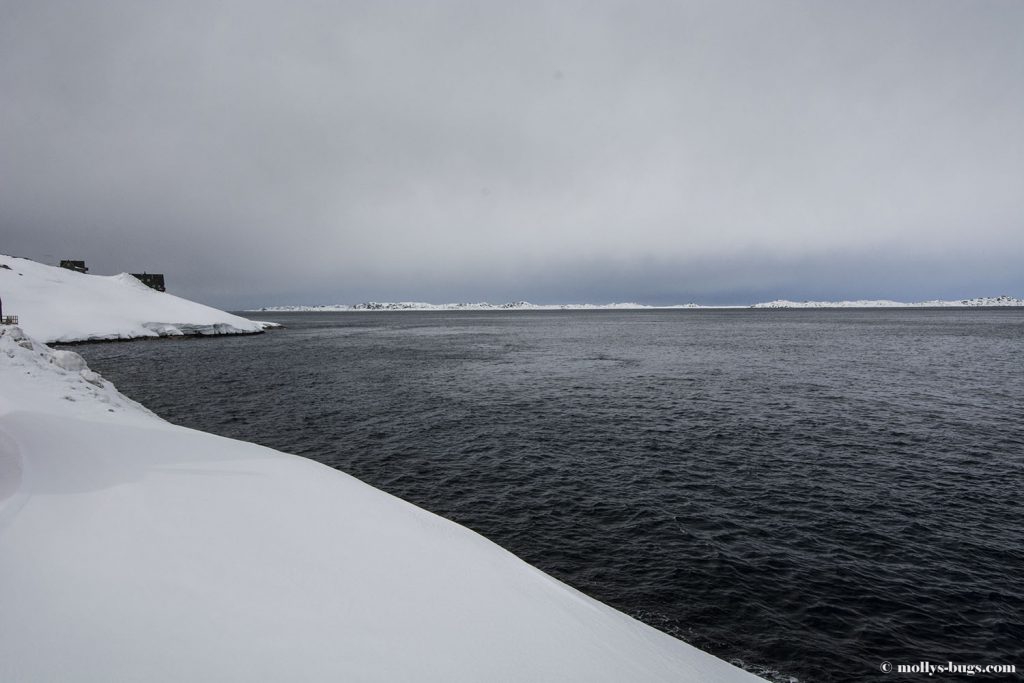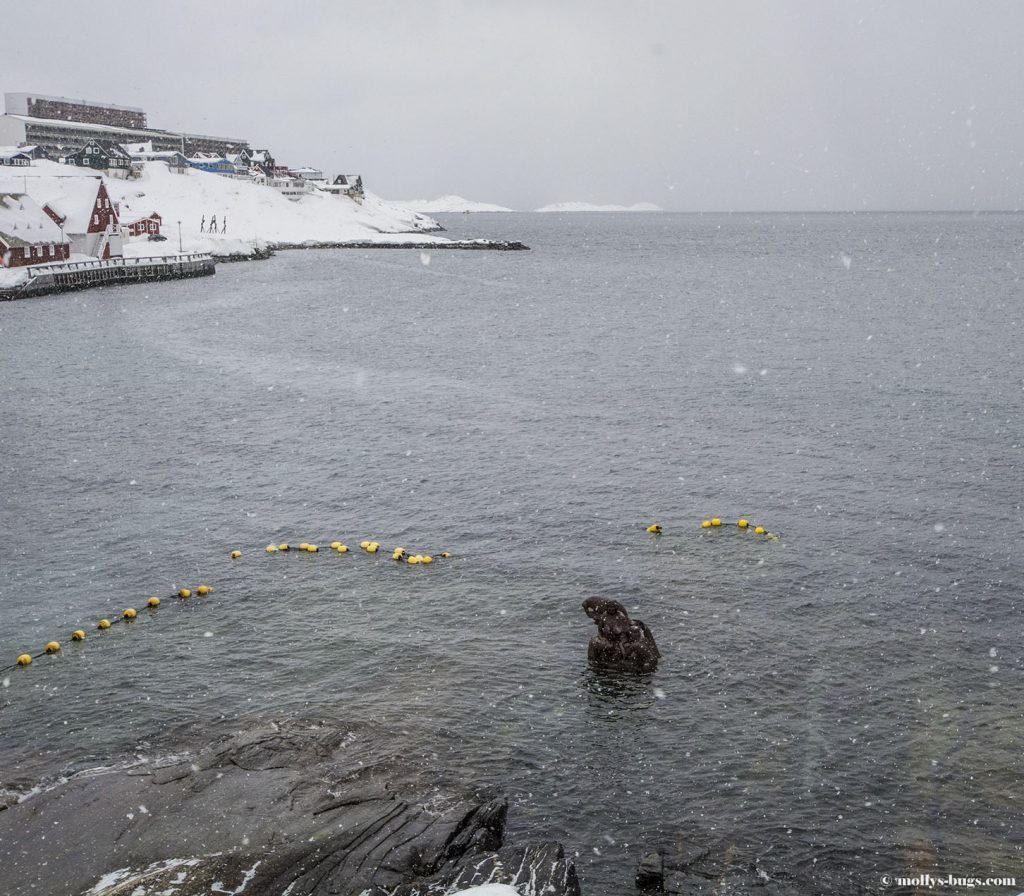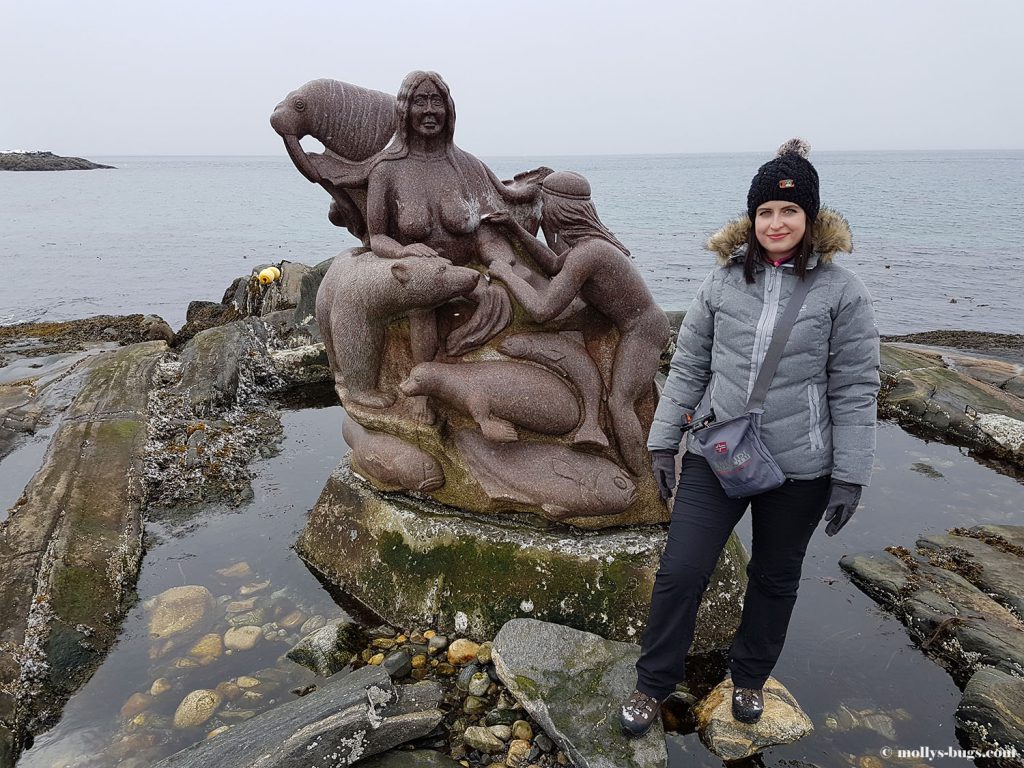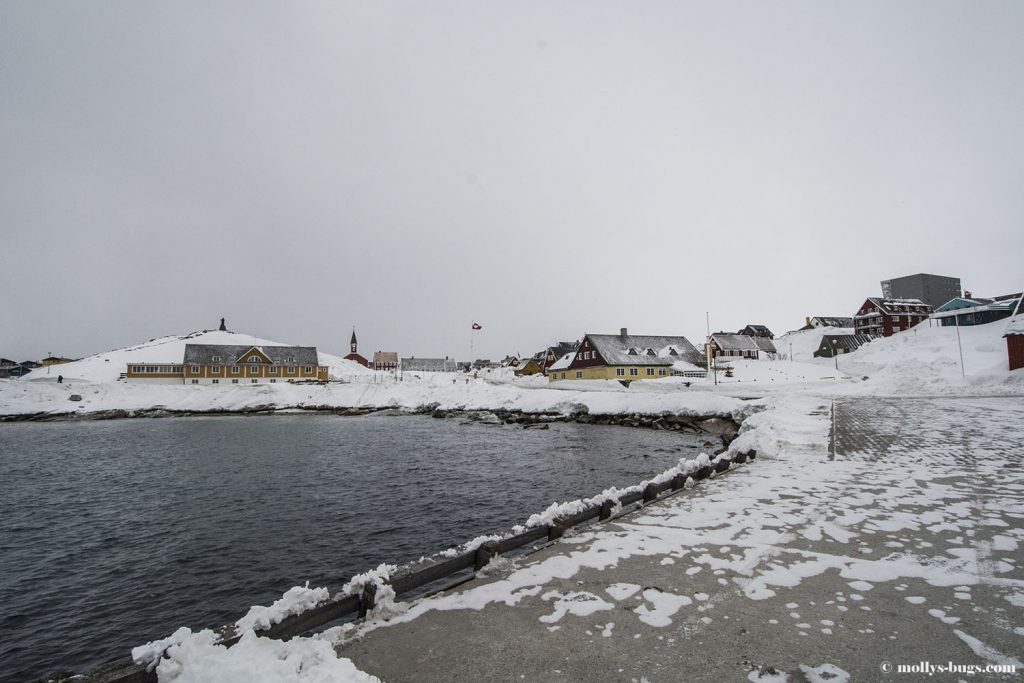 Travel agencies and guided tours
Yet, despite the lack of interesting tours in Nuuk, we had eventually found one – a 7-hour trip by boat to a small glacier known as Narsaap Sermia. The travel agency that sold the tour is called Tupilak. Everyone knows it in Nuuk, so we've easily found it.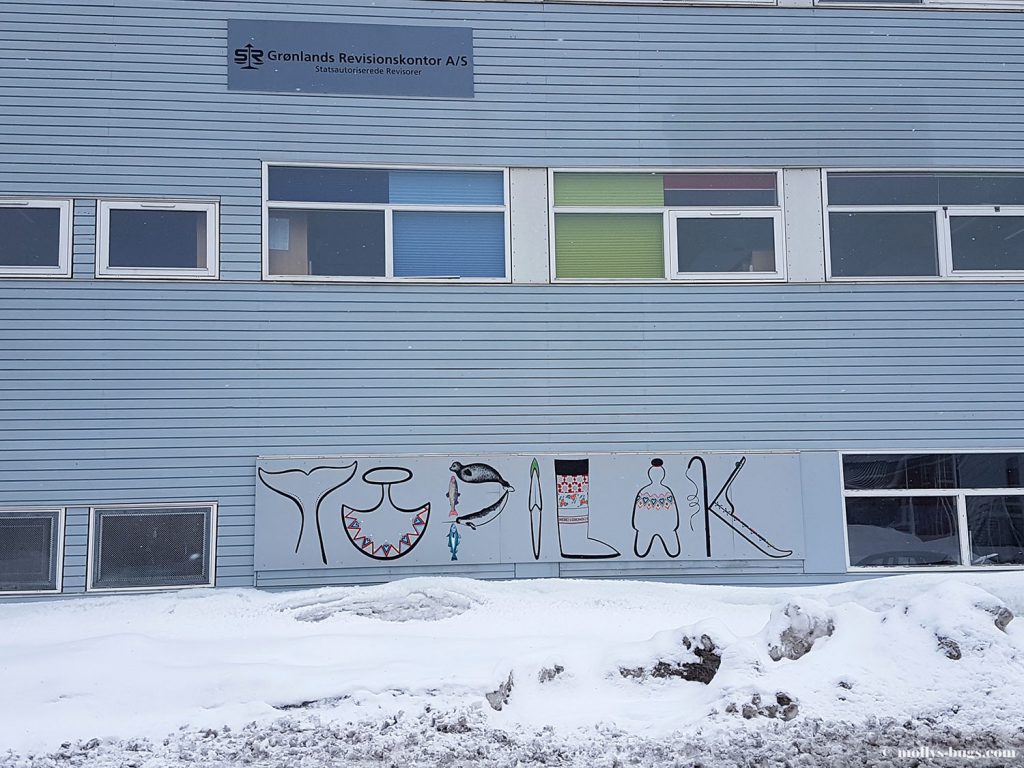 Cafes & restaurants
The food is not an issue here – pizzerias, restaurants and cafes suit every taste, however prices are the only thing that can really scare you off. We really enjoyed the Esmeralda Café and the huge portions they serve. We've even found Chinese wok café in Nuuk, so nobody would be hungry there.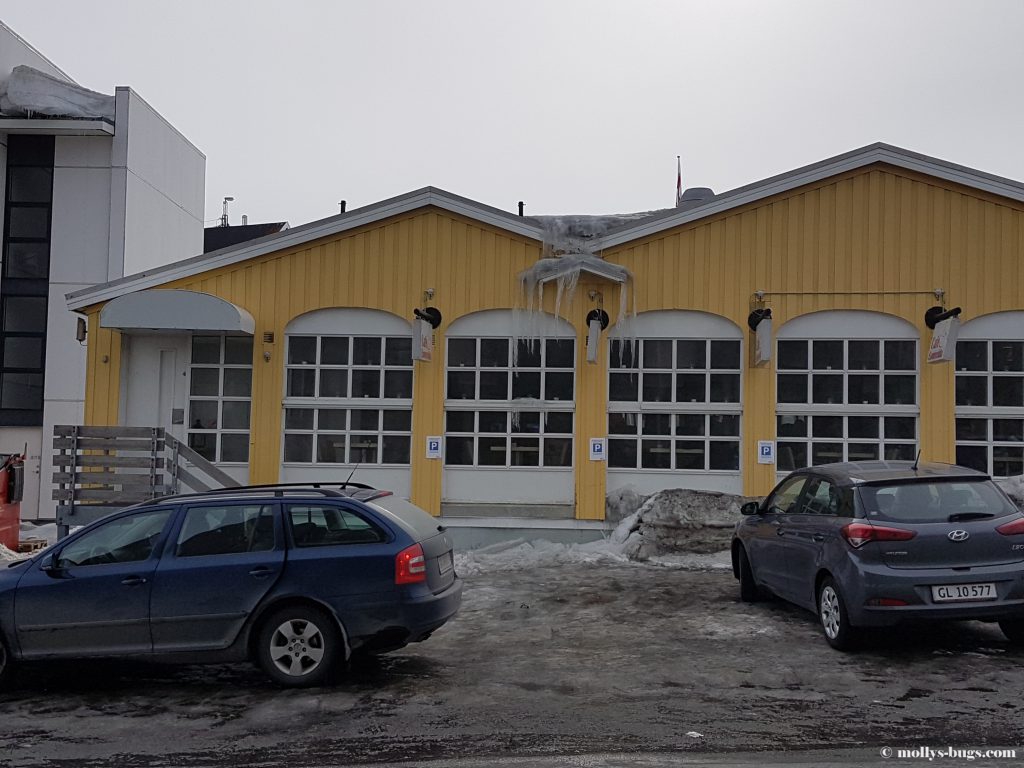 I can safely say: you won't see and understand Greenland if you visit Nuuk only – the most amazing and unique things are kept beyond the Arctic Circle, so we've headed off there. Stay with us! Lots of fascinating and exciting things are ahead.