Having spent a little over two weeks in Japan, I can safely say that food is as important for the Japanese as their culture or history. This is what they are very proud of. The Japanese have made a religion of food, so you can eat very tasty things at every corner. Historically, the Japanese eat much more seafood than, for example, the Europeans. As a result, here, in Japan, you can find the best, the most delicious and the freshest seafood. And it's no surprise that one of the largest fish markets in the world – the Tsukiji Fish Market – is also here, in Tokyo. It's known far beyond Japan and the range of fish and seafood which can be bought here has become a legend. As we are true fish and seafood lovers, Tsukiji was the first place we've visited in Tokyo. We were very lucky to stay in a hotel that is in a walking distance from the fish market.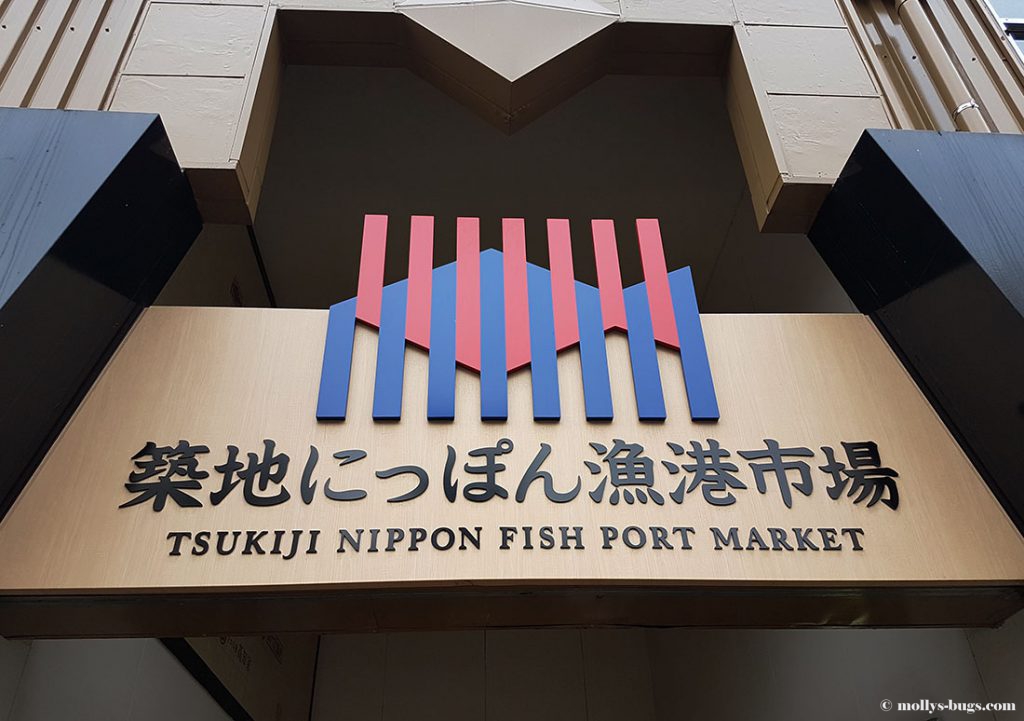 History of the Tsukiji Fish Market
References to a Tokyo market where Japanese fishermen sold surplus of their catch date back to the 17th century; however the locals came to the understanding that a market should be built only in 1923. The newly built market was completely destroyed by a strong earthquake 6 months after the construction. The building we see today was built in 1935 in Tsukiji, a district chosen for the construction of the fish market. It was rumored that in 2015 there were ideas to relocate the market, but as of August 2017 the fish market is still there, the place where it was originally built more than 80 years ago. More than 2,000 tons of fish and seafood are sold here every day. And you can be 100% sure that the fish you're served at the fish market is the freshest – huge crowds of tourists don't let the products lie around unsold.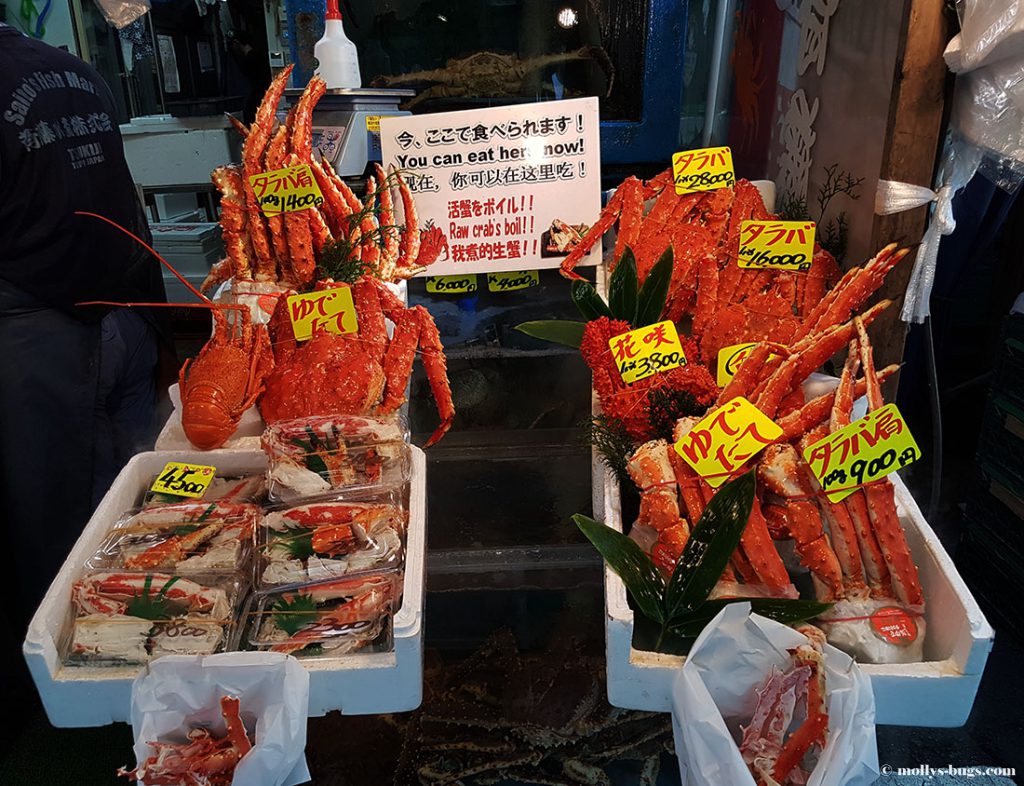 How to get to the Tsukiji Fish Market
The easiest and cheapest way to get the fish market is to take the Tokyo subway. Just follow Oedo line (magenta line) to Tsukijishijo Station. Remember to take off at this station, not at Tsukiji Station – the name of this station may be misleading. Tsukijishijo Station is just 100 m from the main entrance to the fish market. If you take the subway, you'll pay up to JPY 560 depending on your starting point. But if you choose a taxi, be ready to pay JPY 500 as a starting fee plus JPY 450 for every kilometer of your ride.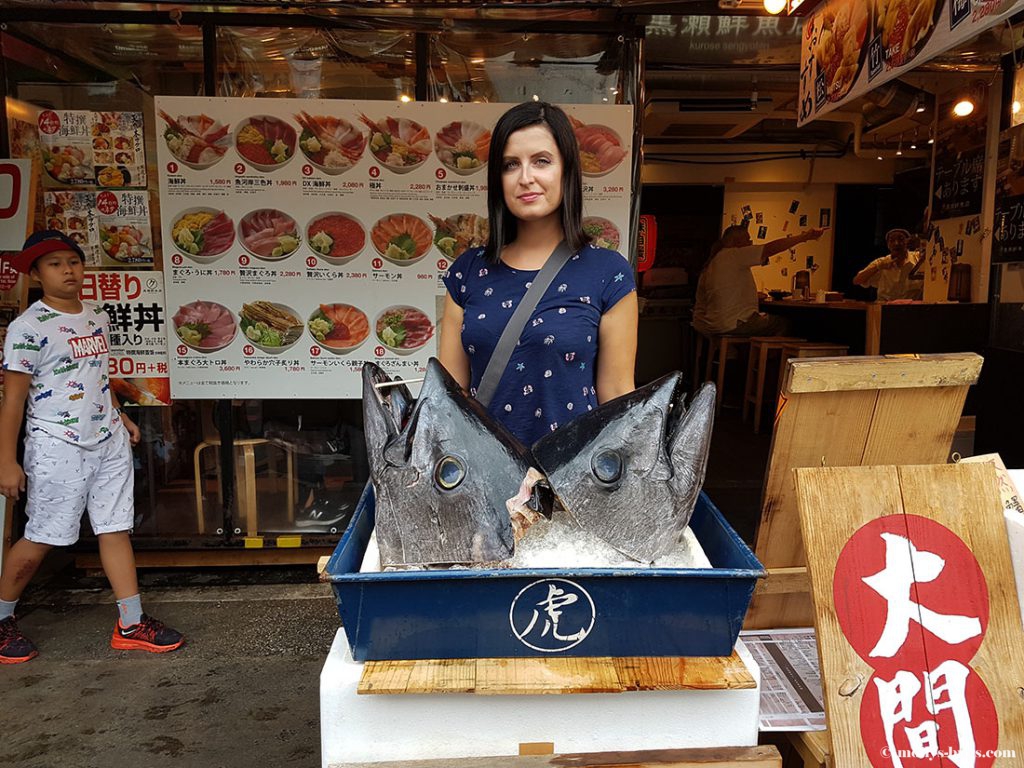 Opening hours of the Tsukiji Fish Market
The fish market is known for its night tuna auctions starting at 03:00 a.m. So, if you want to see the auction, be ready to get up very early (or, maybe, not to go to bed) and wait in a long line because hundreds of people would like to watch this show too. Every day, only 120 tourists are allowed to visit the auction – too many tourists with their cameras and questions may distract sellers' and buyers' attention from their main task – the bidding process. Indeed, restaurant owners and wholesalers come to the fish market from all over the country to buy the freshest and the most delicious tuna.
If you're not ready to stand up very early to see dead bodies of giant fishes, come to the market by 08:00 or 09:00 a.m. By this time, life is already in full swing there: a great variety of seafood and fish is being sold everywhere and lots of cafes and restaurants are open. So come here very hungry, because the best sushi and the best sashimi in Japan are served here, at the market. You could hardly find fresher fish elsewhere, but in the sea.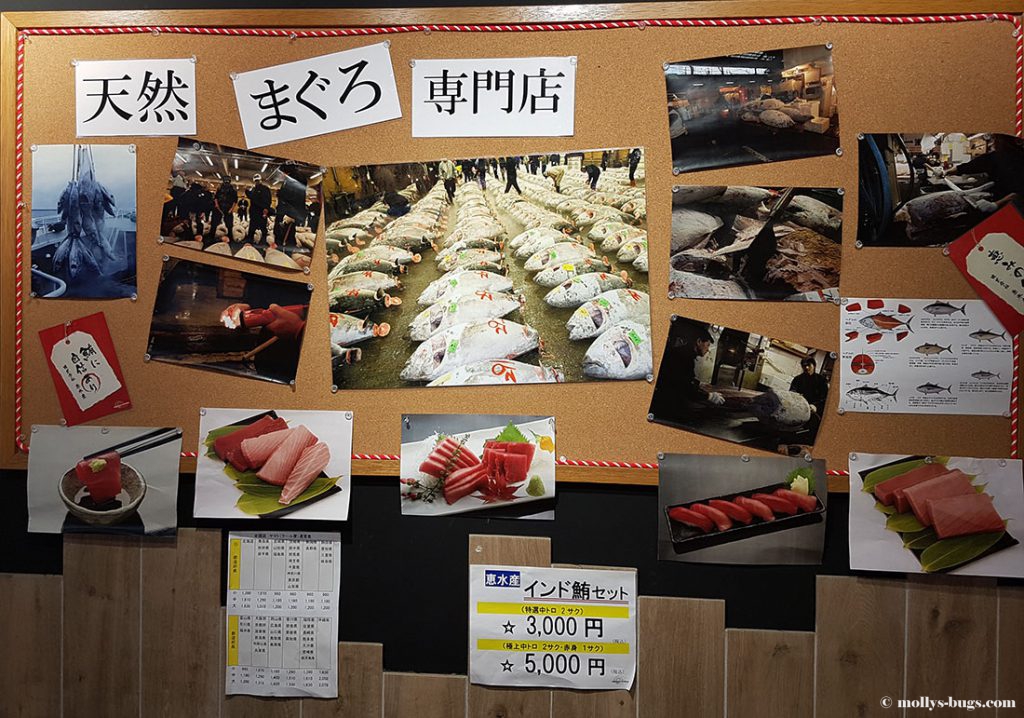 As a rule, the market is open until the lunch time or until 03:00 p.m. at the latest. However, there's a rule: the earlier you come, the more interesting things you see and the more tasty things you eat. We went to the Tsukiji Market for breakfast every day during our stay in Tokyo.
What to see and eat at the Tsukiji Fish Market
I should make a reservation – if you don't like seafood and fresh fish, you may not like the market very much. However, seafood lovers will really enjoy the incredible variety of products..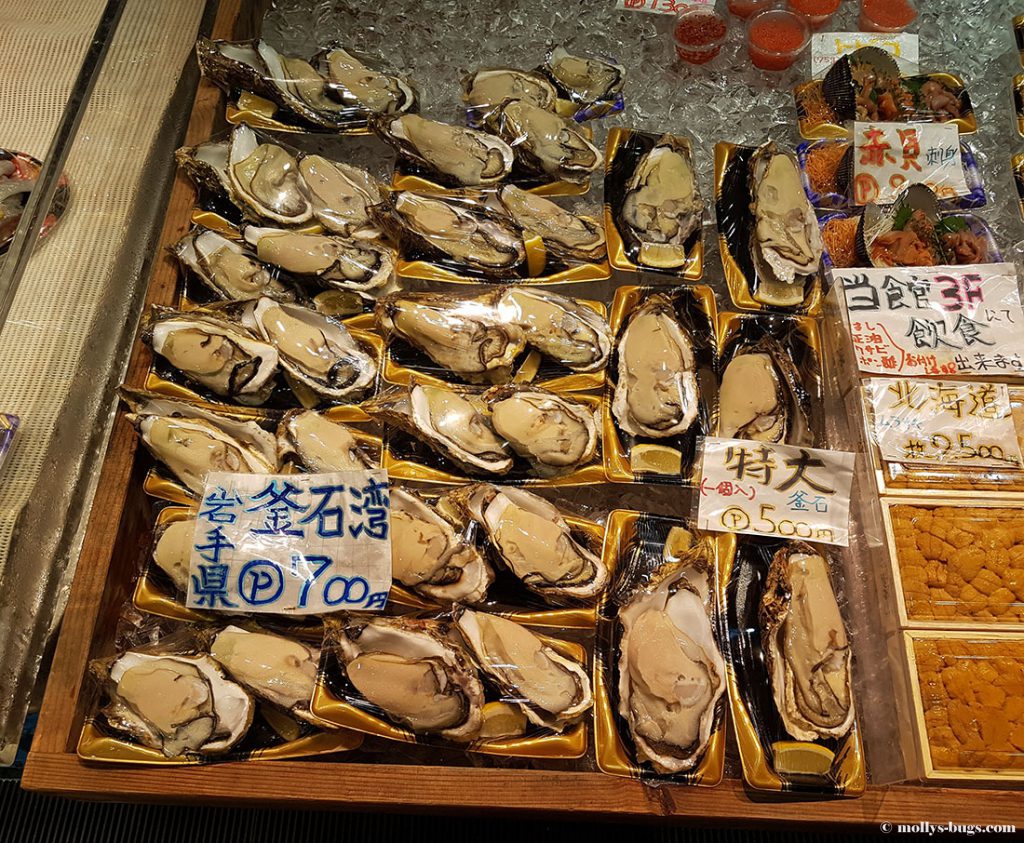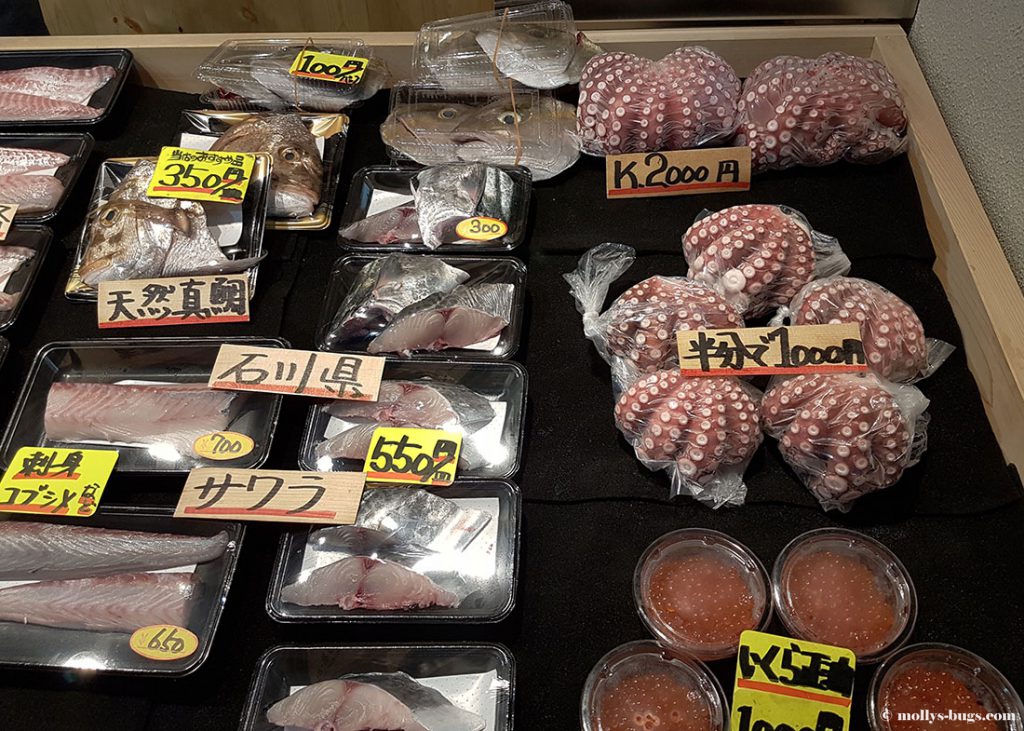 The first thing we've seen at the market was huge trays full of fish and other seafood. The variety is so incredible that you don't know where to look first. Most products are sold chilled, and only a small portion is frozen. Crabs and shrimps are sold alive, and can be chosen from large tanks right before your eyes. We couldn't identify some sea residents because we've never seen them before. You can even find whale meat there, though whaling is prohibited in many countries. You can also see ready-to-eat sushi, but I wouldn't advise you to buy them there – everything is much better and much tastier in the inner part of the fish market. There are at least three rows with fresh products, but there may be even more.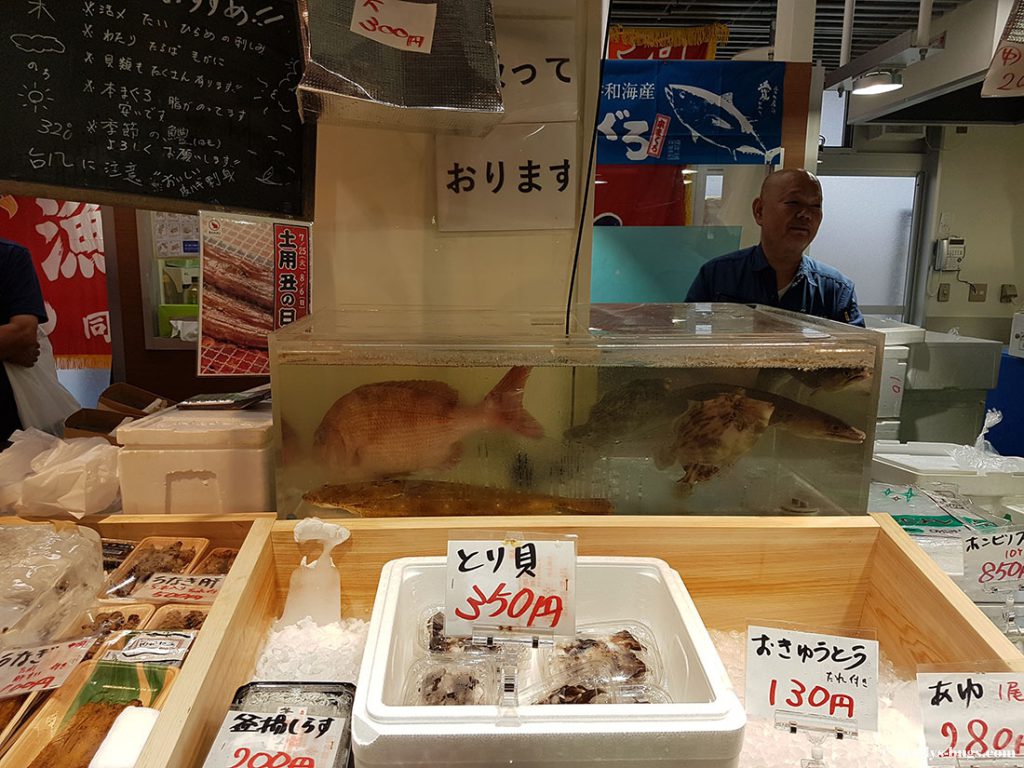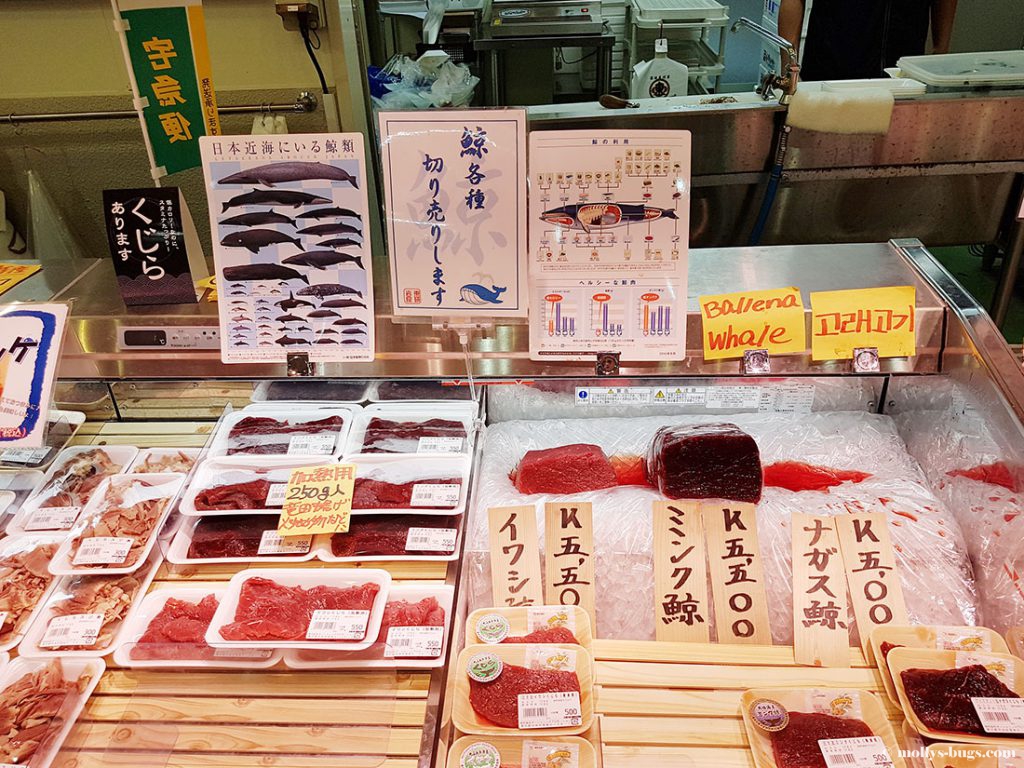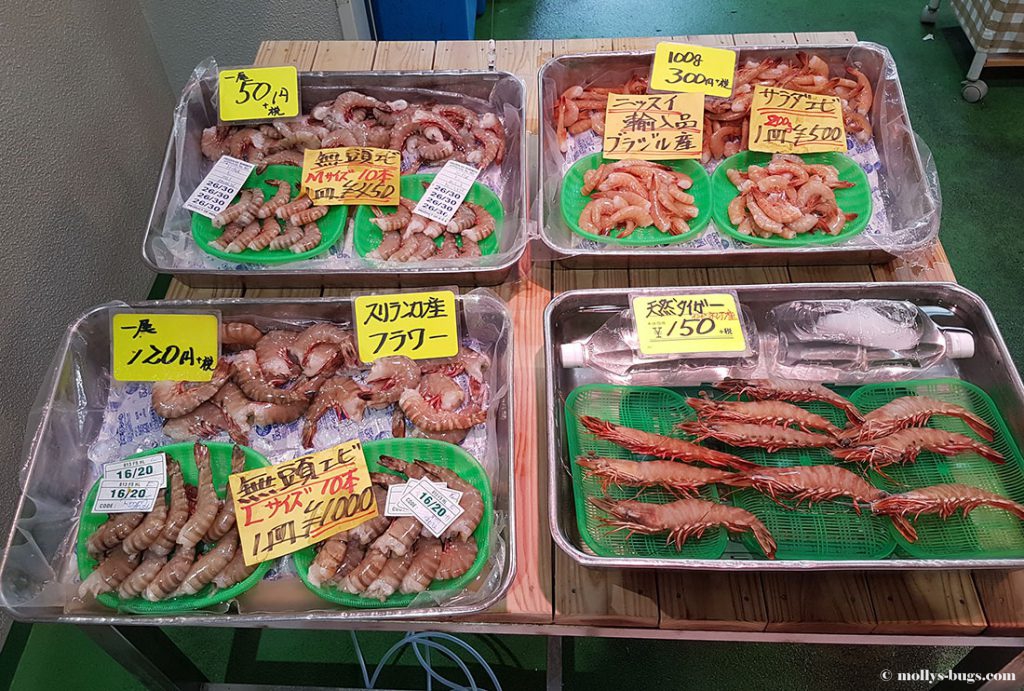 Having enjoyed the views of the freshest seafood, we immediately decided to taste them all and went to rows adjacent to the first pavilion. We were very happy because all those ready-to-eat delicacies were sold there everywhere.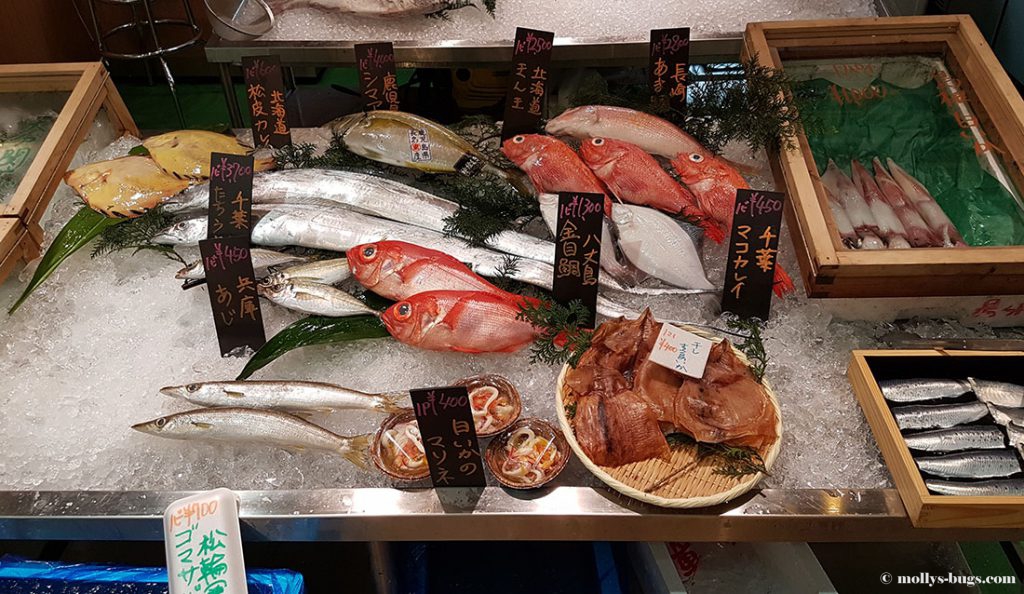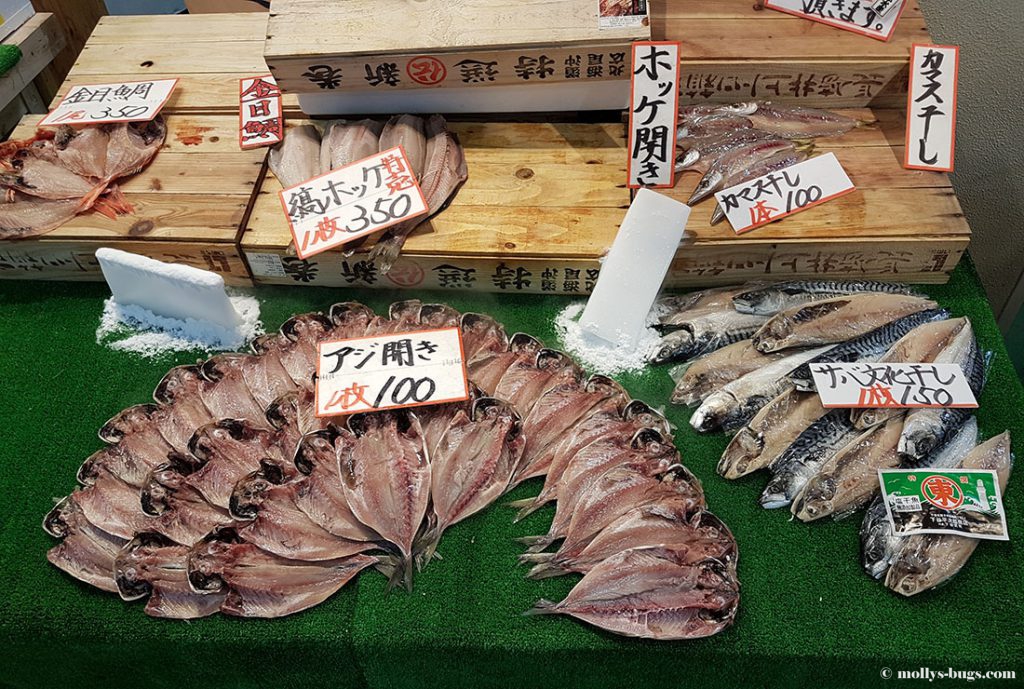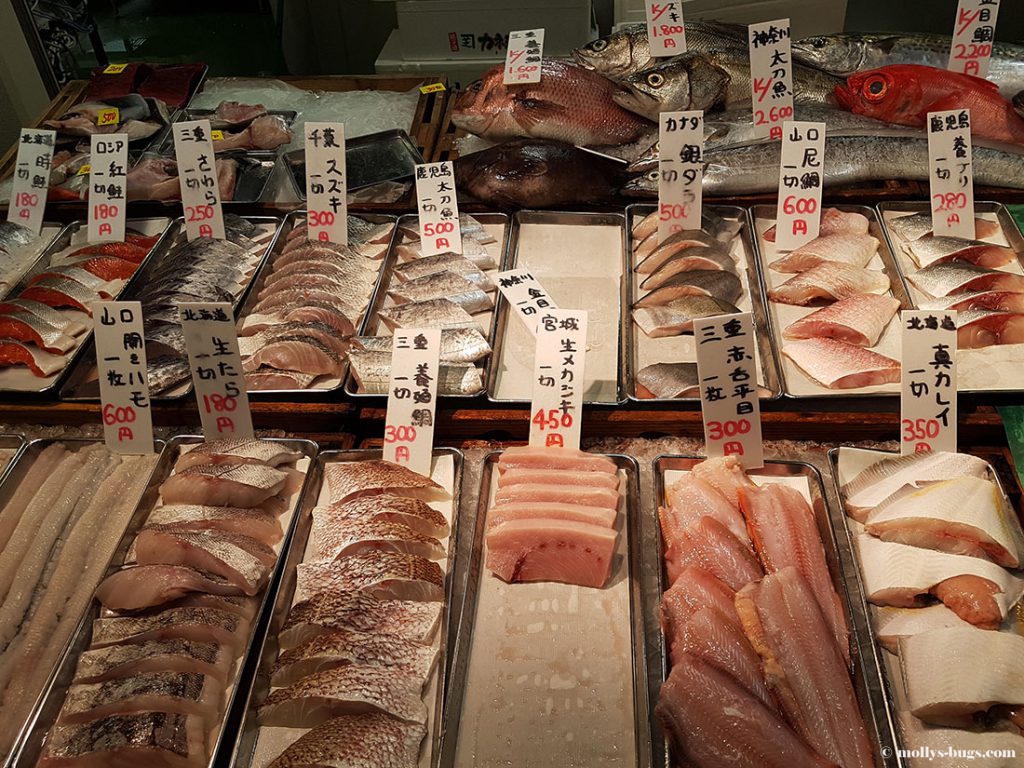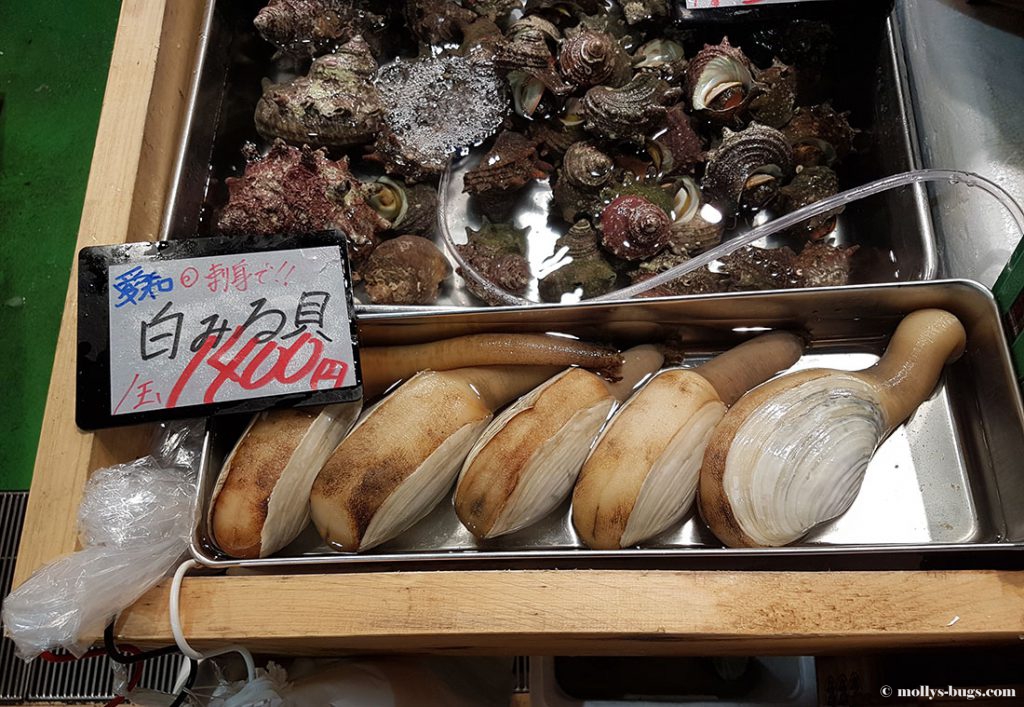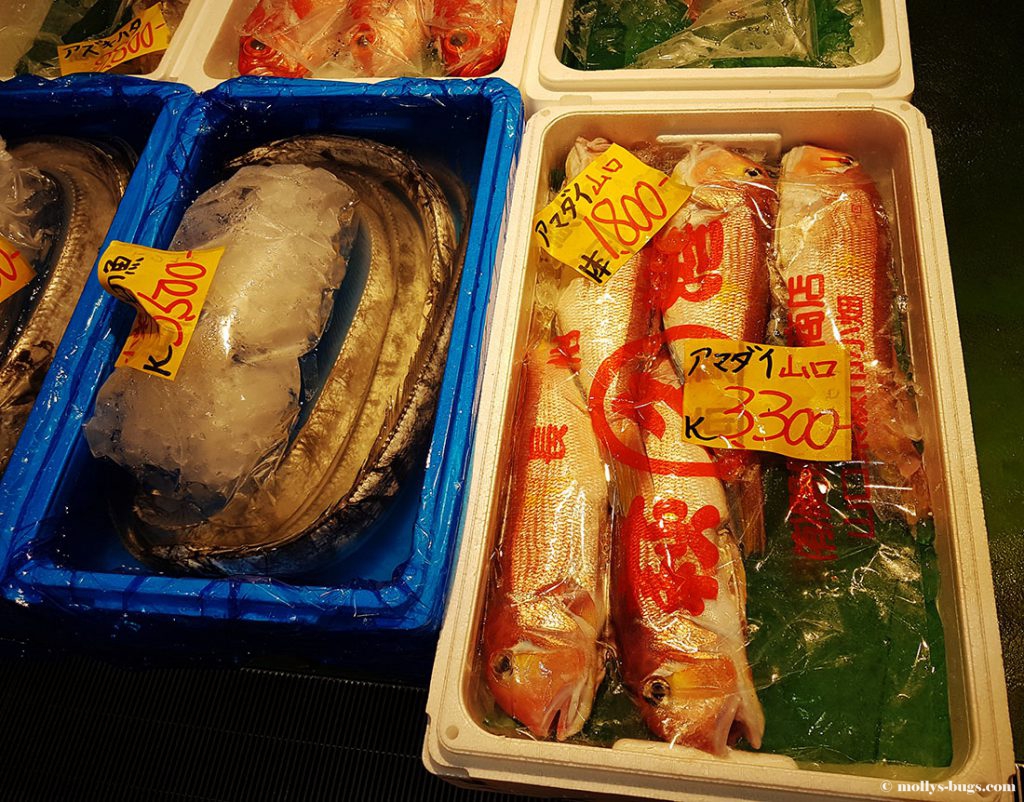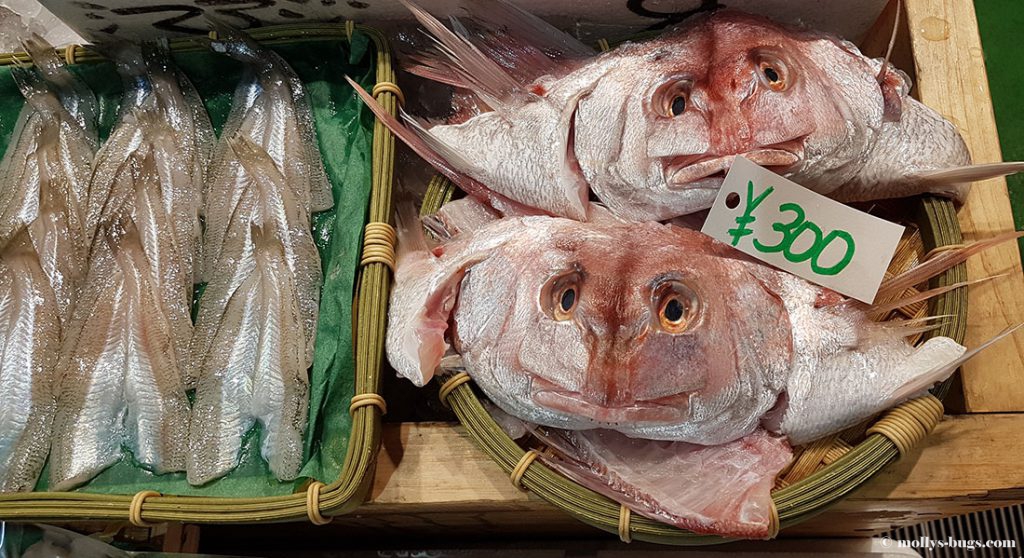 Before we had breakfast, we went to a cafe where all tables were occupied by locals, and ordered food that seemed the most delicious to us. Since an English menu is not always available, look at pictures of a dish. As a rule, such pictures are 90% true and show the exact size of the portion and its ingredients. Even the best sushi we ordered at Kyiv restaurants could hardly be compared to a simple meal served at a small Japanese cafe at the Tsukiji Fish Market.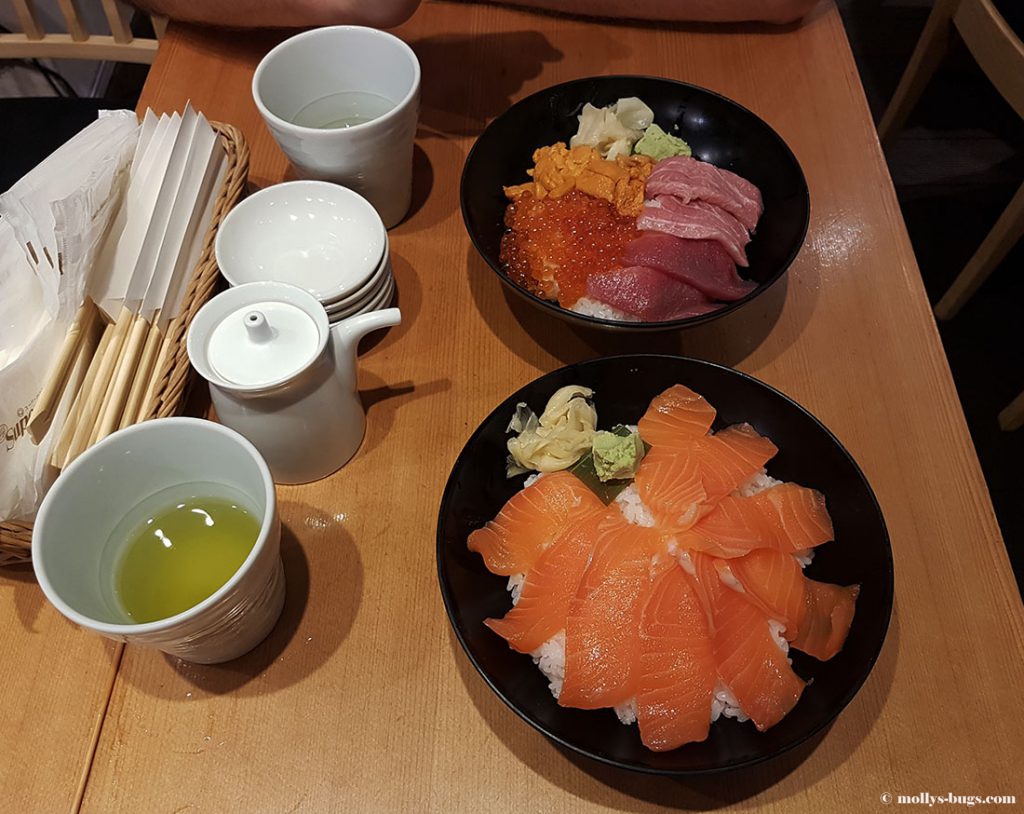 Even after you've taken your most delicious food ever, don't leave the fish market and walk around. Many unusual products can also be found nowhere but there. We really liked the idea of ​​an omelet on a stick, but the line of tourists was so long that you could starve to death waiting for your omelet. Though on a stick, it's still an omelet you can take every morning at home. A kind of kebab made of octopuses, scallops, eels and other marine delicacies has drawn our attention most. But kebabs are so small that even if you take 3 or 4 portions, you could hardly eat to repletion.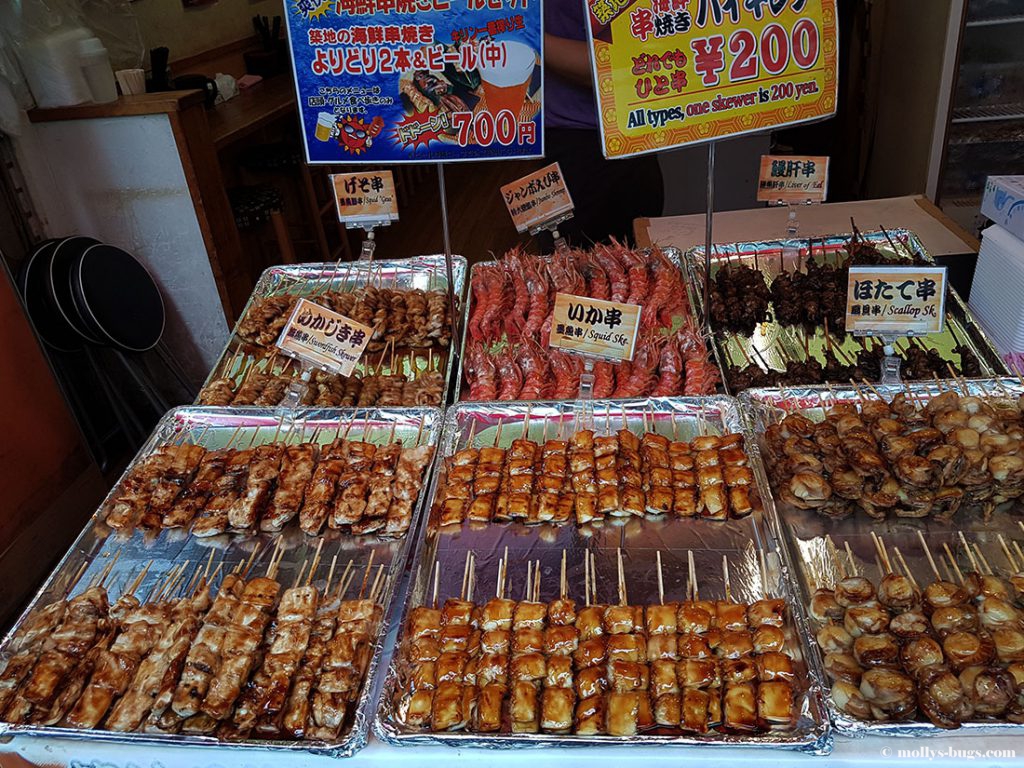 We also liked berry kebabs, in particular grape ones. The scrupulous Japanese grow a special variety of grape. Each grape on a bunch should be of certain size and contain a certain amount of fructose. A seller immerses your kebab with 4 grapes in liquid nitrogen for a few seconds and serves almost frozen grapes. We were leery of such kind of freezing, but grapes were incredibly delicious. No surprise, the price is $50 per one medium-sized bunch.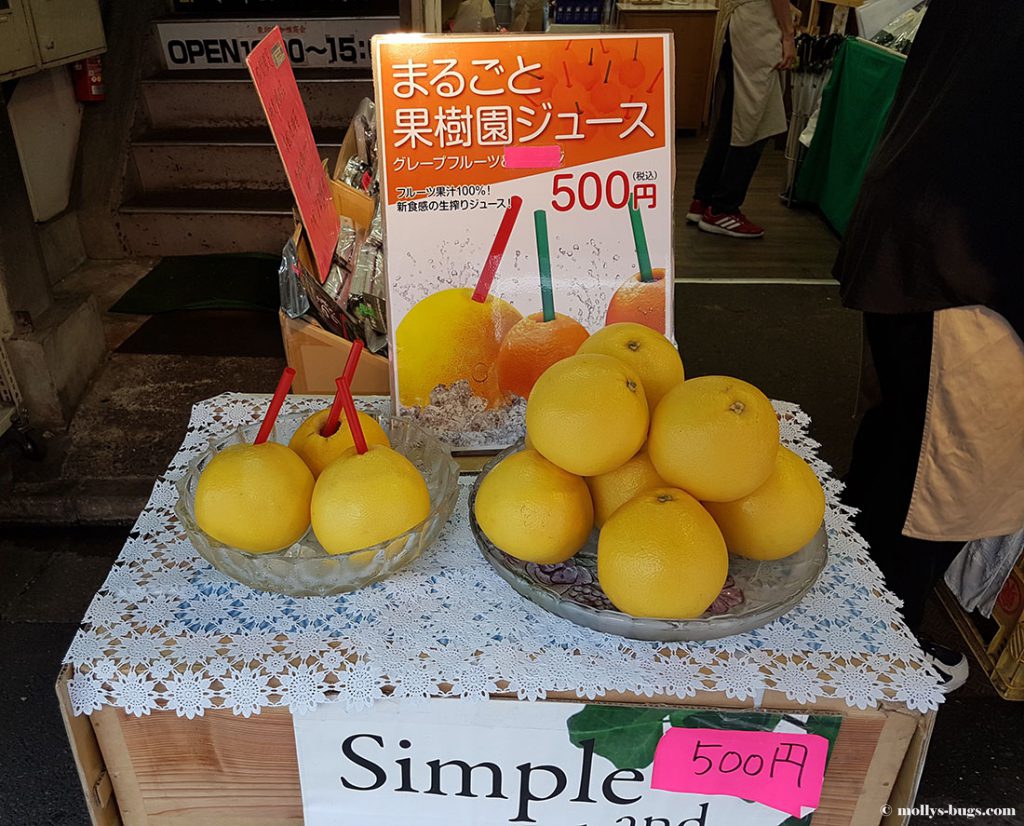 I was very surprised to see a small cafe where sea urchins were served. I always knew that sea urchins are very dangerous, especially if you step on them, but only in Japan, I saw that they can be cooked. Here sea urchins are a luxury delicacy, such as caviar.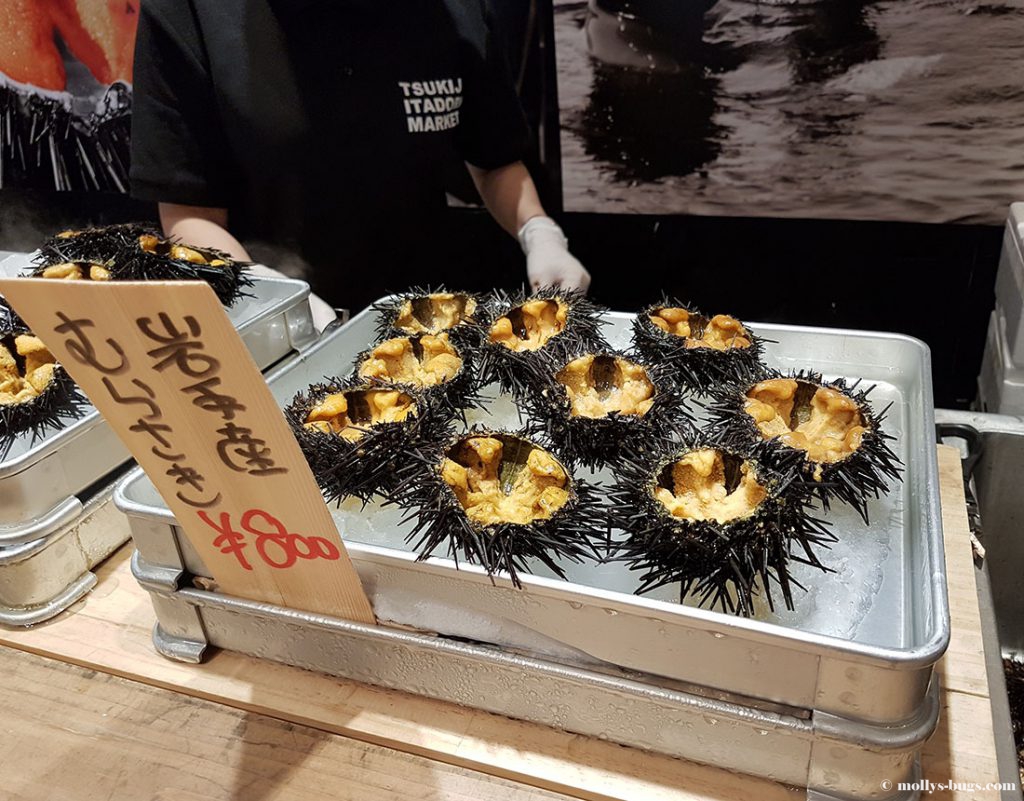 In addition to food, many spices, seasonings, vegetables, fruits, and even knives known for their perfect sharpness are sold at the fish market. The knives are so sharp that they easily cut meat and bones of a fish of any size. However, they can be transported only in your check-in luggage, not in cabin bags.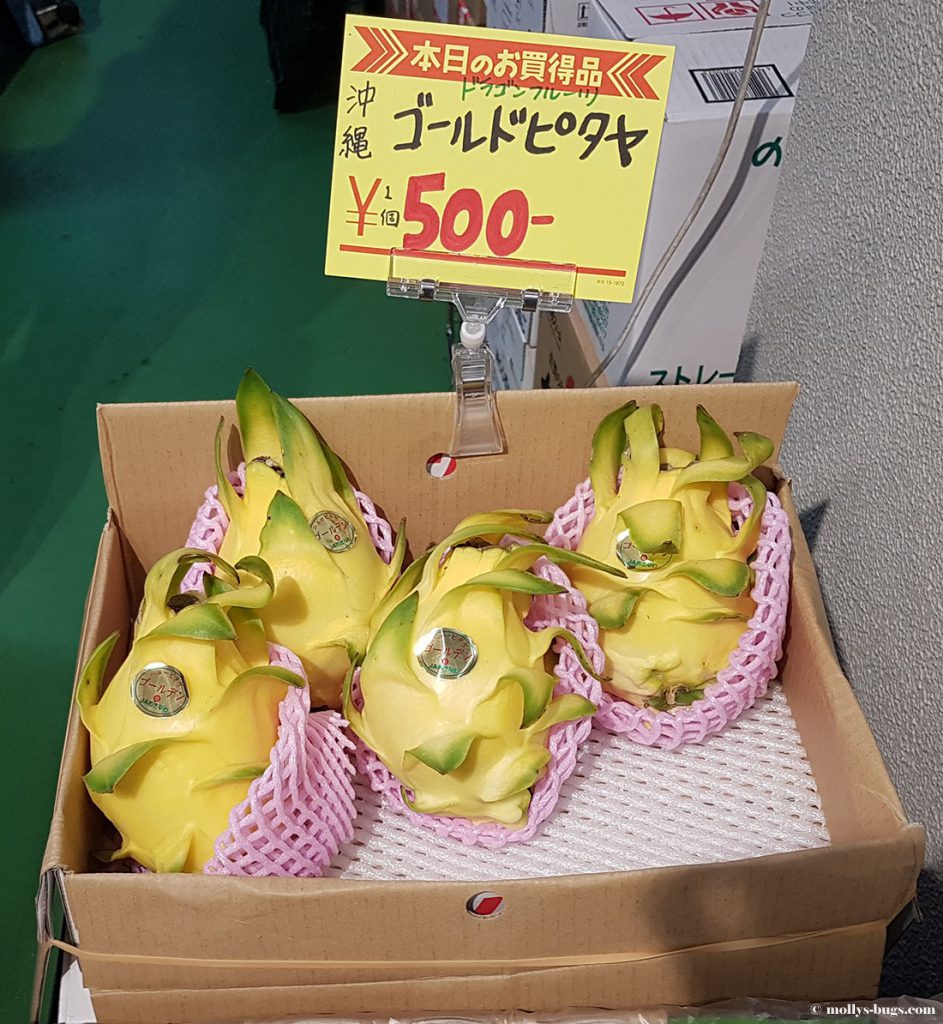 We were very lucky to see the process of cutting a huge Bluefin tuna caught in the waters of Nagasaki into freshest sashimi. Japanese masters cut the tuna just before our eyes using long and very sharp knives, and serve sashimi from the tastiest pieces of meat – those taken from tuna's head – to restaurant guests. This was the best way to attract visitors to the restaurant and a good way to demonstrate how fresh the fish is.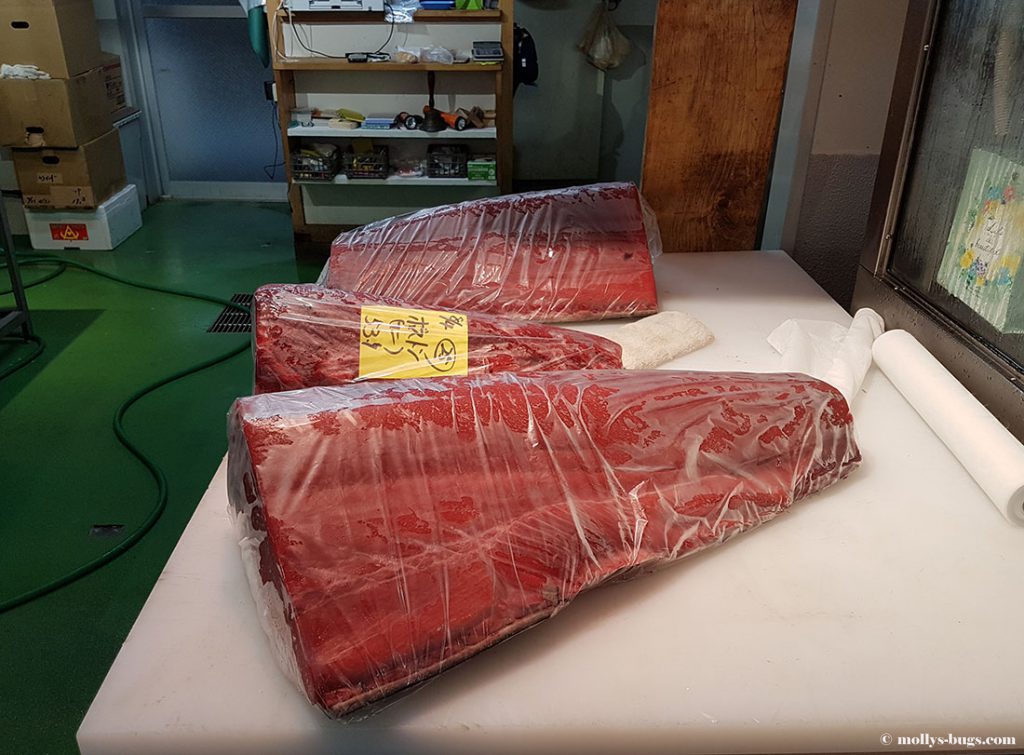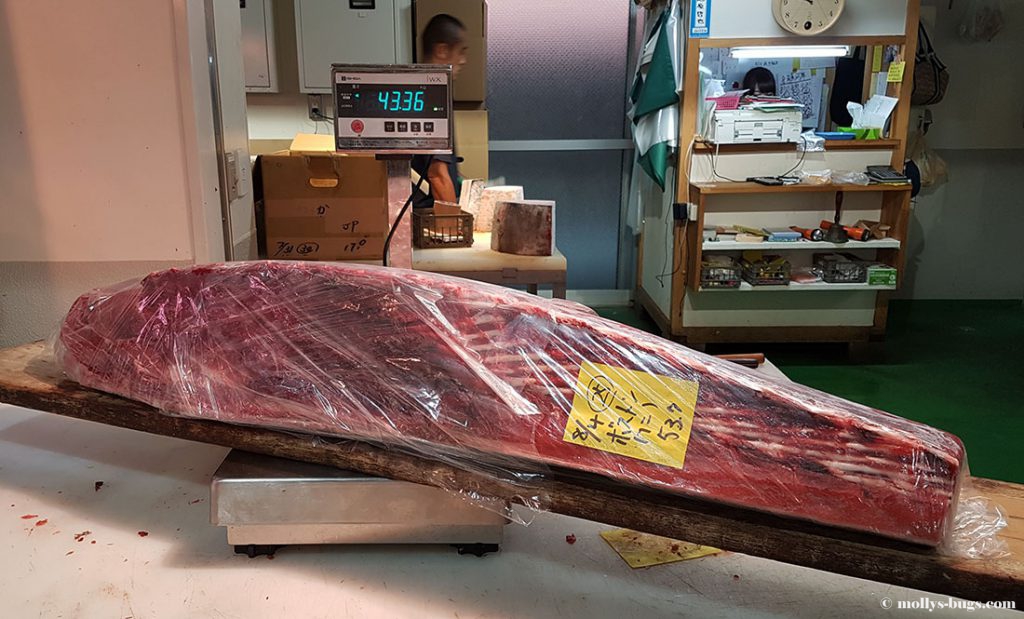 To sum up our impressions, we'd like to say that the Tsukiji Fish Market is one of our top three experiences in Japan that stand out in our memory. And it absolutely deserves to be in the top must-visit attractions in Tokyo. If you're going to visit the capital of Japan, don't lay aside your visit to the Tsukiji Market – you will certainly remember it the rest of your life, the Mecca of the freshest tuna.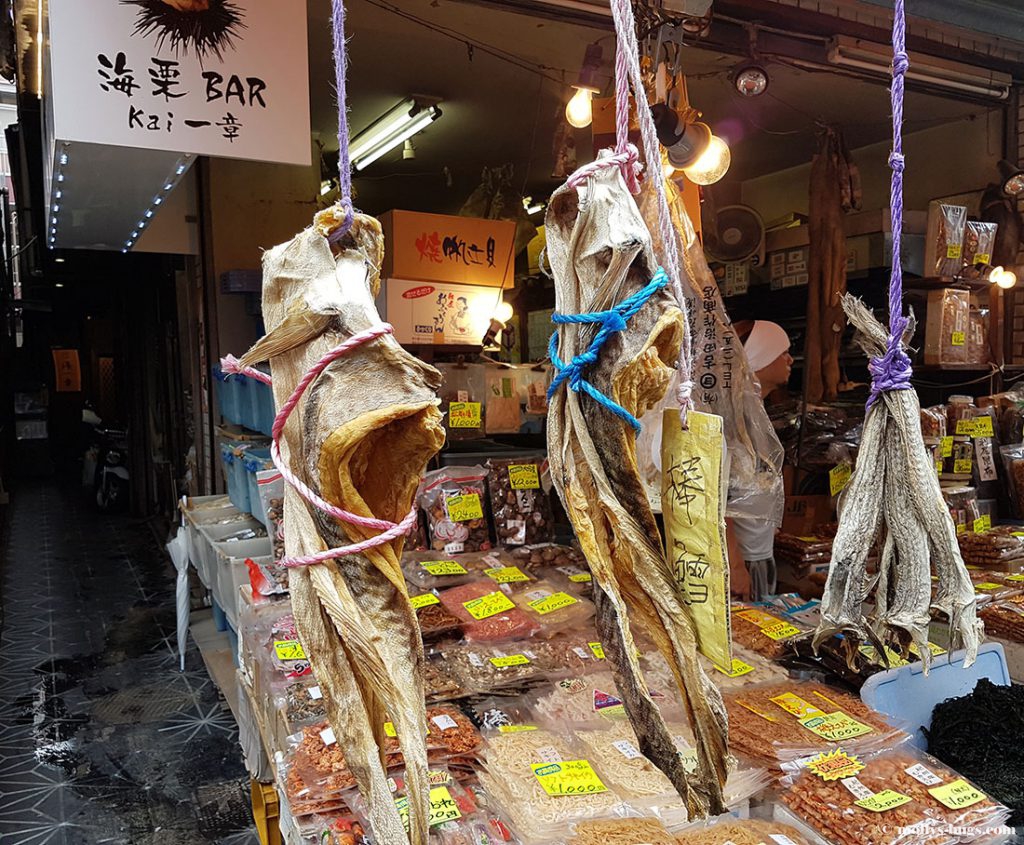 Our journey through Japan has just begun. Follow it!