If you decide to spend your vacation in Greece, then you will obviously have to choose a suitable resort, and in this country there is a plethora of nice places. Each of them is attractive in its own way. I'd like to share with you our first experience of visiting the Peloponnese Peninsula in Greece.
Our Requirements for the Resort
Basic requirements for our summer vacation can be hardly called exquisite.
  – It was important for us to quickly get to our destination by car from Athens, where we arrived. Therefore, we had to exclude such resorts as Thessaloniki and Halkidiki from our list right away, because we didn't want to go over 600 km along the winding mountain road. The same applies to all famous island resorts, such as Crete, Santorini, Mykonos, etc. Firstly, it takes a lot of time to get from Athens to these islands by ferry, and, secondly, it is quite expensive.
– Since we are not very picky, we didn't have strict requirements for the quality of the beach and sand. It was important for us just to have the beach in the close proximity, so that it could be quickly reached by foot or car. We didn't care whether there were pebbles or sand.
– It was crucial for us to have numerous historical sites near the place where we stayed.
Taking into account the above-mentioned factors, the largest peninsula of Greece – the Peloponnese, which is also called "Greece in miniature" – was our best choice. It was situated not far from Athens, and besides, it was convenient to travel from here to the most significant historical places of ancient Greece –  Olympia, Sparta, Mycenae.
Choosing Accommodation
Since the peninsula is washed by different seas, we decided to live on the coast of the Ionian Sea for one week, and on the coast of the Aegean Sea during the second one. The fact is that we get very much bored with the same terrain in one week, so we wanted to enjoy a variety of locations. In addition, if suddenly our accommodation turned out to fail our expectations, we simply wouldn't have to live in it for the rest of time. We decided to live in a villa during the first part of our vacation, and for the second part we chose an apartment.
A prerequisite for choosing accommodation was the availability of kitchen, where we could cook food. This factor limited the choice of housing, as many apartments didn't have a kitchen. Finally, the place was selected, and the only thing we had to do was to reach it.
Toll Roads
Please mind that you'll have to pay for the roads on the Peloponnese, so before you reach your accommodation, you will pay from 10 to 20 euros, depending on the distance. While we got to our first place (the western coast of the peninsula), we paid about 17 euros. Of course, you can choose secondary alternative roads, but this significantly slows down the speed. Please note that you can pay for the roads in cash only. Credit cards are not accepted for this kind of service throughout the Peloponnese.
Asfendamos Villa. West Coast of the Peloponnese
Our first accommodation was situated 2 km from a small village of Zacharo in the western part of the peninsula. Located in absolute isolation, the villa has everything you need to make it very comfortable for relaxation. We could reach the beach by car in 2 minutes. You can walk, too, but in the heat, it is not very convenient to carry bags and towels. When the sea was extremely stormy, the pool right in the middle of our complex saved the day.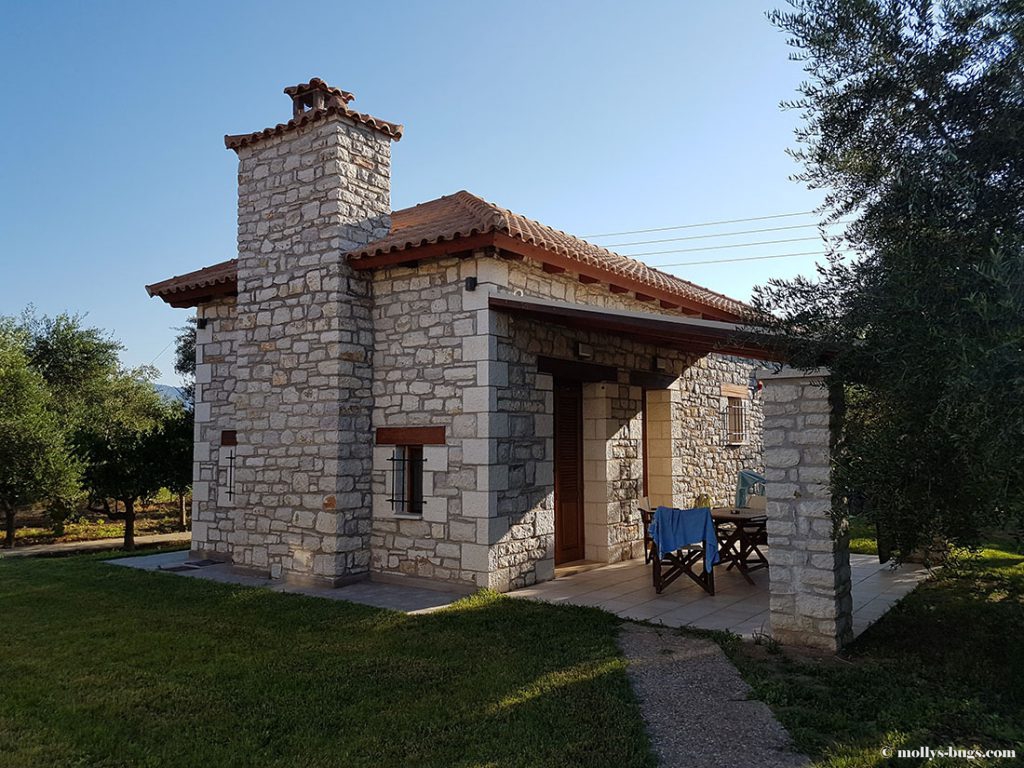 Our house was impeccably clean. It was evident that the owner paid much attention to it, so the accommodation was cleaned not only after every guest, but every Monday, regardless of when you arrived. A special cleaning service comes and does everything on a professional level. All surfaces were shiny, and the crisp bed sheets smelled of cleanliness.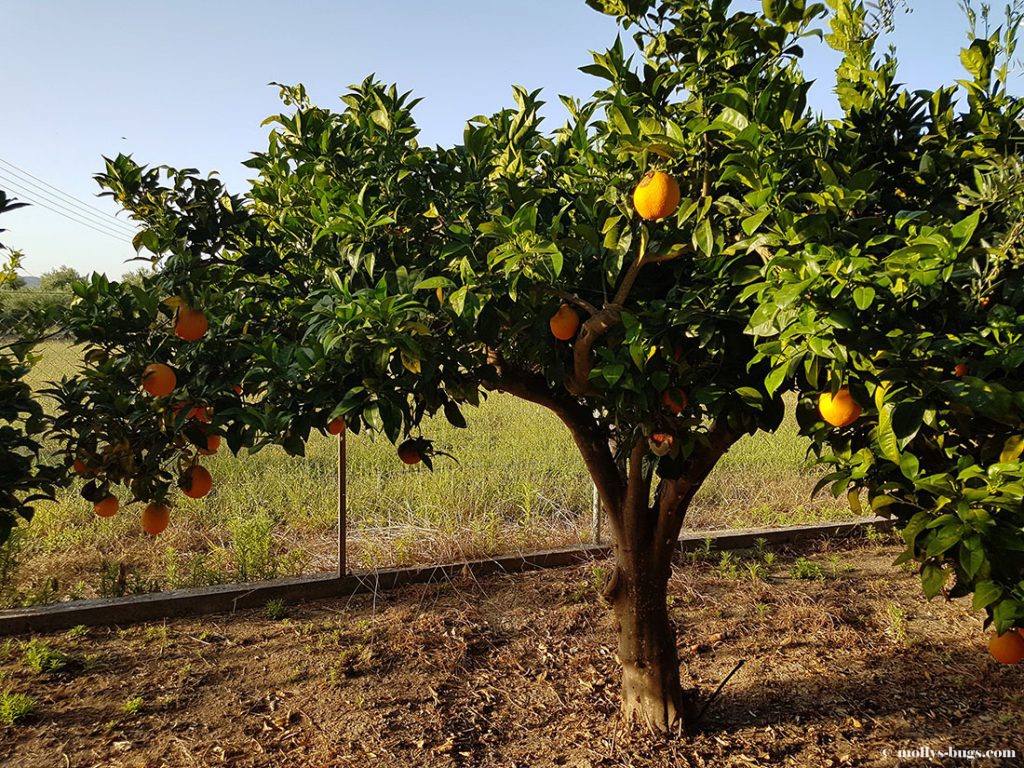 The stone walls of our house were well-protected from the hot sun, and the cicadas were singing in the olive grove, which quickly made us feel relaxed. The house had everything you need to comfortably spend your vacation, except for the Internet, which was awfully slow. So, this is not the case if you want have rest and work at the same time. It turned out that almost all settlements of this peninsula face the same problem. This fact surprised us very much, because even in the Arctic Circle the Internet worked seamlessly, and in the Peloponnese there were constant disconnections that lasted for several hours.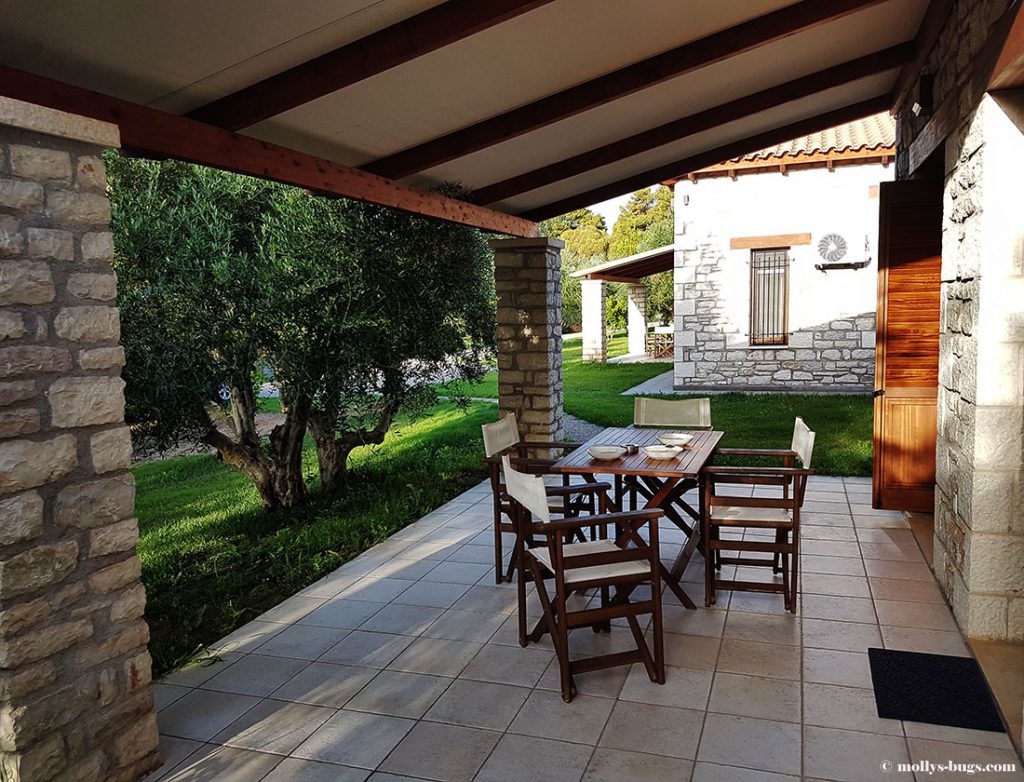 Kakovatos Beach
The beach near our accommodation was not refined and did not show any signs of "civilization", which made our vacation a little bit wild. We could hardly see any people there, and if we noticed a couple of them, they were usually several hundred meters away from us, so we could safely leave our things and went swimming without worrying about them. The quality of sand is not suitable for the lovers of exquisite and comfortable rest. But, since we'd initially set our own priorities, we simply enjoyed warm water and the lack of people. This coast is washed by the Ionian Sea and is well-suited for spending a holiday with children. There are no steep cliffs, the entrance to the sea is very smooth. The beach is mostly sandy; only certain areas might have pebbles.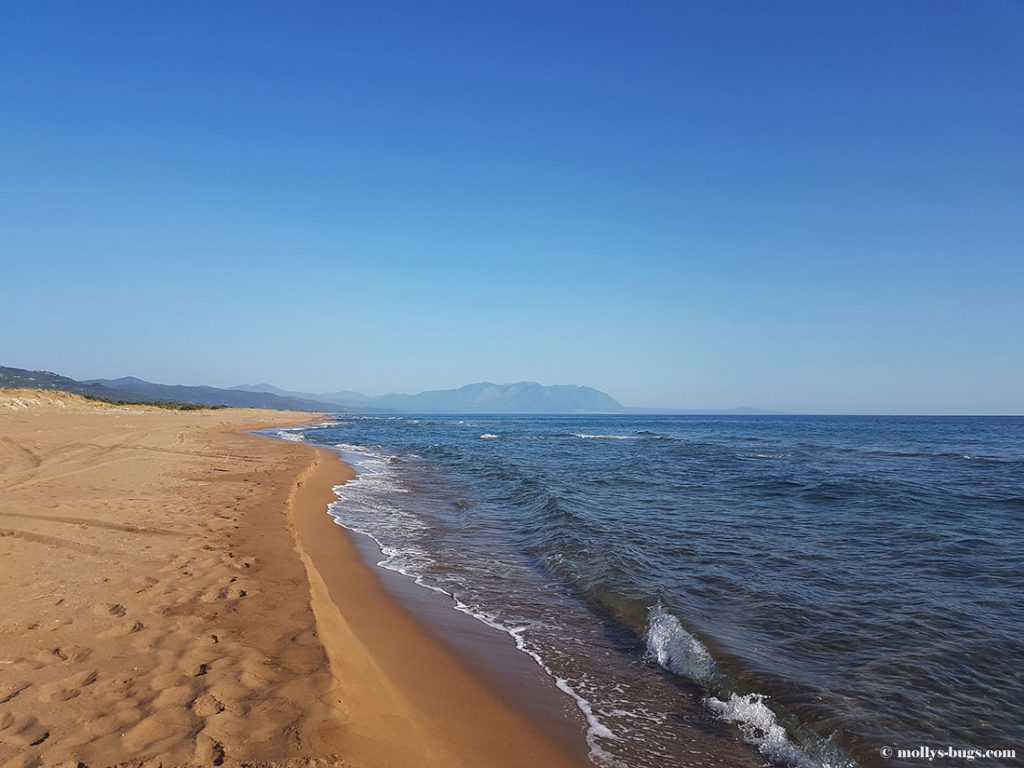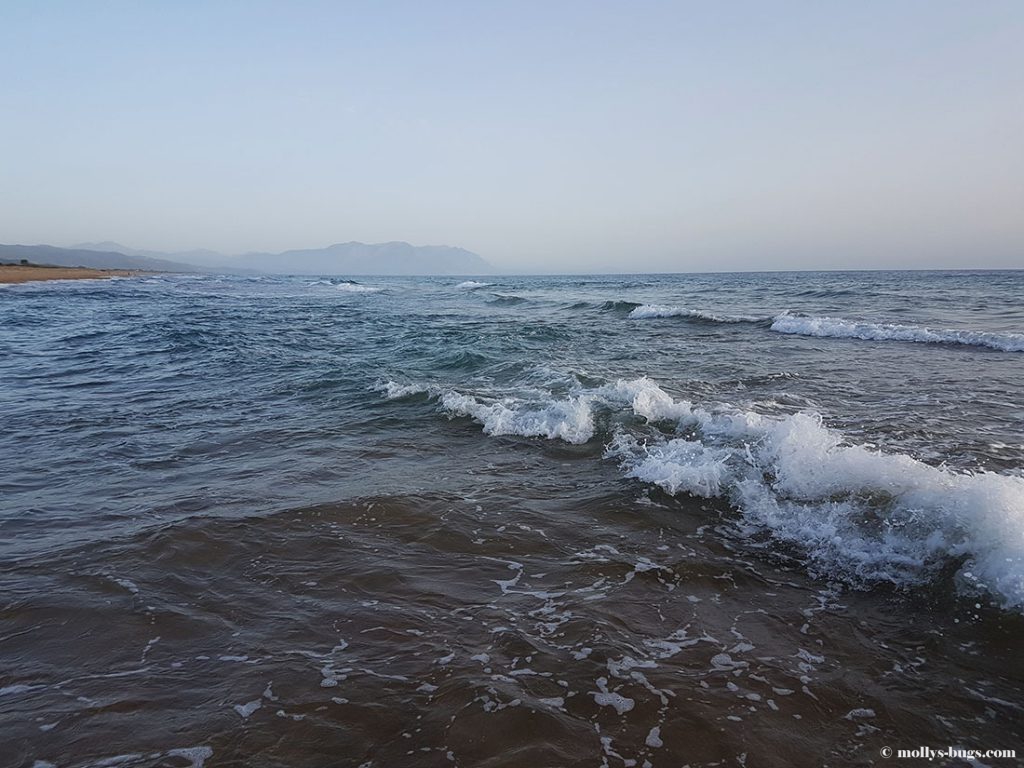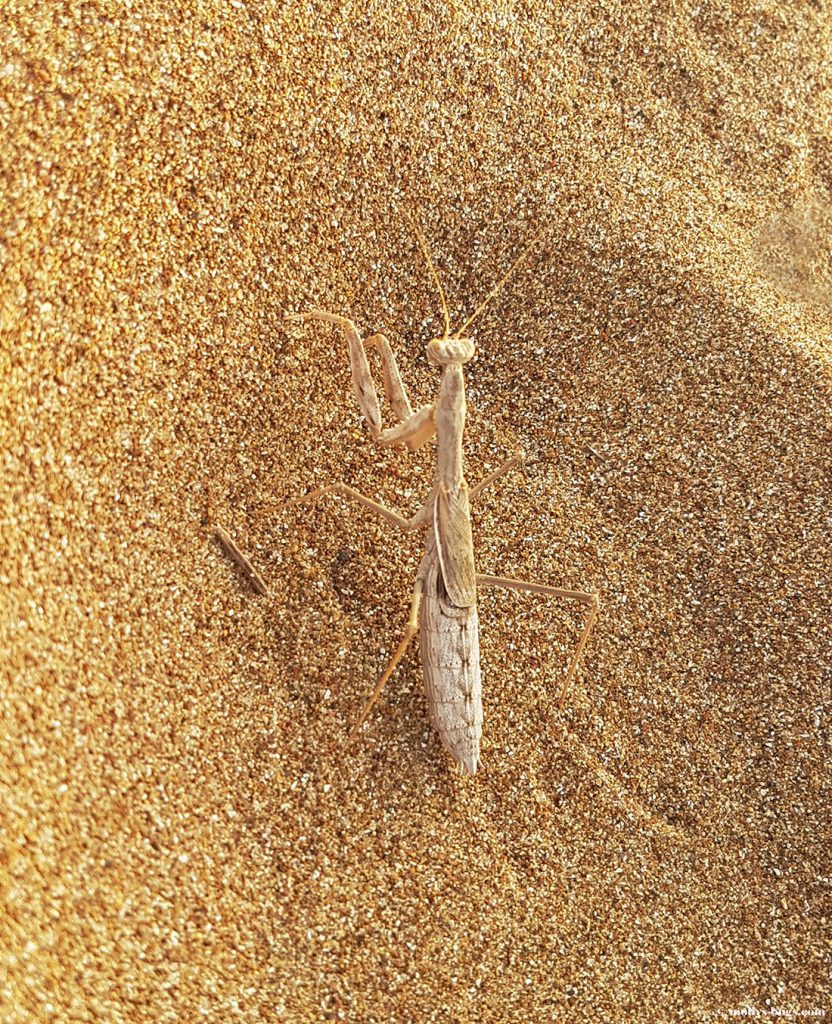 It was convenient for us to visit such ancient cities as Sparta, Olympia and Mystras.
La Fontaine Apartments. East Coast of the Peloponnese
Our second accommodation was situated in Candia village and felt less comfortable, although the ratings of Booking.com, on which we relied, told the opposite. We had a two-room hotel suite with a tiny kitchen and a stove which had 3 hot plates. There was no more striking purity we experienced at Villa Asfendamos. Judging by the state of the suite, it had general cleaning with washing of surfaces long time ago. But at least the bed sheets were fresh, which was already pleasing. However, as usual, we didn't mind and tried our best to get the maximum pleasure out of the situation. One of its undeniable advantages was that the beach was situated very close to our place – we could reach it in 1 minute, going from the hotel to the seaside. In addition, there was underground parking, thanks to which our black car didn't turn into a steamer, making it impossible to sit during the day heat. The nearest village of Vivaro was in 10 minutes' reach by car. We went there every day, because I'd never eaten such tasty dorado on the grill before (it was served there in a tavern).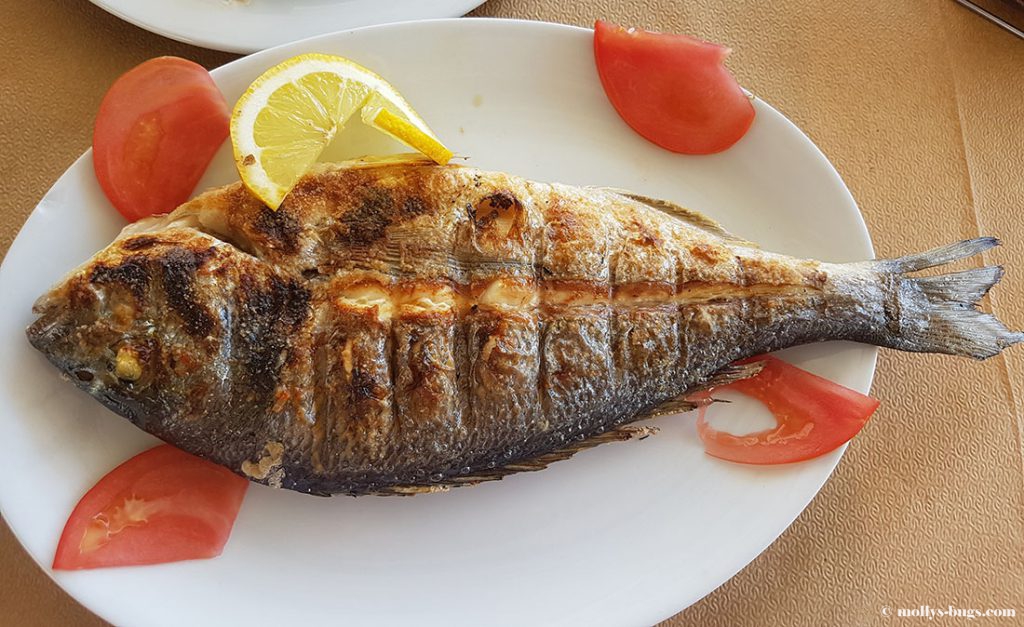 A little further (25 minutes by car) there was the ancient city of Napflio, in which we went for a walk. This accommodation was half as expensive as the first one, so we did not expect much from it.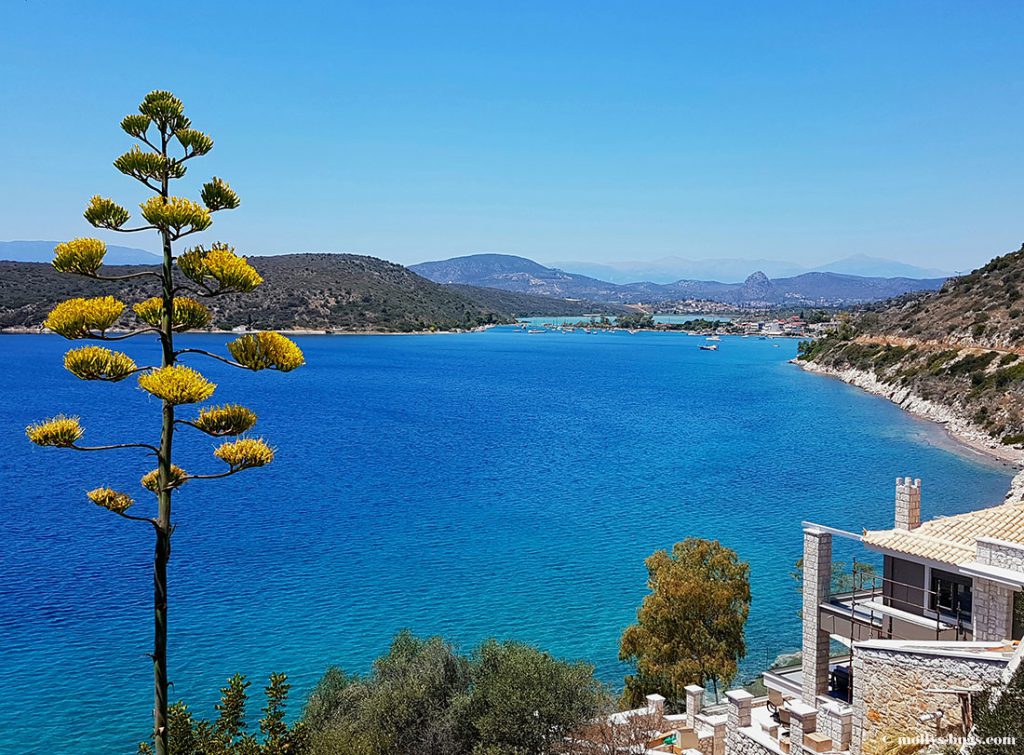 The owner of this complex speaks very poor English and inserts authentic Greek words into his speech, expecting complete understanding from you. And, of course, his main pride was a musical fountain with changing color lights, which was always on in the evening.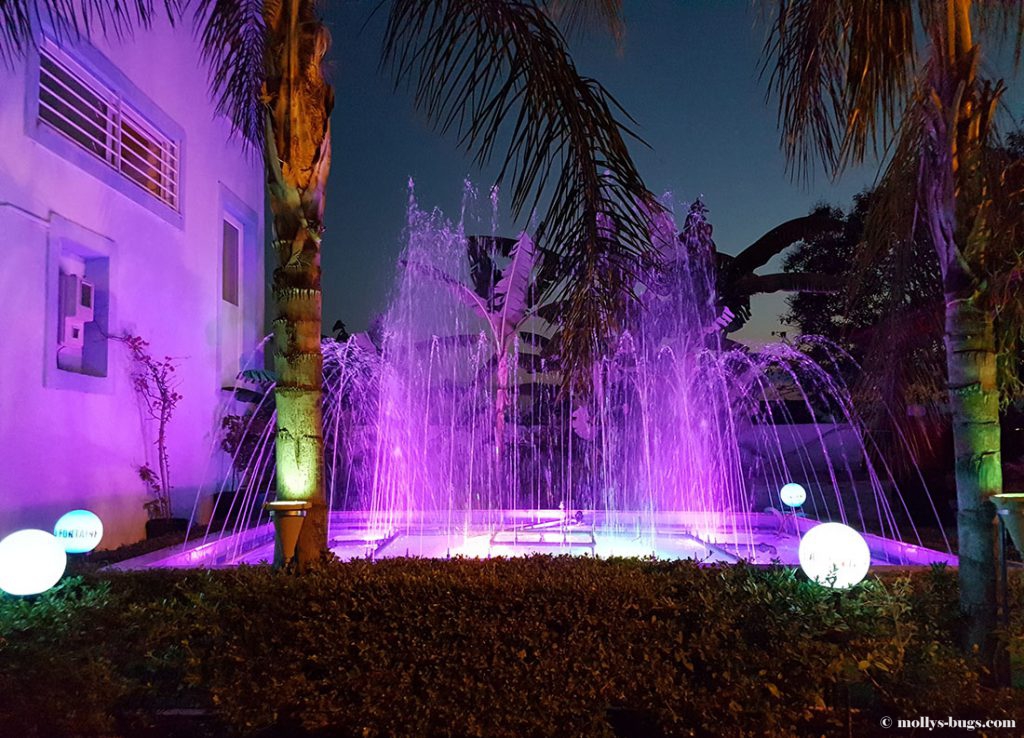 Candia Beach
This beach is washed by the Aegean Sea, which is calmer than the Ionian Sea. It has a tranquil and transparent water with a gentle entrance to the sea, which is suitable for small children. The beach has an upgraded infrastructure, and you can rent sunbeds and umbrellas. Despite the fact that we came here during a high season, there were very few people near the water, so we could leave the phones and go swimming without any worries, too. In addition, on the beach there was a free Wi-Fi provided by the neighboring hotel.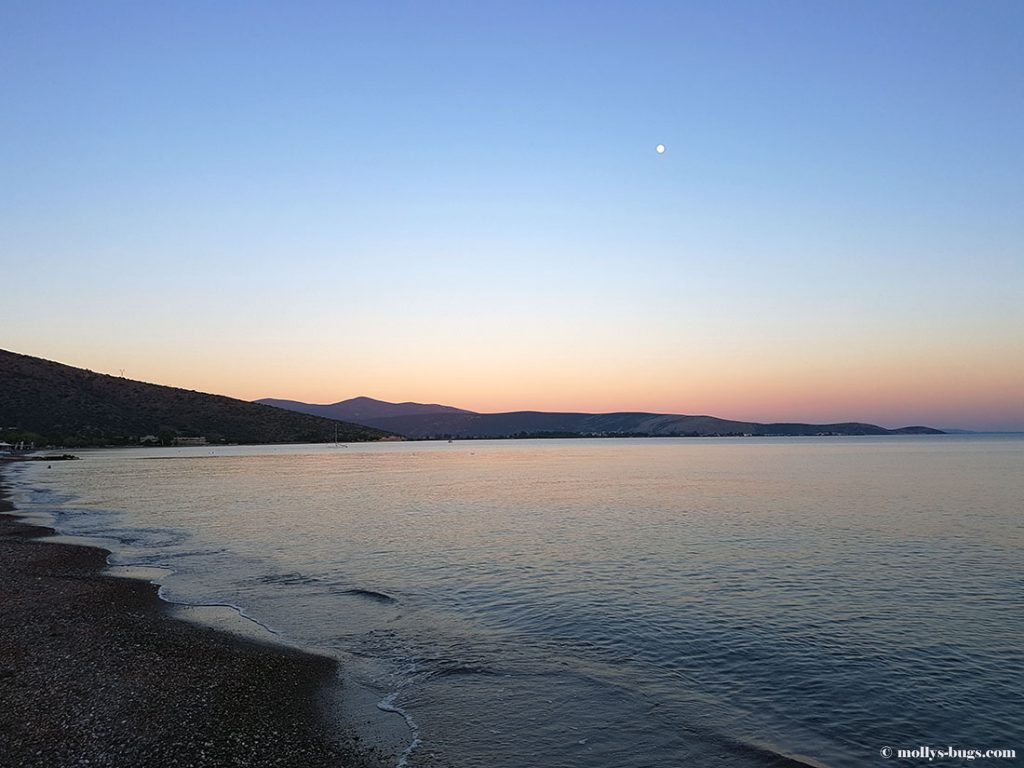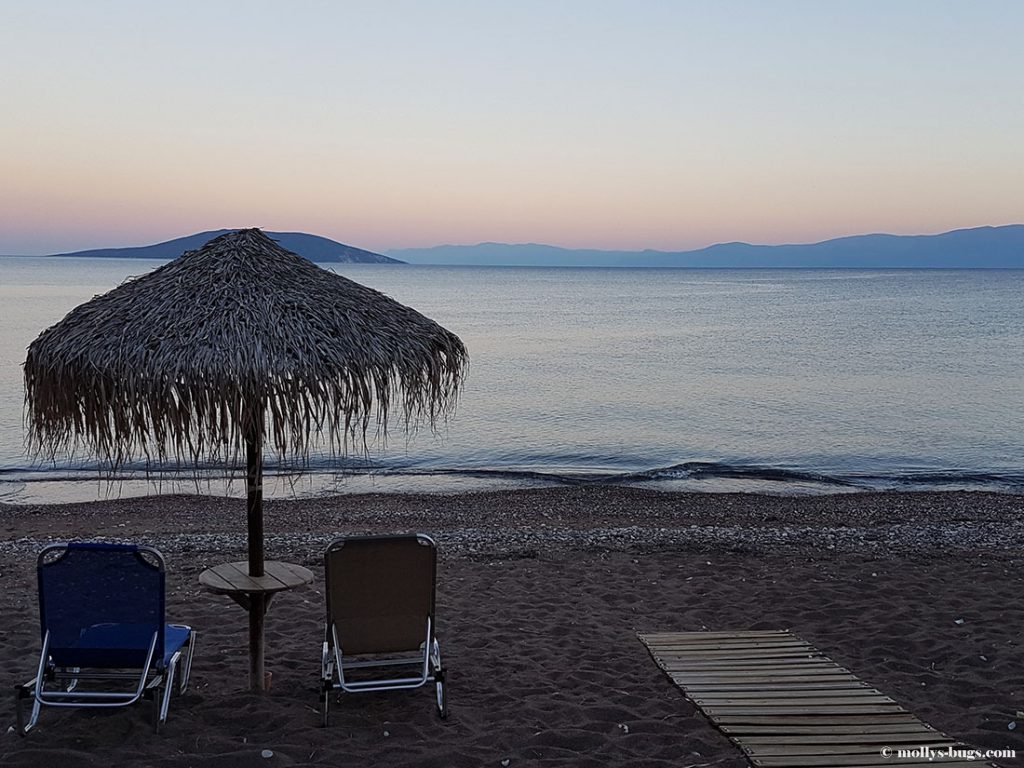 You can get to the ancient cities of Epidavros, Mykonos and Corinth very quickly from the village of Candia and find a plethora of historical sites there.
To sum up, our first acquaintance with Greece definitely went well. It was possible because we didn't focus on the little disadvantages that could spoil the impression of our holiday. We won't go to the Peloponnese for the second time, but we are going to discover new resorts of this country, and these are totally new plans.