Greece will surprise the lovers of tasty and rich dishes in a very pleasant way. Local cuisine is represented by an abundance of seafood which can be found in almost every tavern. But still the most delicious and fresh dishes are served in the restaurants on the coastline. Only freshly caught fish and fruits of the sea are prepared here, same as in the rest of the Mediterranean countries. As a rule, the owners of small coastal taverns are fishermen who go fishing at night very often, so that the visitors have a wide choice of fresh products in the morning.
Tavern
In Greece taverns are the places where you can order food. The main difference between a tavern and a restaurant is that its interior is plain and has little to no sophistication.
In taverns there aren't any starched tablecloths, dressed-up waiters or refined crockery, in which dishes are served. I can say that the atmosphere of a tavern for a holidaymaker in Greece is much more pleasant and relaxing than the "official" atmosphere in a restaurant. Some taverns are situated so close to the sea that they can be accessed directly from the beach without wearing slippers. And, of course, there is no dress code here, which would otherwise oblige to wear appropriate clothes in order to enter the place. The atmosphere in taverns is friendly and domestic, people often wear swimsuits, shorts and tunics there. And the waiters often wear ordinary shirts or even T-shirts.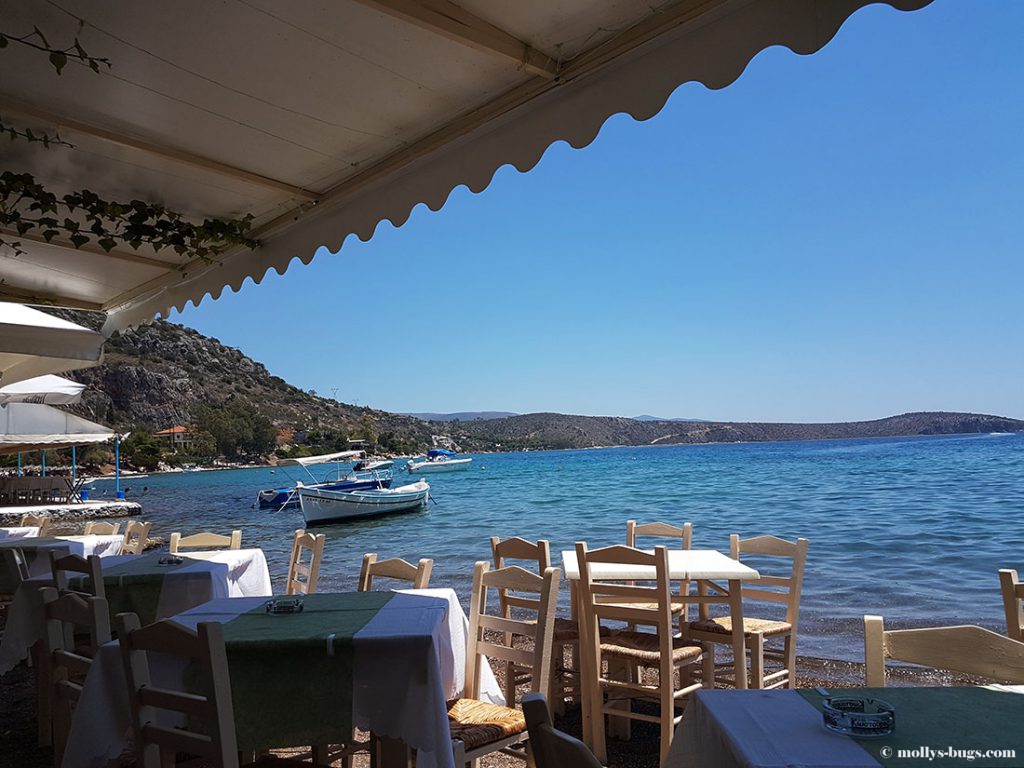 In Greece, we went to cafes and demanded fish on the grill for dinner, but we were politely refused. Finally, one nice waitress explained the difference between a cafe with ready-made fast food and a restaurant / tavern, where the food is freshly cooked. The best thing you can have in a cafe is a sandwich heated in the microwave, and a drink, such as cold beer or a cup of coffee. Therefore, if you are not interested in snacks and would prefer ordinary hot food, then you should go to a tavern or restaurant.
You can see the whole range of food in the menu situated near the restaurant. The names of dishes are written in Greek, but the menu contains their English equivalents. In addition, as soon as you stop to get acquainted with the menu, a so-called "barker", a waiter or even the owner of the restaurant will run up to you and will persuade you to sit at a table, so that you can continue choosing a dish in a more comfortable atmosphere. He might also invite you to the kitchen to select fresh fish they've recently caught. These invitations look slightly intrusive, but it's a part of the Greek culture, so don't react violently to these manifestations of hospitality. If you decide to go to the kitchen to look at the existing assortment of products from which your dish will be cooked, you can assume that you have already stayed in this tavern for dinner, as the choice of fresh seafood will amaze you. Fish is present in huge quantities, as well as squid, octopus, mussels, shrimp, and they will be prepared specially for you. Therefore, you need to determine only the size of the portion and the way of cooking.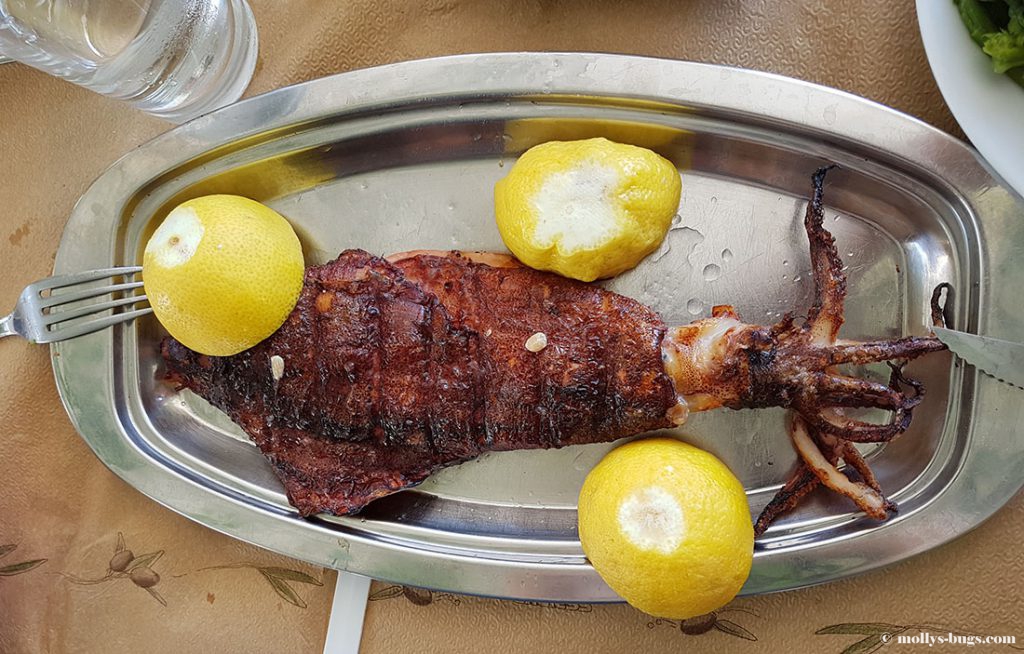 Prices in Taverns
Prices are pretty much the same in all taverns, although they might slightly differ. However, you won't find the same assortment everywhere. For instance, in one of the taverns of Vivari village I discovered pink dorado (red seabream) which I'd never heard of before. Since then, we dined there several times in a row, because in other taverns there wasn't such fish. You will be told the price for 1 kg of fresh fish, and then you can weigh it, and pay accordingly for the actual weight of the selected dish. The same applies to all seafood that is available in the kitchen of the tavern. First you choose the fish, then it is weighed and, finally, cooked for you.
In the cities where there are many taverns and a big struggle for the clients, the cost may be lower by 3-5 euros per 1 kg than in the coastal taverns of small villages.
Tips
Just like in other countries, the tip is circa 10% of the check amount. However, this rule only applies if you are satisfied with the food and service. All Greeks react very emotionally to the tips and give many thanks for them. In large cities like Napflio some taverns may give you dessert "on the house" as a bonus after you've payed the bills. Usually it contains a few slices of cold watermelon or a light curd dessert, such as Flan.
Dishes in the Tavern
In the local taverns there is a wide choice of dishes. Anyone can find something to their taste there. Personally, we only had fish and seafood. This is something that we really miss in our everyday life. And here is a short list of the dishes that we liked so much that we ordered them almost every day. But, of course, the first thing to try is a real Greek salad with local feta cheese, which is the pride of Greece.
– Greek Salad. This dish is different from what is served in our restaurants. A large piece of Feta cheese is placed on top of large-sliced vegetables and is abundantly watered with olive oil. The cost is about 4-6 euros. It is better to take one salad for two people, because the portions are extremely large.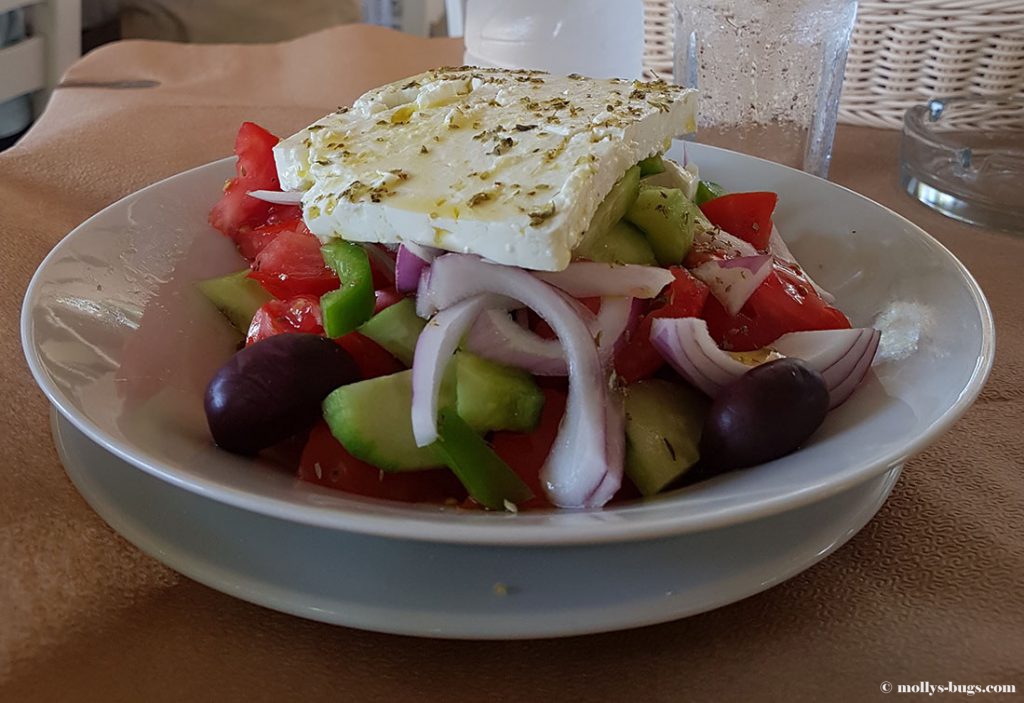 – Dorado on the Grill. My favorite Greek dish, without which a dinner in the tavern is impossible. In different taverns it is cooked in different ways, so just choose the most suitable place according to your taste. The cost per 1 fish of medium size is from 12 to 16 euros, depending on its weight. It is served with lemon.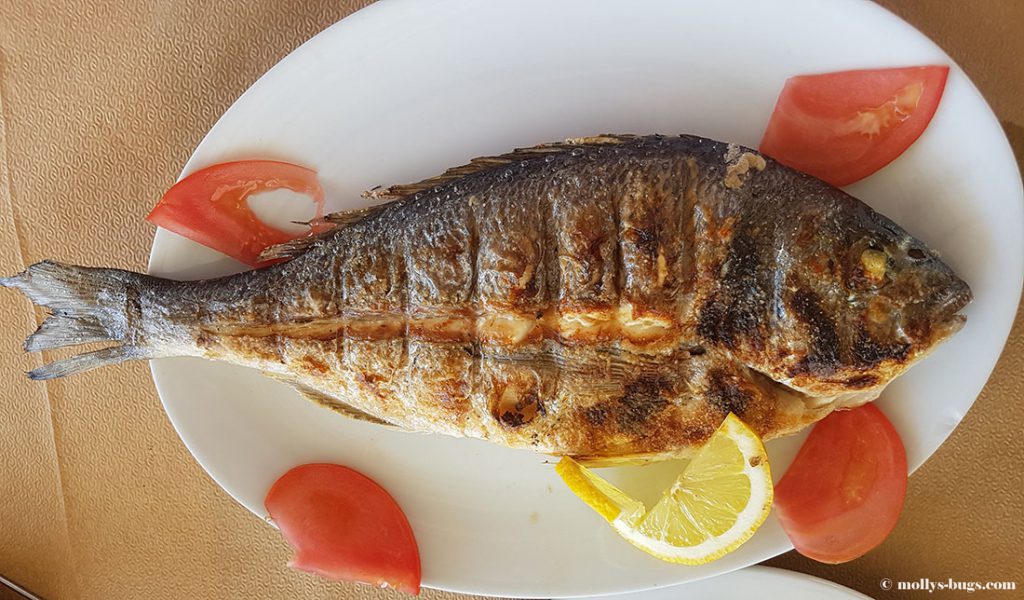 – Squid Stuffed with Feta Cheese. You will be offered a roasted, grilled, or stuffed squid to choose from. In English, it sounds like stuffed calamar on the menu, which means that the squid is filled with Feta, pepper, and tomato, and it's cooked on the grill. Depending on the size of the stuffed squid, its cost can vary from 10 to 12 euros. Ordinary squid which is not stuffed will cost a little less.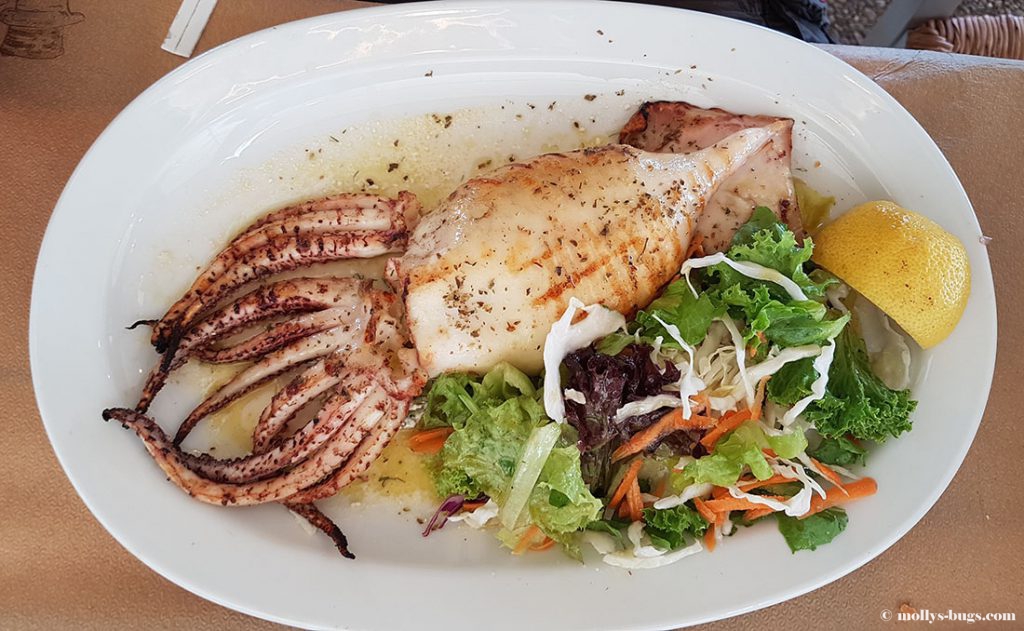 – Tentacle of an Octopus. Suitable only for seafood lovers, because not everyone can look at this exotic thing and not get stressed. Usually the tentacle is cooked on the grill and served with lemon. Its cost is from 8 to 12 euros, depending on the size.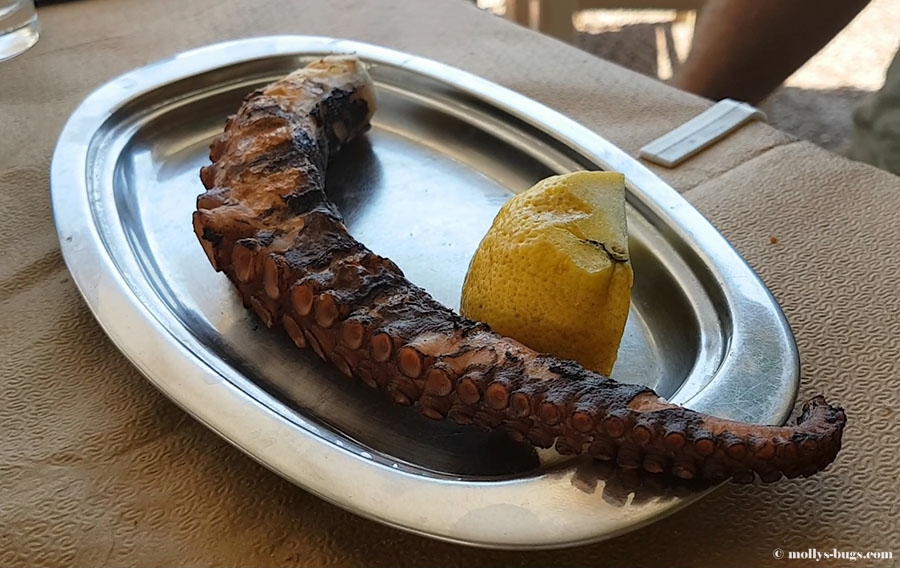 – Chicken Souvlaki (Shish Kebab). An ordinary shish kebab from pieces of chicken and vegetables, strung on a skewer. It is usually served with a side dish. As a rule, it is rice or French fries. Suitable for children who don't like fish and seafood.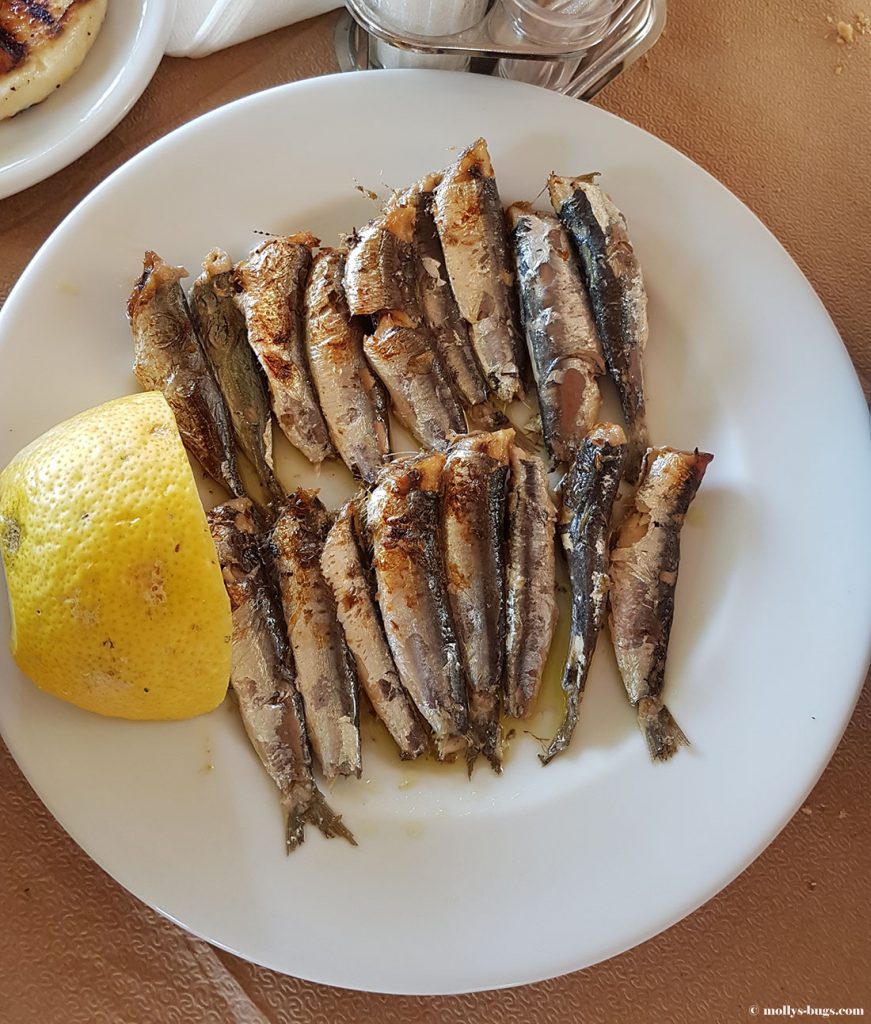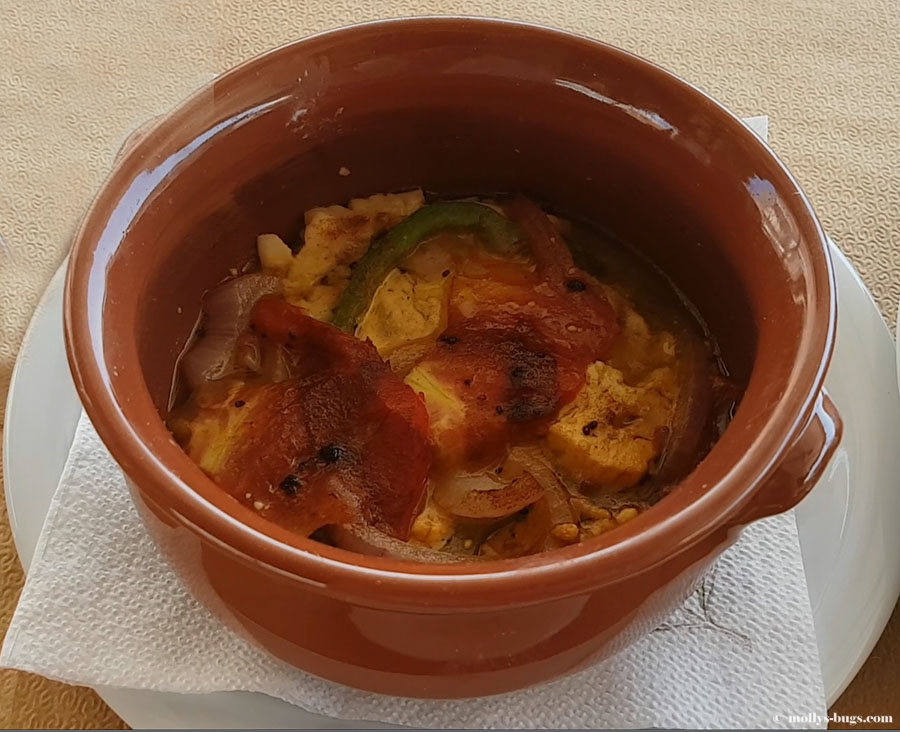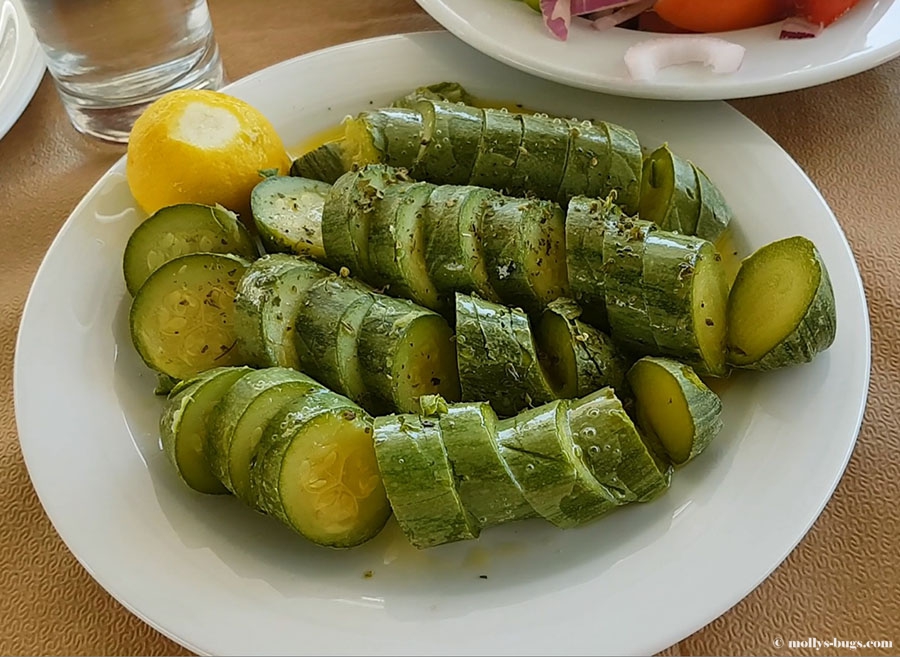 In addition to seafood, you can order numerous meat dishes in taverns, but we didn't do it because we don't eat meat.
In general, dinner for three people cost from 30 to 60 euros. We don't recommend to order too much food at one time, as you won't be likely to eat all these huge portions.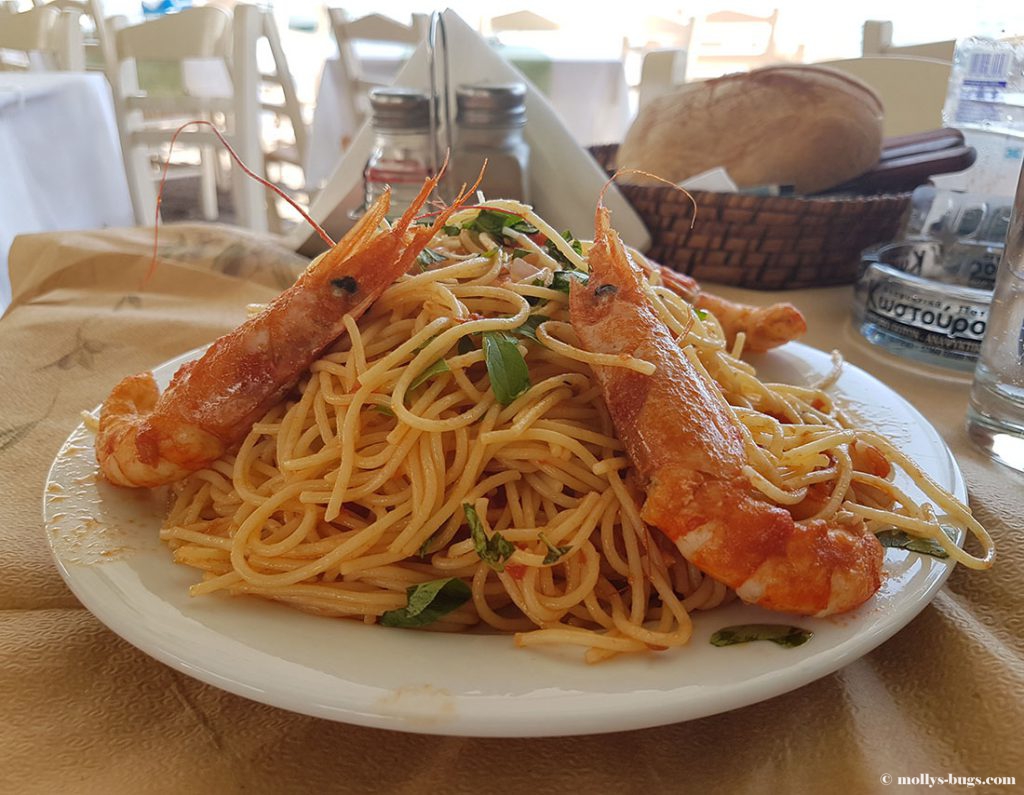 We liked Greece for its simple and uncomplicated cuisine, in which there are no complex recipes, sauces, and ingredients. However, this makes it really tasty and useful. In fact, Mediterranean cuisine has a lot of fans for this reason. Everyone will find something special here.